"My Ph.D. research focuses on understanding the dynamic properties of vesicles and fluid-filled capsules using optical microscopy, automated flow control, and modeling. Such vesicle suspensions are encountered in several applications in our everyday lives, ranging from food products to pharmaceuticals and cosmetics. Moreover, capsules and vesicles are increasingly being used for advanced triggered release and reagent delivery applications in functional materials. To this end, my research has specifically focused on understanding the shape dynamics and phase behavior of single vesicles, as well as transient stretching and relaxation dynamics of membranes in steady and time-dependent extensional flows. Our experiments show that vesicles undergo a wide array of non-equilibrium shape transitions in flow, including symmetric dumbbell shapes with pearling, asymmetric dumbbell, buckling and wrinkling conformations," said Kumar.
"Under the PPG MRL Fellowship, I will investigate the collision and adhesion dynamics between two freely suspended vesicles using automated flow control, which will directly inform the stability and long-term viability of concentrated vesicle suspensions. These experiments will be performed on freely suspended vesicles without physically constraining the vesicles using micropipettes or solid surfaces. Overall, my experiments will shed new light on the design, synthesis, and processing of vesicle and capsule suspensions for the development of an exciting new class of materials with unique functional properties."
Charles Schroeder, Kumar's advisor, states: "Dinesh has demonstrated a high degree of intellectual insight and enthusiasm for his work, all of which makes him an impressive and productive graduate student. Importantly, Dinesh works in a largely independent fashion in the lab, and he is able to think creatively on both experimental and computational problems. His strong analytical skills have enabled him to study vesicle dynamics in an extremely rigorous and quantitative manner, which has brought new insight to the field. He is always interested to explore new directions or ideas that emerge from our regular discussions and meetings, and he has been a great mentor to several undergraduate students in the lab."
A team led by Steven L. Miller Chair professor of chemical and biomolecular engineering Huimin Zhao (BSD leader/CABBI/MMG) was awarded a five-year $20 million grant from the National Science Foundation (NSF) for the NSF Artificial Intelligence (AI) Institute for Molecular Discovery, Synthetic Strategy and Manufacturing (Molecule Maker Lab Institute or MMLI). The multi-institutional team also consists of researchers and collaborators from the Grainger College of Engineering, the College of Liberal Arts and Sciences, the Beckman Institute for Advanced Science and Technology, and the National Center for Supercomputing Applications at the University of Illinois Urbana-Champaign, and from University Laboratory High School, Ulsan National Institute of Science and Technology, Northwestern University, Penn State University, and Rochester Institute of Technology.
The MMLI focuses on development of new AI-enabled tools, such as AlphaSynthesis, to accelerate automated chemical synthesis and advance the discovery and manufacture of novel materials and bioactive compounds. Researchers use the data generated from the analysis of these molecules to guide further development of synthesis planning and catalyst design tools using AI and machine learning. The institute also serves as a training ground for the next generation of scientists with combined expertise in AI, chemistry, and bioengineering.
"The MMLI is a first-of-its-kind research infrastructure that will have a powerful impact on the U.S. research community," said Zhao. "This proposed infrastructure will respond to high-priority needs of communities seeking to 1) discover and optimize a wide range of molecular functions (Molecules), 2) harness the power of data to advance the science of molecular synthesis (Data), and 3) inspire a broad audience of scientists, teachers, students, and citizen scientists to participate in the process of molecular innovation (Open Door). The MMLI will revolutionize the way chemistry is taught and capture the imagination of a new generation of molecule makers."
The NSF is establishing five new AI institutes to accelerate research, expand America's workforce, and transform society in the decades to come. Enabled by sustained federal investment and channeled toward issues of national importance, continued advancement in AI research holds the potential for further economic impact and improvements in quality of life.
With an investment of over $100 million over the next five years, NSF's AI Institutes represent the nation's most significant federal investment in AI research and workforce development to date. The $20 million investment in each of five NSF AI institutes is just the beginning, with more institute announcements anticipated in the coming years.
"Recognizing the critical role of AI, NSF is investing in collaborative research and education hubs, such as the NSF MMLI anchored at the Carl R. Woese Institute for Genomic Biology at the University of Illinois Urbana-Champaign, which will bring together academia, industry, and government to unearth profound discoveries and develop new capabilities advancing American competitiveness for decades to come," said NSF Director Sethuraman Panchanathan. "Just as prior NSF investments enabled the breakthroughs that have given rise to today's AI revolution, the awards being announced today will drive discovery and innovation that will sustain American leadership and competitiveness in AI for decades to come."

"Over the past decade there have been major advances in both AI and automated chemical and biochemical synthesis, making the timing for the launch of the MMLI both judicious and urgent," said Zhao. "Synergistically integrating these powerful disciplines now has the potential to dramatically accelerate and advance the manufacturing and discovery of molecules with important functions that address major unsolved problems in society. Not doing so would result in a major missed opportunity for the U.S. research community."
To learn more about the MMLI visit https://moleculemaker.org.
ChBE majors should explore the SCS advising and SCS Career office web sites for academic advising, as well as a host of other resources: https://advising.scs.illinois.edu https://careers.scs.illinois.edu
ChBE also offers a tutoring program associated with several of the core, required ChBE courses: https://chbe.illinois.edu/undergraduate/current-students/tutoring/
Study space for undergraduates is provided by campus. See the list here: https://scs.illinois.edu/news/2020-08-20/classrooms-available-study-space ). ChBE majors can also make use of the following rooms (I-card access): -1- Noyes 211 – CHBE computer lab (Max occupancy =8); and -2- Noyes 308 – ChBE learning center (Max occupancy = 16).
Professor Hammack has been awarded the Hoover Medal.
The award is named for its first recipient, U.S. President Herbert Hoover, who was an engineer by profession. Established in 1929 to honor "great, unselfish, nontechnical services by engineers to humanity," the award is administered by a board representing five engineering organizations: the American Society of Mechanical Engineers; the American Society of Civil Engineers; the American Institute of Chemical Engineers; the American Institute of Mining, Metallurgical and Petroleum Engineers; and the Institute of Electrical and Electronics Engineers.
Previous winners include presidents Dwight D. Eisenhower and Jimmy Carter; industrialist David Packard, the founder of Hewlett-Packard; Arnold O. Beckman, an Illinois alumnus and a scientist, businessman and philanthropist whose support spurred the development of the Beckman Institute for Advanced Science and Technology on the Illinois campus; and inventor Dean Kamen.
Hammack is a member of AICHE and a William H. and Janet G. Lycan Professor at Illinois. He is the creator and host of the popular YouTube channel "engineerguy" and has recorded more than 200 public radio segments that describe what, why and how engineers do what they do. He wrote the books "Michael Faraday's Chemical History of a Candle, " "Why Engineers Need to Grow a Long Tail, " "How Engineers Create the World, " "Eight Amazing Engineering Stories" and "Albert Michelson's Harmonic Analyzer. "
"I am thrilled with the recognition by this award of the importance of reaching out to the public – to explain to them science and engineering," Hammack said. "With this understanding, the public can better exercise the civic responsibility of shaping the technological forces that shape our lives."
The National Association of Science Writers, the American Chemical Society and the American Institute of Physics all have recognized Hammack for his outreach efforts through numerous awards.
"Bill's wonderful stories make every engineer proud and watching them immediately converts you into an engineering zealot," said AICHE Foundation member Eduardo Glandt, the dean emeritus of engineering and applied science at the University of Pennsylvania.
Graduate student category
Marley Dewey, the Harley Research Lab
This is a mineral and polymer galaxy. This specific polymer contains calcium phosphate mineral and was 3D printed in order to repair damaged bone. Dewey's role involves taking these 3D-printed polymers and combining them with collagen-based biomaterials in order to regenerate large missing portions of bone from the skull and jaw.
Research images from a recent Beckman contest are being featured in the director's conference room. The images highlight the beauty of science and showcase the range of research conducted at the institute. By Beckman Institute Published on July 30, 2020
Scientists at the Beckman Institute for Advanced Science and Technology recently showed off their research through Beckman Research Image Contest.
This year, the contest features four winners in the following categories: undergraduate students, graduate students, postdoctoral researcher, and faculty. The four framed images are being featured in the Beckman director's conference room. Last year's winning images will be hung throughout the Beckman's halls.
"Researchers at the Beckman Institute use our state-of-the-art tools to work together across disciplines and break new barriers," said Jeff Moore, the director of the Beckman Institute and an Ikenberry Endowed Chair in the Department of Chemistry. "These images show that research is not only important, but also visually beautiful. I continue to be amazed and inspired by the entries in the Beckman Research Image Contest."
The winners are:
Undergraduate student category
Rachel Tham, the Minjoo Larry Lee Group
Multijunction solar cells could significantly increase the efficiency of solar power. However, lattice mismatch between the device layers can lead to defects called threading dislocations that decrease their efficiency. Tham's research, conducted with graduate student Ryan Hool, works to better understand why and how these dislocations occur to make multijunction solar cells more efficient. This image is a Nomarski (also called differential interference contrast) image of a beryllium-doped gallium phosphide (GaP) on GaP sample, after defect selective etching, and it was imaged with the Beckman Institute's inspection microscope at 50 times magnification. DSE reveals the location of threading dislocations as etch pits in the sample, and the number of etch pits present can then be used to calculate the sample's threading dislocation density.
Postdoctoral and staff researcher category
Mark Levenstein, the Wagoner Johnson Applied Biomaterials and Biomechanics Lab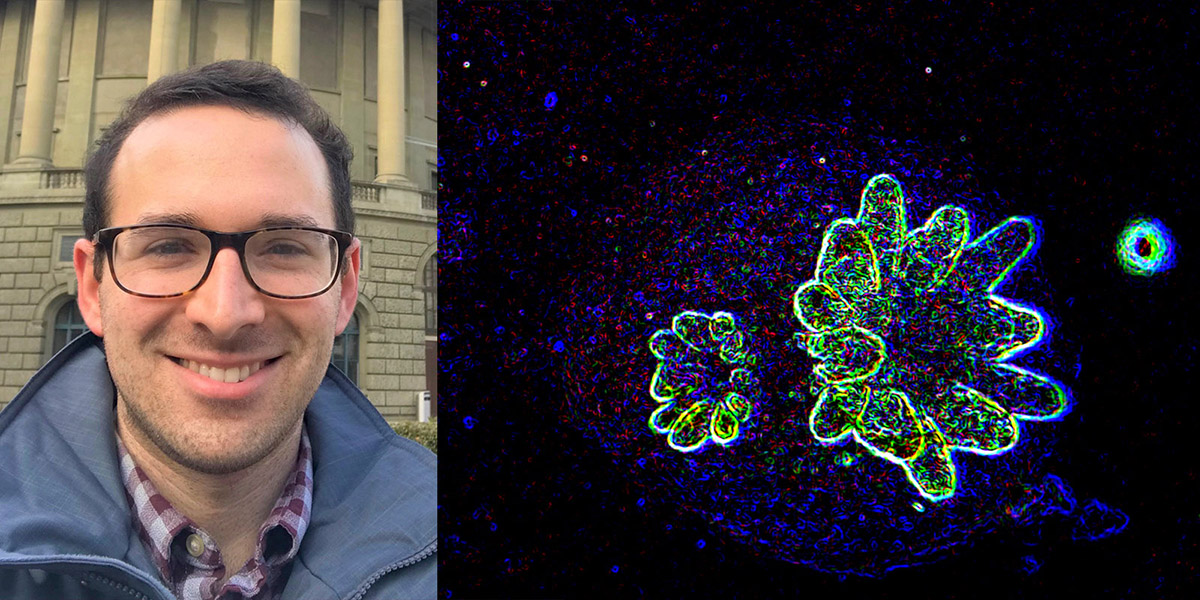 Optical micrograph of a baby Acropora palmata coral polyp inverted and modified for enhanced contrast of the newly formed tentacles. The polyp is shown growing on a novel carbonate reef restoration substrate, which hopefully will increase the settlement and survival of juvenile corals into adulthood.
Faculty member category
Brad Sutton, Magnetic Resonance Functional Imaging Lab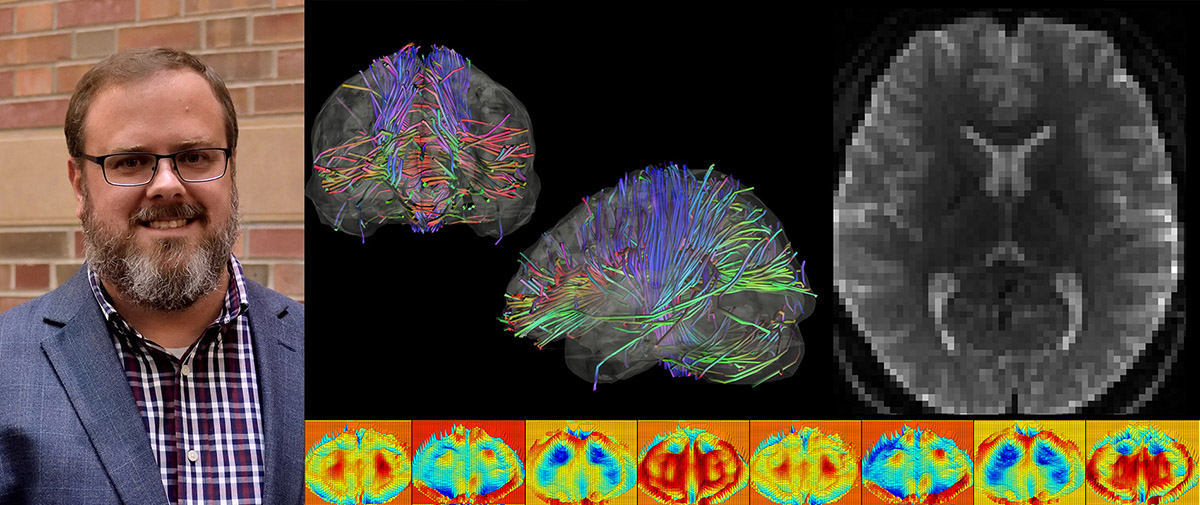 Two techniques in magnetic resonance imaging enable researchers to see highly sensitive information about the structure of brain tissue: diffusion tensor imaging and magnetic resonance elastography. DTI looks at the cabling in the brain. These white matter fiber pathways transmit information from one part of the brain to another. MRE looks at the mechanical properties of the brain tissue, including stiffness. It provides information about the interconnections and complexity of cells in the brain. In order to make a clinically feasible protocol and save time, the Sutton Group and Carle Foundation Hospital-Beckman Institute Postdoctoral Fellow Aaron Anderson, in collaboration with professors Dieter Klatt and Richard Magin at the University of Illinois at Chicago, developed and implemented a DTI-MRE sequence that acquires both DTI and MRE data at the same time. This data was collected on the Biomedical Imaging Center 3 Tesla Prisma MRI system. Grant funding: NIH/NIBIB 5R21EB026238-02.
Around the globe, alumni from the Department of Chemical and Biomolecular Engineering have risen to the many challenges created by the COVID-19 pandemic. They are working on the frontlines in hospitals and medical clinics, research labs, manufacturing, and beyond. Below you will find some stories from your fellow alumni. We also invite you to share your story with us.
Dr. Ashley Yeager (PhD '16 and MD '19) shares her perspective as resident in radiology at a Michigan hospital.
Dr. Ed Chien (BS '84, MD '88) discusses his experience as head of the OB/GYN department at the Cleveland Clinic.
Professor Ashlee Ford Versypt (PhD '12) is part of a multi-institutional research collaboration developing an open-source, multi-scale tissue simulator for viral infection by SARS-CoV-2 and its effects in human tissues.
Congratulations to Professor Charles Sing, who is being honored for his contributions to education and research. Professor Sing's research focuses on problems in polymer physics. Professor Sing's research informs the design of advanced materials for energy, biotechnology, consumer products, and medicine. Sing joined the University of Illinois in 2014.
Several professors have received named scholar positions from the College of LAS.
The named positions include the inaugural LAS Dean's Distinguished Professorial Scholars, who are receiving $10,000 for teaching and research as they are promoted to full professor.
"These named scholars have been chosen for their energy, creativity, and potential in teaching and research in the College of LAS," said Feng Sheng Hu, the Harry E. Preble Dean of the College of LAS. "They are incredible examples of the level of effort we apply to achieving academic excellence."
Illinois alumnus Walt Robb, PhD '51, a retired executive with GE who led the company's medical technology business, passed away of COVID-19 on March 23, 2020, in Schenectady, NY. He was 92 years old.
At the U of I, Robb studied under Professor Harry Drickamer and earned his Ph.D. in three years, in 1951. He joined GE after graduating from Illinois and had a long career with the company. As the CT scanning revolution got underway and MRI technology took off, Robb oversaw GE's struggling medical imaging business, expanding it from a break-even, $100 million business to a highly profitable and growing enterprise. He recruited fellow Illinois ChemE alumnus the late Jack Welch and the two would work together for decades. In 1993, President Bill Clinton presented Robb with a National Medal of Technology and Innovation for his foresight and leadership in the MRI and CT imaging industry.
Robb's last visit to the Illinois campus was in 2015, when he met with undergraduate and graduate students, faculty and staff, and toured labs. The department hosted a book signing and reception for Robb, who wrote about his life and career in the book, "Taking Risks: Getting Ahead in Business and Life." During that visit, Robb spoke about how Drickamer constantly challenged him and other students. He recalled working 72 hours a week on his thesis and doing whatever it took to gather the data, including sleeping on a cot in the lab.
Robb retired from GE in 1993 and established Vantage Management. He served on the boards of several companies and also owned two professional sports teams in New York. Robb and his wife, Anne, were great supporters of higher education institutions, including the University of Illinois and Penn State, his undergraduate alma mater. He also established a camp in New York for children with life-threatening illnesses.
Robb is a recipient of the University of Illinois Alumni Achievement Award and the President's Medallion. He also is a recipient of a 2019 Department of Chemical and Biomolecular Engineering Distinguished Alumni Award.
John Francis "Jack" Welch Jr., 84, the former CEO and chairman of General Electric Co., has died. He earned a Ph.D. in 1960 in chemical engineering at the University of Illinois at Urbana-Champaign.
Welch went to work as a chemical engineer at GE immediately after completing his doctorate. He started in its plastics division and quickly gained prominence in the company, becoming a vice president in 1972 and vice chairman and executive officer in 1979. He was named chairman and CEO in 1981 at the age of 45. He remained at the helm for the next 20 years.
In 1983, he was elected to the National Academy of Engineering for his "leadership in developing engineered plastics and for increasing national recognition of the importance of technology and innovation."
Welch oversaw two decades of prosperity at GE and was lauded for his aggressive approach that slashed tens of thousands of jobs, bought and sold a variety of businesses and moved the company into financial services and consulting. According to CNBC, the company's market value rose from $12 billion to $410 billion during his tenure.
After retiring from GE in 2001, Welch worked as a consultant and speaker, and also taught at the Massachusetts Institute of Technology's Sloan School of Management.
Welch and fellow students at Illinois were great supporters of their former adviser, James Westwater, and together helped establish the James W. Westwater Professorship in Chemical Engineering in 1986.
Welch is survived by four children, Katherine Welch, John Welch III, Anne Welch and Mark Welch; two former wives, Carolyn Carson and Jane Beasley Welch; and his third wife, the former Suzy Wetlaufer, whom he married in 2004.
The National Academy of Engineering (NAE)'s 2019 nominating committee has recommended Illinois alumnus John L. Anderson to stand as the sole candidate for the NAE presidency. Academy members will vote in March 2019 to elect a new NAE president to a six-year term beginning July 1.
Since receiving his BS in Chemical Engineering from the University of Delaware and his Ph.D. in Chemical Engineering from the University of Illinois (PhD 1971, Quinn), Anderson has served on the faculties of Cornell University, Carnegie Mellon University, Case Western Reserve University, and the Illinois Institute of Technology. He is President Emeritus and distinguished professor of chemical engineering at Illinois Tech.
"John Anderson is a superb nominee for president of the NAE," said NAE Council chair Gordon England, former secretary of the U.S. Navy. "He is a highly recognized leader in the academic community and has years of experience in many NAE positions, including being a current member of the Council. John is personable, very engaging, and a natural leader – just what we need to continue moving the NAE forward to better serve the nation."
If elected, Anderson will succeed C. D. (Dan) Mote, Jr., whose term will end June 30, 2019.
Anderson was elected a member of the National Academy of Engineering in 1992 "for contributions to the understanding of colloidal hydrodynamics and membrane transport phenomena." In addition to his current service on the NAE Council, he has served on numerous NAE and Academies committees including as chair of the Committee on Determining Basic Research Needs to Interrupt the Improvised Explosive Device Delivery Chain and chair of the Committee on Review of Existing and Potential Standoff Explosives (Suicide Bomber) Detection Techniques.
The National Academy of Engineering is part of The National Academies of Sciences, Engineering, and Medicine. These independent, nonprofit institutions advise the government and the public on some of the most pressing challenges facing the nation and the world. NAE members are the nation's premier engineers, elected by their peers for their distinguished achievements. Established in 1964, the NAE operates under the congressional charter granted to the National Academy of Sciences in 1863. The NAE president is a full-time employee of the organization at its headquarters in Washington, D.C., and also serves as vice chair of the National Research Council, the principal operating arm of the National Academies.
Anderson served as the president of Illinois Tech from 2007 to 2015. He is currently a distinguished professor of chemical engineering at Illinois Tech's Armour College of Engineering. His past academic leadership positions include chair of biomedical engineering, department head of chemical engineering, and dean of engineering at Carnegie Mellon University, as well as provost and executive vice president at Case Western Reserve University.
As a Guggenheim Fellow, Anderson was visiting professor at Massachusetts Institute of Technology from 1982 to 1983, and he has held visiting professorships at Landbouwuniversiteit Wageningen (Netherlands, 1994) and the University of Melbourne (Australia, 1995). He has served on advisory boards/visiting committees for Carnegie Mellon University, University of California, Santa Barbara, Cornell University, University College Dublin, University of Delaware, Georgia Institute of Technology, University of Illinois, Johns Hopkins University, Massachusetts Institute of Technology, Princeton University, University of Toronto, Vanderbilt University, Virginia Commonwealth University, and University of Virginia. Anderson has mentored 26 doctoral students.
In 2014 Anderson was appointed by President Obama to the National Science Board. He is a Fellow of the American Academy of Arts and Sciences and the American Association for the Advancement of Science, and has been awarded the Andreas Acrivos Award for Professional Progress in Chemical Engineering (1989) and the National Engineering Award by the American Association of Engineering Societies (2012).
Anderson is married to Patricia Siemen Anderson; they have two children and five grandchildren.