The University of Illinois Urbana-Champaign's Center for Advanced Study announced that Damien Guironnet, a chemical and biomolecular engineering professor, is among eleven newly elected fellows for 2021-2022. The CAS identifies the top scholars on campus and provides one semester of release-time from teaching duties for fellows to concentrate on creative work. 
Untenured faculty from all departments are eligible for this program; appointments are made based on a rigorous nomination and election process. During their term, CAS Fellows can pursue self-initiated programs of scholarly research or professional activities. They are also invited to deliver a CAS presentation and participate in a roundtable discussion of research interests.
Guironnet joined the department in 2014. His group develops new catalysts and processes for the synthesis of polymers with unprecedented control. He was elected based on his proposal, "Automated Polymer Synthesis to Accelerate Discovery."
During his fellowship year, Guironnet's group will further advance the design-to-synthesis strategy protocols that they have pioneered. This strategy enables the conversion of a hand drawing of a polymer's shape or molecular weight distribution into an actual sample.
"The precision and tunability of our methodology will allow us to use, for the first time, molecular shape to drive self-assembly," Guironnet said. "Our most ambitious goal is to use the shape of the macromolecules to create supramolecular assemblies that can mimic the unique catalytic activity achieved by enzymes."
"It is a privilege to join the ranks of so many distinguished scholars and also to have the opportunity to pursue research that will lay the foundation to open a new era in polymer synthesis," he added.
Each year's CAS Fellows become permanent members of the Center, which comprises the highest scholarly achievement across campus. The CAS hosts public lectures, long-term visits by world-renowned scholars, interdisciplinary symposia and a variety of educational programs, and other special events for its members. 
News source
When in space, astronauts typically eat dehydrated, nutrient-dense food, but when it comes to longer space missions, that can become a problem as they'll eventually lack nutrients from fresh vegetables. However, one chemical and biomolecular engineering professor will be researching ways astronauts can grow their own fresh vegetables more efficiently while they are on missions.
Ying Diao was recently awarded the NASA Early Career Faculty Award for her proposal: Remote Autonomous Plant Sensing for Space Exploration Enabled by Wearable Printed Electronics.
Diao's goal for this research is to develop wearable sensors for plants so that their health and stress levels are detected autonomously, with no need for humans to do the testing. Then, a "smart" plant chamber will be developed that can identify the best conditions for a plant to grow in to reduce its stress. Diao also wants to develop another sensor that will continuously monitor a plant's growth over its lifetime.
"We're helping the astronauts to be more healthy during space missions by improving the health of the plants they grow," Diao said. "So the bigger impact could also be that it helps future human colonization on Mars or on other possible habitats."
Diao said when writing her proposal for the award, she almost gave up hope that she would win as she was working on it during the lockdown, when COVID-19 first hit the United States. Throughout this time, Diao was also a full-time mom to her son and had to work while he was sleeping.
"That's why I didn't anticipate success at the beginning, so I'm really excited that I can be part of this effort," Diao said, adding that since she was little, she always wanted to be an astronaut. "So it feels really exciting that our research can be connected to NASA and that we can work with them on solving problems to better advance space missions."
Although the ultimate goal for this project and research is to help people in space, it could also be utilized back on Earth in addressing climate change.
"During climate change, a plant experiences a lot of stress, but on the other hand, we need a plant to be more productive without increasing the footprint of the agricultural land to feed the growing population of our planet," Diao said. "To address this conflict, we could potentially help decipher how climate change and microenvironments are impacting plant stress, and then we are better equipped to help plants adapt to a changing environment."
This project will have a three-year time limit and will include a team of two graduate students, Siqing Wang and Kavin Ella Elangovan, and one undergraduate student, Bindu Edupulapati, who will all have different roles in developing these sensors. Eventually, Diao hopes to be able to test the devices in the Vegetable Production System (Veggie) unit in the International Space Station, but said "that's a challenging goal to strive for."
"I think most of the technology in my field is developed for human health, but we've been ignoring plants for too long," Diao said. "I think it's a new frontier that I want to go into and it was just part of a smart agriculture movement."
ennsylvania State University, who chaired the 2020 Graduate Award Session in Inorganic Chemistry Area within the Materials Engineering & Sciences Division (MESD) in the award letter.
Vikram's faculty advisor is Paul Kenis, the ChBE Department Head and Elio Eliakim Tarika Endowed Chair in Chemical Engineering. Vikram develops flow reactor platforms for the synthesis of heavy-metal-free quantum dots used in next-generation display technologies.
"I am honored to receive this award, which represents the culmination of my education in ChBE and many collaborations within and outside of the department," Vikram said.
News Source
Samantha Boyle
Professor Hammack has been awarded the Hoover Medal.
The award is named for its first recipient, U.S. President Herbert Hoover, who was an engineer by profession. Established in 1929 to honor "great, unselfish, nontechnical services by engineers to humanity," the award is administered by a board representing five engineering organizations: the American Society of Mechanical Engineers; the American Society of Civil Engineers; the American Institute of Chemical Engineers; the American Institute of Mining, Metallurgical and Petroleum Engineers; and the Institute of Electrical and Electronics Engineers.
Previous winners include presidents Dwight D. Eisenhower and Jimmy Carter; industrialist David Packard, the founder of Hewlett-Packard; Arnold O. Beckman, an Illinois alumnus and a scientist, businessman and philanthropist whose support spurred the development of the Beckman Institute for Advanced Science and Technology on the Illinois campus; and inventor Dean Kamen.
Hammack is a member of AICHE and a William H. and Janet G. Lycan Professor at Illinois. He is the creator and host of the popular YouTube channel "engineerguy" and has recorded more than 200 public radio segments that describe what, why and how engineers do what they do. He wrote the books "Michael Faraday's Chemical History of a Candle, " "Why Engineers Need to Grow a Long Tail, " "How Engineers Create the World, " "Eight Amazing Engineering Stories" and "Albert Michelson's Harmonic Analyzer. "
"I am thrilled with the recognition by this award of the importance of reaching out to the public – to explain to them science and engineering," Hammack said. "With this understanding, the public can better exercise the civic responsibility of shaping the technological forces that shape our lives."
The National Association of Science Writers, the American Chemical Society and the American Institute of Physics all have recognized Hammack for his outreach efforts through numerous awards.
"Bill's wonderful stories make every engineer proud and watching them immediately converts you into an engineering zealot," said AICHE Foundation member Eduardo Glandt, the dean emeritus of engineering and applied science at the University of Pennsylvania.
Graduate student category
Marley Dewey, the Harley Research Lab
This is a mineral and polymer galaxy. This specific polymer contains calcium phosphate mineral and was 3D printed in order to repair damaged bone. Dewey's role involves taking these 3D-printed polymers and combining them with collagen-based biomaterials in order to regenerate large missing portions of bone from the skull and jaw.
Research images from a recent Beckman contest are being featured in the director's conference room. The images highlight the beauty of science and showcase the range of research conducted at the institute. By Beckman Institute Published on July 30, 2020
Scientists at the Beckman Institute for Advanced Science and Technology recently showed off their research through Beckman Research Image Contest.
This year, the contest features four winners in the following categories: undergraduate students, graduate students, postdoctoral researcher, and faculty. The four framed images are being featured in the Beckman director's conference room. Last year's winning images will be hung throughout the Beckman's halls.
"Researchers at the Beckman Institute use our state-of-the-art tools to work together across disciplines and break new barriers," said Jeff Moore, the director of the Beckman Institute and an Ikenberry Endowed Chair in the Department of Chemistry. "These images show that research is not only important, but also visually beautiful. I continue to be amazed and inspired by the entries in the Beckman Research Image Contest."
The winners are:
Undergraduate student category
Rachel Tham, the Minjoo Larry Lee Group
Multijunction solar cells could significantly increase the efficiency of solar power. However, lattice mismatch between the device layers can lead to defects called threading dislocations that decrease their efficiency. Tham's research, conducted with graduate student Ryan Hool, works to better understand why and how these dislocations occur to make multijunction solar cells more efficient. This image is a Nomarski (also called differential interference contrast) image of a beryllium-doped gallium phosphide (GaP) on GaP sample, after defect selective etching, and it was imaged with the Beckman Institute's inspection microscope at 50 times magnification. DSE reveals the location of threading dislocations as etch pits in the sample, and the number of etch pits present can then be used to calculate the sample's threading dislocation density.
Postdoctoral and staff researcher category
Mark Levenstein, the Wagoner Johnson Applied Biomaterials and Biomechanics Lab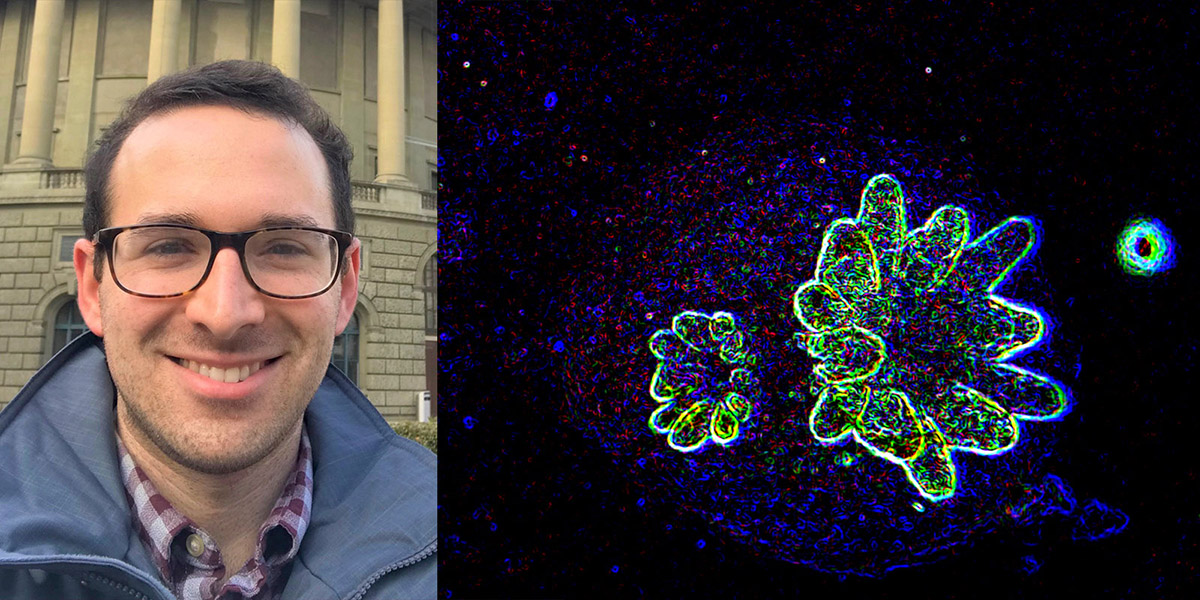 Optical micrograph of a baby Acropora palmata coral polyp inverted and modified for enhanced contrast of the newly formed tentacles. The polyp is shown growing on a novel carbonate reef restoration substrate, which hopefully will increase the settlement and survival of juvenile corals into adulthood.
Faculty member category
Brad Sutton, Magnetic Resonance Functional Imaging Lab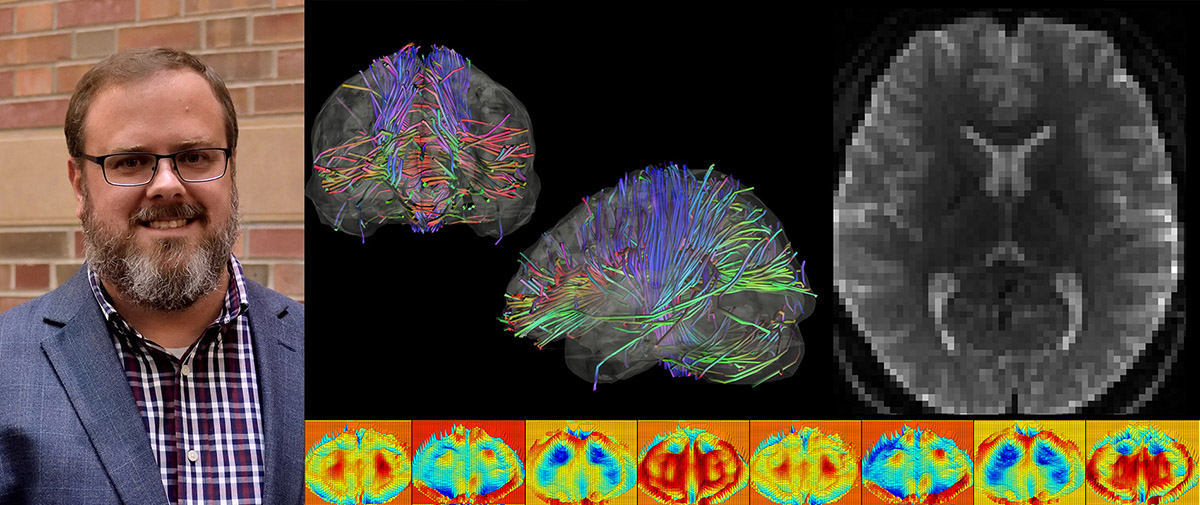 Two techniques in magnetic resonance imaging enable researchers to see highly sensitive information about the structure of brain tissue: diffusion tensor imaging and magnetic resonance elastography. DTI looks at the cabling in the brain. These white matter fiber pathways transmit information from one part of the brain to another. MRE looks at the mechanical properties of the brain tissue, including stiffness. It provides information about the interconnections and complexity of cells in the brain. In order to make a clinically feasible protocol and save time, the Sutton Group and Carle Foundation Hospital-Beckman Institute Postdoctoral Fellow Aaron Anderson, in collaboration with professors Dieter Klatt and Richard Magin at the University of Illinois at Chicago, developed and implemented a DTI-MRE sequence that acquires both DTI and MRE data at the same time. This data was collected on the Biomedical Imaging Center 3 Tesla Prisma MRI system. Grant funding: NIH/NIBIB 5R21EB026238-02.
Professor Xiao Su has been selected as a 2020 Scialog Fellow AND The ACS Division of Colloid and Surface Chemistry for the 2020 Viktor K. LaMer Award
Congratulations to Professor Xiao Su, who has been selected as a Scialog Fellow to participate in the 2020 Scialog: Negative Emissions Sicence (NES) Initiative, jointly sponsored by Research Corporation for Science Advancement (RCSA) and the Alfred P. Sloan Foundation.
The Scialog fellowship invites around 50 early career faculty to participate in the initiatives. This year's negative emissions theme (NES) covers the pressing challenge of rapid-decarbonization of the global economy, and involves a multidisciplinary input from chemistry, physics, materials science, biology, engineering, and geophysics.
Xiao joined the Illinois faculty in 2019, and has since built an exciting research program on exploring molecular engineering for electrochemical separations and process intensification. His group focuses on understanding the fundamental principles of redox-systems, and discovering new supramolecular interactions for achieving higher molecular selectivity in separation processes. Areas of application include fine chemical purification, water purification, and environmental remediation.
Xiao received his BASc in Chemical Engineering from the University of Waterloo, Canada, and earned his PhD in Chemical Engineering from MIT.
Link to Award: https://rescorp.org/scialog/negative-emissions-science
The ACS Division of Colloid and Surface Chemistry for the 2020 Viktor K. LaMer Award
Professor Xiao Su is also the winner of the 2020 ACS Viktor K. LaMer Award from the Division of Colloid and Surface Chemistry. The ACS LaMer Award recognizes an outstanding PhD thesis accepted by a U.S. or Canadian University during the three year prior the award year.
The official LaMer award lecture will be presented in the 2021 ACS Colloids and Surface Science meeting.
Link to Award Announcement: https://colloids2020.blogs.rice.edu/2020-awards/
Congratulations to Professors Bill Hammack and Baron Peters, both recently invested as William H. and Janet G. Lycan Professors in the Department of Chemical and Biomolecular Engineering.
Baron Peters joined the Illinois faculty in January 2019. His research includes developing fundamental new methods in rare events modeling to understand catalytic and chemical reaction pathways. He studies reactions between charged species in solution, which is an open and fertile area of research with key applications to energy and the food/water nexus. He specifically aims to understand whether a single universal solvent reaction coordinate (e.g., a unifying theme) can be applied to reactions involving charge transfer with atoms in fixed positions, atom migration with fixed charges, and coupled charge transfer and atom migration. In a second area, he studies nucleation and growth using simulations that accurately capture multiple species including solutes, solvents, surfactants, and nucleants.
Professor Peters graduated from the University of Missouri, Columbia, in 1999, with a BS in Mathematics and Chemical Engineering. In 2004, he earned a PhD in Chemical Engineering from the University of California, Berkeley.
For decades, the EngineerGuy, a.k.a. Professor William S. Hammack, has been enlightening people with his videos, radio commentaries, books, and courses. He is a pioneer of new and novel approaches to engineering outreach. He received his BS in Chemical Engineering from Michigan Technological University in 1984 and his MS and PhD from the University of Illinois in 1986 and 1988, studying intramolecular electron transfer under the late Professor Harry Drickamer. Prof. Hammack taught at Carnegie Mellon for a decade before returning to Illinois and joining the chemical engineering faculty in 1998.
From 1999 to 2006, Hammack created a groundbreaking series of over 200 pieces for public radio that described what engineers do, why they do it, and how. He also created and is host of the popular YouTube channel "engineerguyvideo." His YouTube videos and pieces for public radio have been seen or heard millions of times around the world.
Congratulations to Chemical and Biomolecular Engineering graduate student Johnny Ching-Wei Lee, who has been selected to receive the 2020 Prize for Outstanding Student Research from the Neutron Scattering Society of America.
Lee is a member of professor Simon Rogers' lab. His research has focused on how molecules rearrange and affect the flow and deformation characteristics of soft materials, such as synthetic and biological polymers, under dynamically-changing flows.
"I'm deeply pleased and honored to receive this prestigious award," said Lee, who wished to thank his advisor and his collaborators at the National Institute of Standards and Technology and Institut Laue-Langevin.
NSSA established the prize to recognize outstanding accomplishments in neutron scattering by students who have performed much of their work at North American neutron facilities. Nominations are reviewed by a committee of experts in the field of neutron science.
The award will be presented at the society's annual meeting this summer.
Lee completed his undergraduate studies at National Taiwan University and joined the University of Illinois Department of Chemical and Biomolecular Engineering as a graduate student in 2015.
His work involves characterization and molecular design of synthetic and biological soft materials under flows. He combines advanced rheological methods with neutron scattering techniques to simultaneously monitor the macroscopic material response and in-situ molecular rearrangements. He has successfully unveiled complex structure-rheology correlations, leading to new design criteria for soft materials.
After he graduates from Illinois with his PhD in Chemical Engineering, Lee plans to join Corteva as a research scientist with its Formulation Science and Technology R&D Team.
Diwakar Shukla, Blue Waters Assistant Professor in the Department of Chemical and Biomolecular Engineering, has been chosen to receive a 2020 Dean's Award for Excellence in Research from the Grainger College of Engineering.
The awards were established to honor faculty for outstanding research. Four assistant professors are chosen by their peers based on who has conducted the most outstanding research during the last academic year. In addition, four associate professors are chosen for their outstanding research over the past five academic years. Professor Shukla will be honored at the college's faculty awards ceremony on April 27.
The Shukla Group uses and develops theoretical and computational chemistry tools to understand biophysical processes in plants. In particular, his research program focuses on understanding how plants sense and cope with stressful environmental conditions.
In 2018-19 and 2019-20 academic years, Dr. Shukla has received seven faculty awards including early-career investigator awards from the American Chemical Society, American Institute of Chemical Engineers, National Science Foundation and Alfred P. Sloan Foundation. He was selected as the NCSA faculty fellow for 2019-2020, Fellow of the Center for Advance Study for 2020-21 and received the Excellence in Teaching award (2019) from the School of chemical sciences.
"I am honored to receive this recognition on behalf of the outstanding students in my group, collaborators, and mentors at Illinois. They inspire me every day by their excellence and enthusiasm for research," he said.
Shukla joined the Illinois faculty in 2015. He received his PhD in Chemical Engineering from the Massachusetts Institute of Technology and was postdoctoral fellow in the Department of Chemistry at Stanford University. He holds affiliate appointments in the Department of Plant Biology, National Center for Supercomputing Applications, Center for Biophysics & Quantitative Biology, and the Beckman Institute for Advanced Science and Technology.
Ying Diao, an assistant professor in the Department of Chemical and Biomolecular Engineering, has been chosen as a Lincoln Excellence for Assistant Professors (LEAP) Scholar for her outstanding contributions and potential in research and teaching.
Diao is one of six early career professors selected for the honor. Fellow awardees include Marsha Barrett in the Department of History; Vincent Cervantes in the Department of Spanish & Portuguese; Xin Liu in the Department of Astronomy; Ghassan Moussawi in the Departments of Gender and Women's Studies and Sociology; and Sepideh Sadaghiani in the Department of Psychology.
Martin Camargo, associate dean for humanities and interdisciplinary programs in the College of LAS, said that the LEAP Award is granted to faculty early in their career based on scholarly productivity and contributions to the educational mission of their departments and the College of LAS. The selected LEAP scholars will hold the title for two years and receive $5,000 in discretionary research funding for each of those two years.
Diao has been on the U of I faculty since 2015. She and members of her research group have been conducting imaginative research involving materials chemistry, molecular electronics, and biomedical sciences. Her research draws inspiration from many disciplines to advance molecular assembly technology, with potential for transformative impact on electronics, clean and renewable energy, and healthcare.
Her work has been frequently featured in science journals and news media such as the Science Magazine, Nature Materials, American Chemical Society, ScienceDaily, Royal Society of Chemistry, Materials Research Society, and American Association for the Advancement of Science. In 2016, she was named to MIT Technology Review's annual list of Innovators Under 35. Diao received her PhD in chemical engineering from MIT in 2011.
For the full story, visit the College of LAS website.
Congratulations to Dr. David Flaherty, recipient of the Early Career Award from the regional chapter of the American Vacuum Society.
Flaherty, an assistant professor in chemical and biomolecular engineering, received the award at the AVS Prairie Chapter symposium in Chicago earlier this month. He delivered the talk, "Non-Innocent Solvents, Hydrogen Transfer, Oxygen Dissociation on Nanoparticles during the Direct Synthesis of H2O2."
The Flaherty Research Group develops new principles needed to design catalytic materials and systems for the sustainable production of consumer products and fuels. Flaherty, who joined the department in 2012, holds a BS from University of California, Berkeley and a PhD from the University of Texas at Austin.
Congratulations Prof. Flaherty!