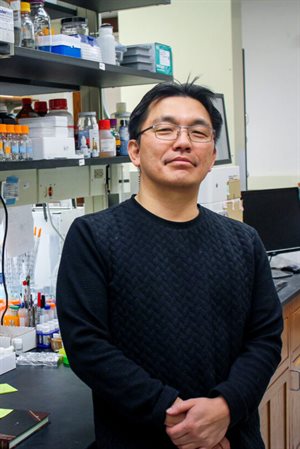 An inspired biochemical engineer
Today's scholars construct stories onto towering buildings begun by their predecessors—and thanks to these multi-generational scientific collaborations, we can see further than ever before. In the metropolis of chemical and biomedical engineering research, Robert W. Schaefer Professor Hyunjoon Kong has laid the foundation for a new area of study at the University of Illinois Urbana-Champaign.
At his recent investiture (read more on page 4), Kong shared that his uncle, who was an English professor, first came to UIUC on sabbatical and returned to describe the "large university campus, educational environment, and lifestyle" that so differed from their native country of South Korea.
Perhaps it was this experience, Kong suggests, that inspired his dream to study in the U.S.—yet he never would have imagined that his career would bring him to the same institution as his uncle so many years before.
Kong earned a BS and MS in industrial chemistry engineering from Hanyang University in Seoul, South Korea, before he would realize this dream at the University of Michigan.
He earned his PhD in macromolecular science and engineering with Victor Li, the James R. Rice Distinguished University Professor. For his thesis, Kong studied the literal foundation of construction: cement—specifically the development of a flowing and flexible cement composite.
Next, he transitioned to biomedical engineering as a postdoctoral researcher in the lab of Robert P. Pinkas Family Professor of Bioengineering David Mooney at the Harvard School of Engineering and Applied Sciences.
"You can see a correlation between the human body and building structures," Kong said. "Concrete is reinforced by iron bars; the iron bars are our bone, and then the concrete is like the connective tissues that make up our bodies."
It is this imaginative thinking that has propelled his career.
For Kong, this postdoctoral position was an opportunity to expand his research, but also to work on a variety of systems from which he could draw inspiration.
Kong joined UIUC in 2007 and established an independent research program at the interface of biology and materials.
Engineering Micro-Bots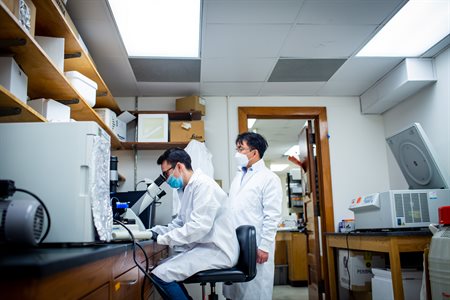 Building upon his work with Mooney, Kong developed biomaterials to promote wound healing—but he soon witnessed challenges that must be overcome before these therapeutic products could be implemented.
"If there is an infection, it will neutralize all our efforts," he said. "What I found was that microorganisms are making their own tissue within our host tissue, called a biofilm, that acts as a physical barrier for our great drug delivery system or tissue engineering products."
Kong was inspired to learn how to control molecular and cellular transportation within our complex biological system to overcome these biochemical and biophysical barriers.
Today, he is designing synthetic machines—called antibacterial micro-bots—that can tackle these biofilms, or tissue made by microorganisms, which it turns out, are ubiquitous.
"Biofilms are everywhere," he said. "I don't want to scare you."
That yellow stuff that forms within an infected wound is a biofilm that is difficult to remove with antibiotics. Your bad morning breath can also be caused by biofilms. And the black stuff growing between your shower tiles? That's a biofilm, Kong says. In fact, he discovered biofilms after he came to the U.S. and was responsible for cleaning his bathroom for the first time. Truly, inspiration can strike anywhere.
Current cleaning options on the market only work on the surface of three-dimensional biofilms. His biomaterials use bubbles to penetrate biofilms and destroy them from the inside out. He is in talks to scale up the manufacturing of this product.
"I am quite confident that we are the first to demonstrate how to produce particles that can swim in the water and create bubbles to clear away biofilms," Kong said.
Now that Kong's team has laid the foundation, other research groups are investigating how to combat biofilms in various tissues, biomedical devices, and places with biomaterials.
Synthetic Engineering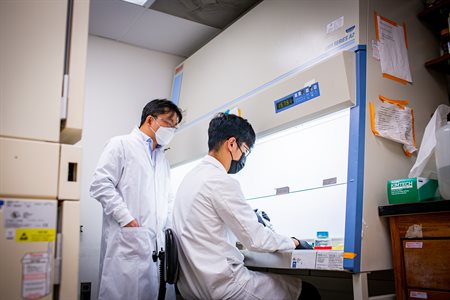 Kong is also teaming up with colleagues to understand how cells cooperate and compete with each other, specifically in regards to the development of healthy or diseased tissues. The goal is to control the interaction between cells in order to mimic/accelerate disease progression outside of the body to enable clinical prediction and treatment studies.
Kong's team is interested in applying this knowledge to develop organoids that reproduce the patient-specific physiological function and biotransport of a beating heart and muscles activated by innervated neurons.
Kong is also developing microfluidic chips to study how the sleep cycle influences the interactions between blood vessels and the brain with Martha Gillette, Alumni Professor of Cell and Developmental Biology at UIUC and Bumsoo Han, Professor of Mechanical Engineering at Purdue.
"Sleep is very important to our body," Kong said. "During daily activities, our brain generates waste, but during the nighttime, our bodies must flush out the metabolic waste. We are studying a certain change in the permeability of the blood vessel during this process. My chemical engineering students are stunned to learn that this is basically a fluid dynamics problem."
Kong says, thanks to this line of research, he always encourages his students to sleep rather than cram before an exam. (He teaches thermodynamics and bio-transport courses, for which he was recently recognized with a teaching award from the School of Chemical Sciences.)
Building Collaborations
"I kind of always try to think out of the box—that has helped me to start something new," Kong said, adding that he shares this ambition with many of his collaborators.
Now, Kong is leading a group of like-minded scientists in a new research theme called "Multi-Cellular Engineered Living Systems" (M-CELS) at the Carl R. Woese Institute for Genomic Biology, an interdisciplinary life sciences research institute at UIUC.
"We can utilize M-­CELS to assemble various transformative engineering systems, such as a bio­hybrid robot, a neuro computer, and energy generation device, as well as other new and unforeseen possibilities," Kong said in a 2020 announcement. "These systems may also encompass implantable 'hyper­organs' that sense a biological signal, and in response, synthesize, secrete, and deliver a biologic product via diffusion or pumping."
"Currently, theme members are working to engineer neuron-­innervated muscle-based bio­hybrid robots that perform autonomous functions in response to external stimuli," Kong said. "These core technologies will provide enabling technologies and computational methods for the advancement of M-CELS, along with evolutionary insights and ethical considerations."
The new theme is an opportunity to build more collaborations, and to see further together, which is the premise of the IGB.
Perhaps, it is also the epitome of Kong's dream to study in America at a large university brimming with colleagues, tools, and inspiration. Certainly, it is the culmination of his curiosity that was piqued in the unlikeliest of places, back in his graduate school bathroom.
---
This profile originally appeared in the Fall/Winter 2021 issue of Mass Transfer, the magazine for alumni and friends of Chemical and Biomolecular Engineering at Illinois. For a listing of all our faculty members, please visit our directory or explore the department's research pages for overviews of our groundbreaking research programs.