Simon Rogers
This profile originally appeared in the Fall/Winter 2015 issue of Mass Transfer, the magazine for alumni and friends of Chemical and Biomolecular Engineering at Illinois. For a listing of all our faculty members, please visit our directory or explore the department's research pages for overviews of our groundbreaking research programs.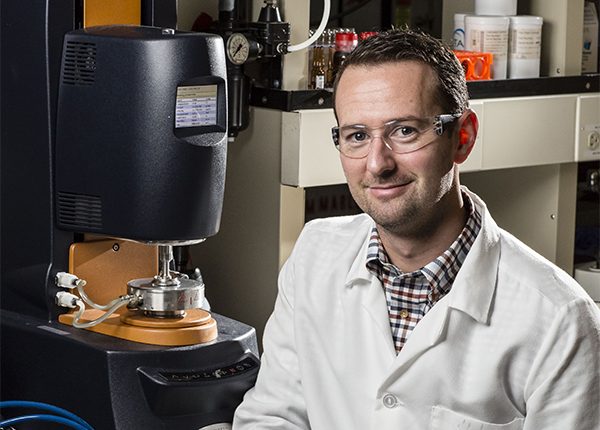 Simon Rogers joined the Department of Chemical and Biomolecular Engineering as an Assistant Professor in Fall 2015, bringing the total number of faculty in the department to 19, the highest it's ever been. Professor Rogers comes to the University of Illinois from New Zealand—by way of Delaware, Germany, and Greece.
A native New Zealander, Rogers hails from Upper Hutt, a city just north of the capital city of Wellington, and received his undergraduate and graduate degrees from Victoria University of Wellington.
"I have always been interested in big picture-type problems, such as the nature of time. … What is time, where does it go, and how is it another dimension, like space?" Rogers said.
Early on in college, Rogers considered focusing on astronomy and astrophysics, but as he continued his studies, his interests shifted from the largest scale to the smallest scale and how time is manifested in that realm.
Rogers investigates how soft materials respond to deformation. In other words, what happens when you poke something, he said.
"The mathematics we use to describe how things respond to being poked hasn't really changed since we started poking things. I'm interested in bringing in a new way of thinking about these things and a new way of describing these responses," he said.
With a Ph.D. in physics, Rogers admits he may not have "a traditional chemical engineering background," but he views that as a positive.
"I bring a different way of looking at traditional problems," he said.
Rogers, who describes himself as a visual person, said his drive to visualize things has pushed his mathematical curiosity. By using insights from 'visual' fields such as geometry, he says his research has provided new ways to look at old problems.
In addition to rheology, Rogers's research has used neutron scattering, which involves firing beams of neutrons at soft materials, resulting in beautiful, brightly-colored pictures. The results show pulses, flares, and shapes which can inform researchers about how the materials respond on their smallest length scale.
After receiving his Ph.D. in 2011, Rogers held three different postdoctoral research positions. First, he joined the Foundation for Research and Technology in Crete, where he was part of the Institute of Electronic Structure and Laser, followed by the Jülich Research Center in Germany, where he was with the Institute of Complex Systems' Soft Condensed Matter group.
Prior to joining the Illinois faculty, he worked with Professor Norman Wagner at the University of Delaware and the Center for Neutron Research.
His motivation for working at different locations around the world was prompted by his interest in seeing the world and gaining a broader understanding of the human condition, "and I feel I am a much more well-rounded person because of those experiences," Rogers said.