Life on the Silicon Prairie
Urbana-Champaign is a place where people come together to bring big ideas to life. We're home to the tech incubator University of Illinois Research Park and surrounded by some of the richest farmland in the world. Our campus community is home to a wide range of exceptional research and scholarship, but what truly sets us apart is a collaborative environment that leads to groundbreaking discovery, innovation, and partnerships that invite new ways of thinking and working. CHBE's Cultural Resource Guide to Champaign-Urbana was created by our Graduate Student Advisory Council (GSAC) to highlight some of the food and experiences that our community has to offer.

Download Guide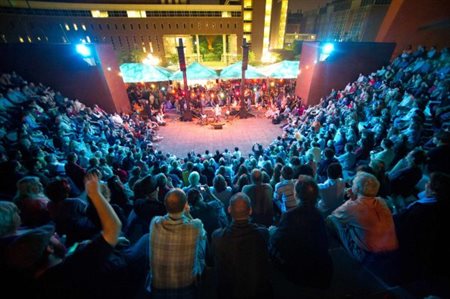 Unique "Micro-Urban" Community
Urbana-Champaign is on an accelerated development track, emerging as a leading example of a "micro-urban" community—a population center of less than 250,000 with a set of highly desirable attributes commonly found in larger cities. Our vibrant arts/culture/nightlife scene, internationally diverse population, strong technology base, and commitment to societal issues coupled with a world-class university make this an ideal place to live, study, and work. Plus, we are just a few hours away from three metropolises: Chicago, St. Louis, and Indianapolis.
Better Living, Less Hassle
#2 on American Institute of Economic Research's Best College Towns based on demographics, quality of life, and economics
#2 among national peer institutions for cost-of-living
80 parks spanning nearly 1,000 acres in Urbana-Champaign alone (and many more within a short drive) provide an abundance of swimming, boating, fishing, hiking, camping, and biking opportunities
19 intercollegiate sports programs keep the excitement of Big Ten athletics ever-present on campus
Easy commutes, a designated "bike-friendly" community, and an award-winning mass transit system (free with campus ID) make it quick and simple to get from here to there
Explore our campus and community
Points of Interest
Our current graduate students open their doors to show you what housing options are available in Champaign-Urbana. Take a peek at how far your hard-earned money can go in our community.
Student Organizations
Our graduate students are engaged in several student organizations and activities including the Graduate Student Advisory Council that organizes our graduate research symposium and various events to help knit together our graduate student body.
Tag along on a virtual tour of several ChBE labs to get a feel for the spaces and people within our department.
Wondering what it looks like on our campus right now? Check out live footage of our most beloved statue on campus, Alma Mater.