Dear alumni and friends,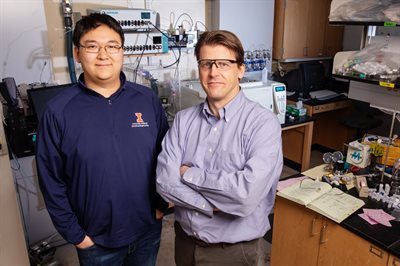 The generosity of our alumni and friends has long been a linchpin of the department's success. You play a vital role in helping us meet the changing educational needs of students and create an environment where faculty and students thrive.
Gifts to the department are an investment in our world-renowned faculty and their innovative research and teaching endeavors. They sustain vital scholarships and fellowships for the next generation of leaders in chemical engineering—and much more.
Read about the numerous ways to give below. If your employer provides a matching gift program, you can double or even triple the impact of your donation.
Thank you for your support!
Dr. Paul Kenis
Elio Tarika Chair and Department Head
Ways to Give
Your support ensures that we remain a leader in engineering education, discovery, innovation, and sustained excellence.
To make a gift, choose which path you'd like to take.
Recurring Gifts
Being able to count on your financial support every year helps the department sustain its commitment to excellence and plan for the future. We are deeply grateful to the alumni and friends who include us in their philanthropic priorities each year.
Planned Gifts
You may want to consider making a planned gift to the University, which can offer financial benefits through income and estate tax savings and arrangements that provide lifetime income. Discover six ways to make a planned gift at the link below.
Matched Gifts
Many employers sponsor matching gift programs and will match charitable contributions made to the University by their employees, retirees, and/or spouses. Find out if your employer offers a matched gift program at the link below.
Giving Priorities
Increase fellowships for graduate students.
Competition for top graduate students is fierce. It's vital we bring the best to Illinois. As federal funding for research becomes more uncertain, we need internal resources to sustain our outstanding research portfolio and maximize our impact.
The Legacy Fellows program allows our alumni and friends to provide financial support for graduate students in honor of their graduate advisor or favorite professor. Your investment will provide students with the skills and tools they need to become leaders in academia and industry.
Increase scholarships for undergraduates.
Recruit a talented and diverse pool of undergraduates in a competitive market.
Reward the academic and leadership achievements of our current undergraduates.
Reduce the burden of student debt. Nearly half of graduating seniors have taken out loans to pay for their education. The average debt at graduation is almost $25,000.
Increase named professor/chair/scholar opportunities for faculty.
On average, two Chemical and Biomolecular Engineering faculty members each year receive enticing offers from competing institutions. These gifts and endowments enable us to recognize and retain our prominent current faculty members and recruit new faculty.
Provide state-of-the-art laboratories, classrooms, and technology.
Support the unit operations lab and its experiments, the student computer labs, and the undergraduate learning center, a state-of-the-art interactive space for team-based projects, homework, and other activities.
Renovate faculty research labs, offices, and conference rooms.
Next: Add a new wing to Roger Adams Lab to accommodate the space needs of our growing faculty and their innovative research programs. Naming rights are available for these facilities, labs, and other spaces at appropriate gift levels.
Support outreach efforts.
The department's faculty and staff are active in a variety of K-12 outreach efforts, such as summer camps for high school girls and afterschool programs for underrepresented students. Gifts and/or named endowments help support these programs and could lead to a fully endowed center that brings these activities together.