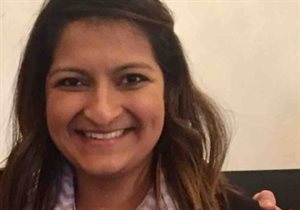 Sonam Patel
Class of 2011
Tell us where you live and your current job.
Cincinnati, OH. I work as a Senior Product Design Engineer for Procter & Gamble in their Feminine Care business. I enjoy being able to talk with consumers and use their insights to design a product for the market. It gives you a great sense of accomplishment seeing something you worked on at the store shelves and means even more to make a difference in the lives of my consumer.
Could you share with us a recent work accomplishment or project that you're currently working on?
I recently helped to launch a project from the concept phase to full-scale manufacturing. My next goal is to get my name on a U.S. patent with some of the product design work I do.
How did your education in Chemical and Biomolecular Engineering at Illinois help prepare you for your career?
My major helped me get the discipline needed to approach a problem with many solutions and figure out how to get the resources I need to accomplish my projects. Through labs and senior design, I learned to work in a team to take advantage of each other's strengths and accomplish even more doing so.
What is your favorite memory of your time at Illinois?
Working at the front desk at ISR and having such a closely knit team. You always ran into someone or something interesting at the desk and I loved being able to meet so many people.
If you could give one piece of advice to ChBE freshmen, what would it be?
Try and get as many internships before graduating as you can and know that many companies hire freshmen. ChBE is a versatile engineering degree and can get you a job in many fields. That's why I chose chemical engineering. The stuff you learn in class is only one part of what a chemical engineer can do. The possibilities after graduation are endless and your background is what gets you the job, but it doesn't limit you. That's why it's important to do internships to learn what you may be interested in after graduation.