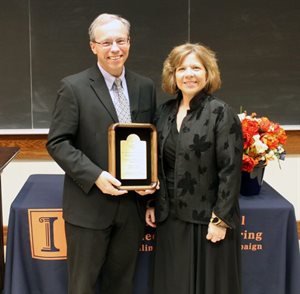 Jim Morris
Class of 1981
Jim Morris establishes faculty scholar position
Growing up on a farm in northern Illinois, the son of a carpenter and a homemaker, Jim Morris didn't leave the state until his late teens. Now a facilities engineer with ExxonMobil, he's lived and worked throughout the Gulf Coast and abroad in Nigeria and Qatar.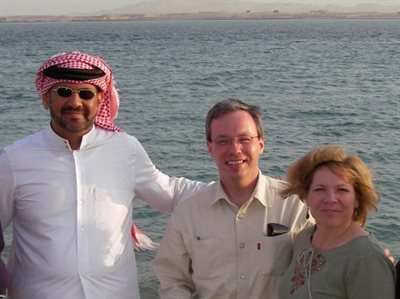 "I've had opportunities to see a good part of the world. It's been a fascinating career," he said.
For those opportunities, he credits his parents, Donald and Dolores Morris, and their emphasis on the importance of a college education.
On university and college campuses, it's not uncommon to find outstanding faculty who have been recognized by their departments with named professorships, endowed chairs, and faculty scholar titles. Funded by generous donors, these programs help retain and attract brilliant faculty and provide resources for their teaching, research, and outreach.
This is the story behind one of those named positions.
Bill Hammack, known around the world for his entertaining and educational videos about engineering, is the Donald and Dolores Morris Faculty Scholar. Established by James M. Morris of Houston, the position honors his late parents.
"They really did come from humble beginnings. They worked hard. They sacrificed a lot to give me the opportunity (to go to the U of I)," Morris said.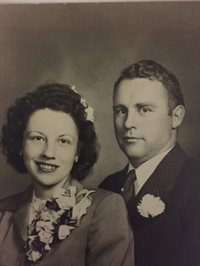 Donald and Dolores Morris grew up in the Depression Era. After finishing eighth grade, Dolores moved to the Chicago suburbs to find work as a housekeeper. During World War II, she joined thousands of other women at the time and assisted the war effort by working as a welder at a factory in Aurora, Illinois.
Donald served in the Army and fought in Germany, earning a Bronze Star for his service. The two met after the war, married, and raised their family on a small grain farm in Maple Park, Illinois. Donald worked as a carpenter and ran the farm.
Given those backgrounds, "the single-most-important objective for them was for us three children to go to college. That was their dream," Morris said.
It wasn't until many years later that Morris learned his father sold half the family's farmland while he was in high school in order to cover the costs of sending their children to college.
His older brother went first, graduating from the University of Illinois with a degree in civil engineering. Several years later, he also chose the U of I because it was in-state, affordable, and a highly-rated school, Morris recalled.
Initially, a pre-dental student, Morris switched to chemical engineering in his sophomore year because he enjoyed studying chemistry and engineering. Professor Thomas Hanratty, with whom he studied thermodynamics and mass transfer, made quite the impression on Morris.
"What stood out to me was the fact that he would always push us to think," he said.
When some students complained of facing test questions they hadn't seen before, Hanratty replied that when they entered industry, not everything they'd encounter would be a problem they already knew how to solve. He wanted them to apply their thinking and judgment skills to a problem, rather than memorize text or reiterate content found in a book, Morris said.
"That philosophy—thinking on your feet—stuck with me," Morris said.
After graduating from Illinois with his bachelor's degree in 1981, he joined Exxon and he and his wife Karen moved to Houston. Morris has been involved in a number of areas of ExxonMobil over the years, working throughout the Gulf Coast and overseas, including four years in Nigeria, where he was the engineering manager for offshore production operations and four years in Qatar, where he worked on a large liquefied natural gas project. As chief facilities engineer for ExxonMobil Upstream, he is responsible for the global application of facilities technologies, career development for engineers, and planning key strategic initiatives.
One of the highlights of his career was meeting on a regular basis with a Qatar sheikh–it was quite an experience for a farm boy from Illinois, he recalled.
After living and working abroad, Morris returned to the U.S. and reconnected with his alma mater. He and his wife Karen decided, given the challenges facing the university, including deductions in state funding, they would fund the faculty scholar position, paving the way for Hammack to further educate and enlighten budding engineers. And they would honor Morris' parents by naming it after them. His father died in 1985 and his mother passed away in 2006.
Today the rural homestead remains in his family; Morris' sister, an MRI technician, and her family live there, and he and Karen often return to the farm for visits.