Hammack's dedication to outreach and public service recognized by trio of awards
This profile originally appeared in the Spring/Summer 2021 issue of Mass Transfer, the magazine for alumni and friends of Chemical and Biomolecular Engineering at Illinois. For a listing of all our faculty members, please visit our directory or explore the department's research pages for overviews of our groundbreaking research programs.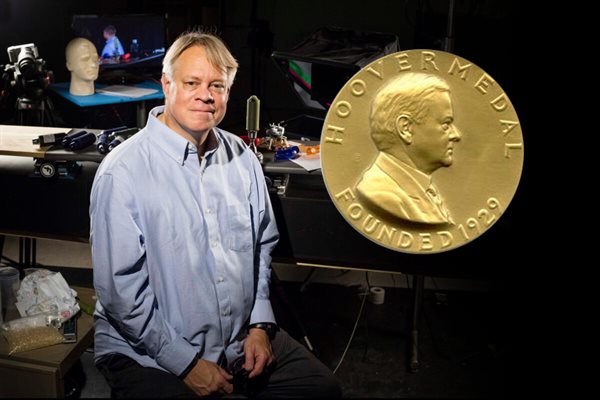 William H. and Janet G. Lycan Professor Bill Hammack has been honored by three awards recognizing his efforts to enhance public understanding and engagement with science and engineering. He is the recipient of the 2020 Hoover Medal, the 2020 Ralph Coats Roe Medal from the American Society of Mechanical Engineers (ASME), and most recently, the 2021 Public Service Award from the National Science Board (NSB).
"I love science and opening people to the amazing engineering feats that fill our everyday lives is a passion for me," said Hammack in the NSB award announcement. "To be awarded for doing something that I love this much is really wonderful."
His contributions to science communications include his popular YouTube channel "engineerguy" that has attained over a million subscribers and nearly seventy million views since its start in 2011. He has hosted more than 200 public radio segments that describe what, why, and how engineers do what they do. He has also authored a number of non-fiction works that include: "Why Engineers Need to Grow a Long Tail," "How Engineers Create the World," "Eight Amazing Engineering Stories," and "Albert Michelson's Harmonic Analyzer. "
Hoover Medal
The Hoover Medal is named for its first recipient, U.S. President Herbert Hoover, who was an engineer by profession. Established in 1929, the prize commemorates the civic and humanitarian achievements of an engineer whose professional and personal endeavors have advanced the well-being of humankind.
"I am thrilled with the recognition by this award of the importance of reaching out to the public—to explain to them science and engineering," Hammack said. "With this understanding, the public can better exercise the civic responsibility of shaping the technological forces that shape our lives."
This award is administered by a board representing five engineering organizations: the American Society of Mechanical Engineers; the American Society of Civil Engineers; the American Institute of Chemical Engineers; the American Institute of Mining, Metallurgical and Petroleum Engineers; and the Institute of Electrical and Electronics Engineers.
ASME Ralph Coats Roe Medal
The American Society of Mechanical Engineers recognized Hammack with the 2020 Ralph Coats Roe Medal for his pioneering use of new media to present engineering as a creative profession essential to our modern world, particularly through internet-delivered videos that highlight how engineers think, how they use science, and the role of manufacturing in design.
The Roe Medal, established in 1972, recognizes an outstanding contribution toward a better public understanding and appreciation of the engineer's worth to contemporary society. Ralph Coats Roe was a pioneer and innovator in the design and construction of highly efficient power plants and advanced desalting processes. The Roe award includes an honorarium and gold medal.
NSB Public Service Award
The National Science Board awarded Hammack the 2021 Public Service Award in recognition of his outstanding skills as a communicator. The award is granted to individuals and groups who have contributed substantially to increasing public understanding of science and engineering. "Dr. Hammack is one of the world's polymaths," said Maureen Condic, chair of the NSB Honorary Awards Subcommittee. "He is both a gifted scientist and a gifted educator who knows how to entertain and inform a wide variety of people on incredibly technical topics. He opens a window into understanding for those who are not engineers or scientists, and he seems to have a lot of fun doing it. Getting the public interested in science this way is a huge public service." Hammack's work has been credited with helping a new generation experience and understand engineering as a creative profession. He uses clear, accessible but technically accurate language to excite audiences about topics as mundane and miraculous as disposable diapers, microwave ovens, and tape dispensers.
---
These three awards join a long list of recognitions acknowledging Hammack's dedication to both research and science communications. He has also earned what is sometimes called the "trifecta" of science journalism awards: The Science in Society Award from the National Association of Science Writers (2002); the Grady-Stack Award from the American Chemical Society (2004); and the Science Writing Award from the American Institute of Physics (2004). In 2019, he received the Council of Scientific Society Presidents' Carl Sagan Award for the Public Appreciation of Science.