Laura Banovic Flessner is a recipient of the 2021 Young Alumni Achievement Award in recognition of her accomplishments since she graduated with a BS in chemical engineering in 2005. In a field where success is often measured by tangible metrics, Flessner is distinguished by the intangible: her character.
Yes, she has a resume chock-full of tangible achievements. She began her engineering career at Procter & Gamble where she helped design and test the packaging for PUR Flavor Options, which won the 2009 Consumers' Choice Product of the Year. Next, she would spearhead upstream product development, new consumer modeling, and new business models as a senior products research engineer at P&G.
She moved on to work in products research within R&D at Pfizer—where she drove over 70 technical consumer-led decisions over five years. As director of R&D Product Design for New Benefit Innovation, she helped create a consumer-grounded immunity innovation pipeline and a strategic plan to grow the business by $500 million in five years.
Then she pivoted out of R&D into a commercial role as a new venture founder and insights lead for GSK, a global healthcare company. There, she was a co-founder for a new business and supported two more internal start-ups.
Shortly after, Flessner founded her own business called Mindtap, which blends together her corporate experiences and insight to help others unlock innovation through neuroscience and Agile innovation principles.
Efforts to describe Flessner sound like a motivational poster from the late 1990s—recall the headlines accompanying images of mountains, eagles, and butterflies: Integrity. Perseverance. Excellence. Imagination. All apt descriptions of Flessner.
What makes Flessner deserving of our Alumni Award are these qualities and her determination to package and share them with others.
The department's Alumni Awards ceremony was no different. Flessner's speech centered on not letting good ideas, or people, get mired in unconscious bias.
"We are more aware of diversity, but awareness doesn't fix the bias in our brains," she said in her speech. "I want to urge those of you who have ideas not to wait—to find the people who support you, because they are out there… Those who have ideas, step up, and those of you who hear ideas and see ideas from others, ask them: How can I support you?"
Early on in her career, Flessner asked for more responsibility, but opportunities were not given to her. "Here I am, a woman, Asian, quiet, sweet, and nice, and I get along with everybody," she said. "But that isn't the image that you get when you think 'leader.'"
So she took matters into her own hands.
She envisioned an innovation space in "cubicle-land" where her colleagues could be inspired and collaborate—and she tracked down the supporters and resources to make it happen. Afterward, she finally got a promotion and more responsibilities, without having to ask.
"It was a powerful learning experience on how to bring people onto your side—helping others to see the vision that you have and being able to network through the organization to gain sponsorship," she said.
Flessner's anecdote hints at one of the key ingredients of any successful career: connections. "Network is important," she said, later on in an interview. "We hear about that, but when you experience it—it's like magic."
She was interviewed at Pfizer by the same connection who first helped hire her to work with the brand PUR within P&G. At Pfizer, she helped to build a new R&D function using her expertise in leveraging market research to influence technical product development decisions from P&G.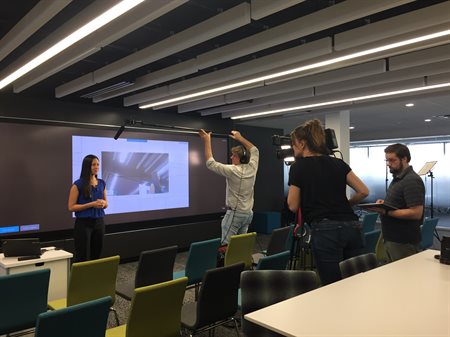 It was in this role, harnessing these networking skills, that she was able to realize her innovation space.
Now, she is helping others bring their innovative ideas to life through Mindtap.
Throughout her career, Flessner has sought out opportunities that combine her passion for technology and people—which according to her speech—she inherited from her father and mother, respectively.
Her latest business venture connects all the dots.
Flessner aims to democratize and catalyze innovation by empowering and equipping young professionals with a suite of proven tools and techniques—like Agile, Lean, design thinking, and neuroscience—coupled with the leadership piece of being able to connect with others to make their ideas happen.
"I love this space where I am able to empower professionals who are not yet managers with innovative leadership skills that my experience has brought me," she said. "I want to bring innovation to people who wouldn't normally call themselves innovators, but they are if they're solving problems creatively—that's innovation."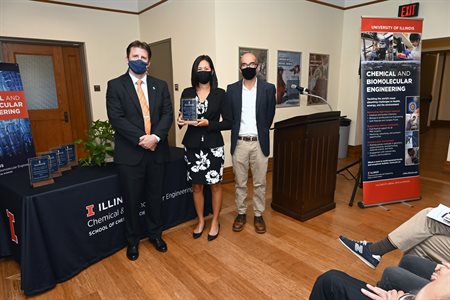 Her bottom-up approach stands to help accelerate the impact of a new generation of leaders, operating at many levels across many companies and industries.
"It gives me chills to think that the value that I can provide for others is only going to be exponentially amplified by the impact that my clients are going to make...and then on and on," she said. "It is just so much bigger than me. It is what the world needs today with so many problems and so many things that we need to address to make the world better."
---
This profile originally appeared in the Fall/Winter 2021 issue of Mass Transfer, the magazine for alumni and friends of Chemical and Biomolecular Engineering at Illinois. For a listing of all our faculty members, please visit our directory or explore the department's research pages for overviews of our groundbreaking research programs.