3M Foundation supports C2 program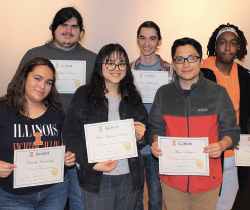 With generous support from the 3M Foundation, Lisa Olshansky, assistant professor of chemistry, launched the Chemical Science through Community (C2) program in collaboration with faculty, staff, and students.
The goal of C2 is to bolster success and increase participation in research for undergraduate chemistry and chemical engineering majors with a specific focus on students from underrepresented minority (URM) groups. To achieve these goals, Olshansky and her team created a multi-faceted program that is rooted in building community among URM chemistry majors through activities including one-on-one mentorship; monthly networking, career, and skills development workshops; summer research scholarship opportunities; conference travel awards; and research presentation opportunities.
"Thanks to the C2 Mentor program I was connected with … a grad student mentor. She has been of great help and guidance for me to find, reach out, and get started in … a lab, a process which I had found to be quite intimidating before joining the C2 program."
Some key goals for students participating in the C2 program include improved GPA and increased completion rates for courses and degree programs, participation in research, acceptance into PhD programs and job placement. Program coordinators also hope to support soft skill development for students including increased confidence, stress management, professional communication skills, the ability to identify and handle bias, development of coping strategies, and having a research and scientific identity. The organizers envision that all of these outcomes can be achieved through an increased sense of belonging within the chemistry community.
In its first year, C2 is comprised of 12 dedicated graduate student mentors and 12 undergraduate mentees. The program has hosted a series of boisterous network-building and professional development workshops and celebrated the end of 2021 with an undergraduate research symposium featuring two of its C2 mentees. Soon, the organization will announce seven Summer Research Scholars and two travel award recipients from among graduate and undergraduate C2 affiliates. Heading into the 2022-2023 academic year, the group plans to build off the strong foundation of community they have established to recruit new members from across the School of Chemical Sciences.
"I am a first-generation college student and first-generation Mexican American, and because of my background, I know little about academia. I am a junior, and I will be graduating in a year, and I still do not know what I want to do with my life. I know that dedicating a whole summer to research will positively impact my life and help me gain some perspective about my future academic endeavors."