Chemical and biomolecular engineering undergraduate student Joey Greenberg earns one of the 10 United States spots in the Cargill Global Scholars Program (CGSP). This honor is a result of his commitment to improving his understanding of chemistry, leadership skills, and business savvy.
CGSP is a two-year scholarship program designed to assist undergraduate students worldwide, with countries including Brazil, China, India, Indonesia, Russia, and the U.S. The benefits include financial assistance for educational expenses, mentorship from Cargill employees, networking with fellow global scholars, attending in-country and abroad Global Leadership Seminars, and more.
Joey's acceptance into this prestigious group is made possible by the impact he has had in numerous roles. Whether he's performing chemistry experiments for high schoolers, owning and operating a home services business, or becoming a lifeguard — Joey's work ethic knows no bounds.
He first heard about the scholarship from a senior ChBE student who worked at Cargill through a co-op, a semester-long internship experience. Joey later recognized the opportunity in an email and decided to apply.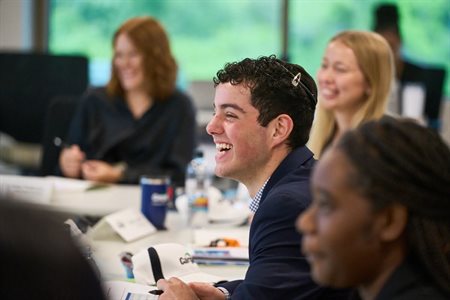 Joey said that it was a good choice so far. "Cargill is one of the companies that — even with such a large base of employees — still shows care for individuals," he said. "They spotlight the differences of individuals that make up and contribute to the company."
Joey said the scholarship program perfectly fits his aspirations as it focuses on leadership growth within the food processing industry.
"My long-term aspiration is to own a start-up working to make healthier genetically modified foods by pairing my chemical engineering background with my business acumen to offer meaningful solutions and impact the world," he said.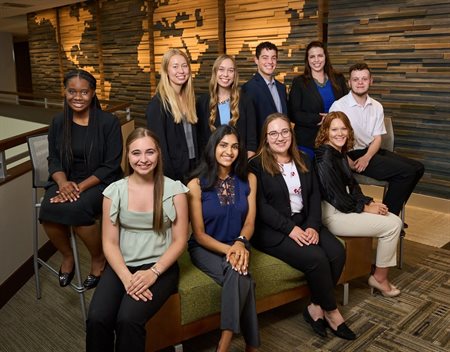 His cohort's first of two, Leadership Seminars took place this summer. Held over three days in Minneapolis, Minnesota, the seminar took place at Cargill headquarters with visits to surrounding facilities. Scholars analyzed their leadership style via the Myers-Briggs test and heard from speakers discussing government relations, diversity and inclusion, and corporate responsibility topics. Scholars also volunteered at Second Harvest Heartland and ended every night with group activities that allowed for meaningful conversations to be had and friendships formed.
Joey's devotion to excellence is evident, as is his humility in thanking others who helped him to this point. Those names include Michael Faibishenko, associate project manager at the Plus Group; Nicole Nowbahar, the assistant director of the National and International Scholarships Programs; and Patricia Simpson, the director of Academic Advising and Career Services in the School of Chemical Sciences that serves chemical engineering students.
Take a closer look at what the Cargill Global Scholar Program offers.