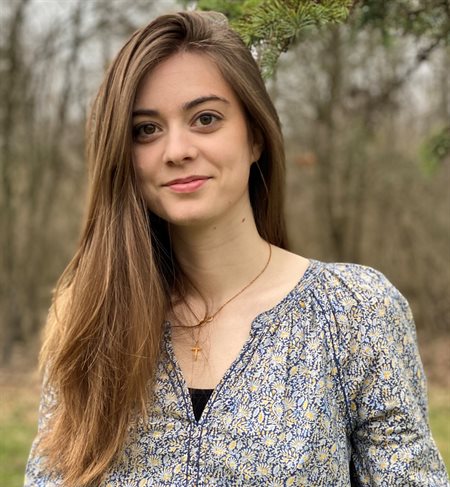 Aliki Kolliopoulos is a graduate student in chemical and biomolecular engineering who is advised by Brendan Harley. Their research group pursues the fabrication, characterization, and testing of biomaterials for in vivo and in vitro tissue engineering applications.
Why did you choose ChBE for graduate school?
I chose ChBE for my PhD as I was impressed by the facilities the students had access to and the culture in the Harley lab.
What is your favorite part about graduate school, so far?
The people who I have been able to meet and work with spanning my lab, the department, and external collaborators.
What has been a highlight of your time at UIUC?
The high standard of living that Champaign-Urbana offers us as graduate students.
What does diversity, equity, and inclusion mean to you?
It's about developing a culture where everyone can feel valued, engaged, and respected for what they do and given the opportunity to progress.
Why do you believe having a diverse environment for graduate school is important?
Having a diverse faculty and student population in graduate school will establish the foundation of a culture allowing for the success and progress of all involved.
What are some DEI initiatives that you take part in on/off campus?
I served as Outreach Coordinator for GSAC, where I worked on engineering education outreach events. I have also participated in the annual weSTEM conference, which is one solely oriented towards empowering women in engineering.
Tell us about a time you have advocated for DEI on campus?
I make it a point to recruit undergraduate research assistants who come from various backgrounds and disciplines and who have little to no research experience.
Learn more about Aliki Kolliopoulos:
NIH Grant Recipient Mavis Future Faculty Fellow NSF Graduate Research Fellow