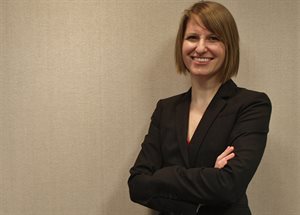 Amy Stabell, BS '07
Nanomaterials engineer
Process engineering, quality engineering, health and safety programming – Amy Stabell has those areas covered. Shipping and receiving? Those too.
As pilot operations manager at an advanced materials start-up, Stabell designed the company's first pilot reactor (and a full-scale reactor to be installed next year) and manages production and logistics.
"In a large company, roles tend to be siloed. A process engineer works on process. A quality engineer looks at quality data. In a startup, you do everything. … I like the chance to learn lot of things," Stabell said.
Back in 2007 as graduation neared and seniors were weighing their futures (continue in academia or pursue a job in industry?), Stabell said her decision was an easy one.
"I wanted to go into manufacturing because I enjoy making things," she said.
Since graduation Stabell has made a name for herself in manufacturing. In 2014 she was honored by the Manufacturing Institute with a Step Award, which honors women who excel in leadership and performance in manufacturing. In 2015 Forbes Magazine included Stabell in its 30 Under 30 list, an annual feature that highlights 30 "young entrepreneurs, movers and shakers" in 20 different fields from style to the sciences. Stabell was named to the manufacturing list.
Forbes recognized Stabell for her work at Pixelligent, a growing Baltimore company that makes lighting more efficient. As a member of the Forbes list, she's had the opportunity to network with other honorees, including fellow Illinois alumna Canan Dagdeviren, who received her Ph.D. in materials science and engineering.
Sold on Illinois
Raised in southwest Illinois, Stabell attended Alton High School. The daughter of two doctors (her mother studied chemical engineering at Illinois in the 1970s), she loved chemistry. Her physics teacher suggested engineering as a career path and that she visit the University of Illinois. Stabell signed up for a weekend retreat sponsored by the Society of Women Engineers.
"It was awesome. I was pretty much sold on it," she recalled. She stayed in a residence hall with a fellow engineering student, attended an entry-level calculus course and toured the campus. While applying to other schools (Cal Tech, MIT), she received an offer of admission from Illinois through its early admissions process. She stopped filling out other school applications.
Stabell's freshmen and sophomore years were tough. She found the education she received at her southern Illinois public high school was quite different from those her peers received at elite schools in the Chicago region.
"Classes that were easy for others were not easy for me. I spent a lot of time on my school work," she said of those first two years.
Stabell powered through. She made friends with fellow chemical engineering students, took up swing dancing, participated in Engineering Open House, and worked on the newsletter for the student chapter of the American Institute of Chemical Engineers. She remembers lecturer Marina Miletic as being "hugely influential."
"She was a tough grader. She was a very good, dedicated teacher. It was obvious she cared" about students, Stabell said.
Stabell's first job out of college was with PPG Industries. As a process engineer at the Cleveland facility, she focused on reducing variations in their paint products. Due to the recession and several plant closures, she also worked in scaling up processes.
In Cleveland, Stabell connected with an organization called Minds Matter. She spent Saturdays working with teens who had strong grade point averages, but needed extra help preparing for SAT exams and navigating the college application process. She and other young professionals mentored the students with the goal of helping them get into summer programs. While there she also kickstarted a program that offered one-on-one tutoring for students.
Nanomaterials for electronics
Because her work in Cleveland was mostly mechanical, not chemical, eventually Stabell asked for a transfer to more of a chemistry-related division with PPG in Milwaukee, where she was for 1.5 years. In order to move closer to her now-husband, Kavi Abraham (they married in 2013), who was accepted into a graduate school at Johns Hopkins University, the couple moved to Baltimore.
Stabell joined Pixelligent, which manufactures nanomaterials for the electronics industry, in 2012. At the time, the start-up was comprised of about 15 employees. Now there are approximately 40. Pixelligent manufactures PixClear, which are nanocrystal dispersions for solid state lighting and flat panel display industries. Stabell oversaw the development of a high-temperature, high-pressure reactor for manufacturing the materials.
"Many nanomaterial companies have failed trying to sale beyond the beaker and test-tube phase. Pixelligent's chemistry and the process myself and my fellow engineers have designed is capable of 6 tons/year today, and 40 tons/year by 2016," she said.
Pixelligent also is involved in the development of OLEDs, or organic light emitting diodes, technology that is expected to replace compact fluorescents. The company is working with partners who are exploring OLED applications in places like hospitals. For example, in OLEDs certain additives can turn off wavelengths of light and because studies show that blue light keeps people awake, lights that only emit red light might be useful in hospitals at night when patients need to sleep, but employees need to work.
"We're not making the devices, but our products are essential to making those devices efficient," Stabell said.
Pixelligent also is involved in a project with the Department of Energy to develop low-friction lubricants aimed at improving fuel efficiency.
This article originally appeared in the Spring/Summer 2015 issue of Mass Transfer, our magazine for alumni and friends.