Meet our alumni
David Boger, PhD '65, Fluid mechanics pioneer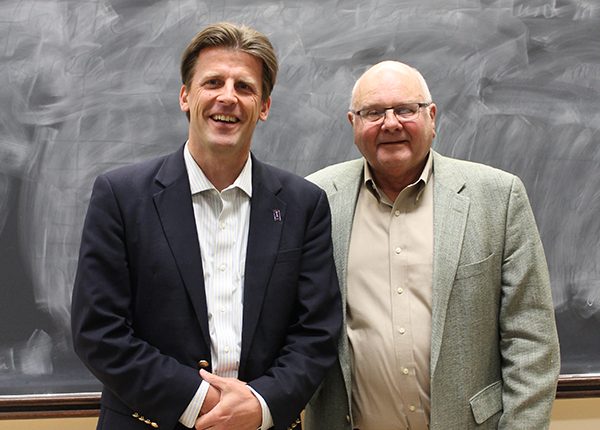 When reflecting on the impact he's had in his 50-year career in chemical engineering, David Boger does not point to his research that started in the 1970s about the fluids that now bear his name.
Instead, it's red mud.
Specifically, his ongoing work with mining companies on how they could tackle red mud and their massive waste problems.
"I always felt that I should be doing two things," Boger said during his Fall 2015 visit to Illinois for a Distinguished Alumni Lecture. One is, more or less, research that he wanted to do—if he could fund it, and back in the '60s and '70s, that wasn't a problem.
"The second one is something which was relevant for the country," he said.
One of the biggest problems Boger has taken on is failed tailings dams where waste from mining is stored. The issue is relevant not only to Australia, where Boger has been based since graduating from Illinois, but to countries around the world.
Following his pioneering research in Boger Fluids, those elastic fluids with constant viscosity that behave as solid and liquids, Boger was introduced to the alumina industry in the mid '70s through a friend. In Western Australia, he learned, mining companies were processing bauxite into alumina. But the process used a lot of water and created toxic red mud, which companies stored aboveground in vast lagoons. These holding structures, or tailing dams, sometimes failed, spilling waste into the nearby environment, destroying crops, damaging property, and causing injuries and deaths.
Boger got to work, learning all he could about the industry and applying what he knew in fluid mechanics and rheology to address the challenge. His solution required less water and produced a solid waste rather than liquid one, thereby offering companies a much more environmentally acceptable process.
The process involves removal of about fifty per cent of the water containing caustic to produce a paste-like material which could be stacked and dried, eliminating the tailings dam. Recovery and reuse of the caustic saved the company $10 million per year, according to Boger.
"We took a whole science to that industry and helped them to try and solve a big, big problem," he said. "I probably had more of an impact with this work with the minerals industry than we have with the Boger Fluids stuff," he said.
Along the way, he went from just focusing on alumina to broadening out to the mining industry as a whole. Boger also became interested—and an expert in—issues related to waste minimization in the industry. Not just technical aspects, but policy and regulation issues, too. He continues today to work with the mining industry to eliminate tailing dams by converting their toxic liquid waste into dry, stackable waste.
As a longtime chemical engineering professor, Boger is passionate about the role higher education should play in helping industry solve problems.
"I think there has to be a close association with some of the research (in academia) with industry," he said.
In academia, he said, a faculty member's performance evaluation is too dependent on publication citations or grant funding, and less so on interaction with industry or the good they do for communities through industrial involvement. In recent years however Boger has seen more of a shift among departments toward closer associations with industry. He views that as a positive.
A Pennsylvania native, Boger graduated from Bucknell University with a bachelor's degree in chemical engineering before pursuing a graduate degree at Illinois. After obtaining his Ph.D. in 1965, he moved to Australia where he joined the faculty at Monash University, which was just getting established.
As a graduate student at Illinois, he focused on heat transfer research and photographing phenomena. But at Monash, he was encouraged to become involved in rheology, a field he confessed he knew nothing about at the time.
"I was lucky if I knew what Non-Newtonian fluids were," he recalled.
Looking back on his time at Illinois and specifically his education in chemical engineering, Boger said the program's lasting impact came from the strong work ethic and valuable photographic techniques he picked up from working alongside James Westwater, as well as how to be an experimentalist. Westwater was an experimentalist, and so was he, Boger said.
Currently an engineering professor at Monash, David Boger was Laureate Professor and Professor of Chemical Engineering at The University of Melbourne and has held visiting positions at universities around the world. He's consulted for over 90 companies from 3M Corporation to Tata Research and Development Centre in India and has been an expert witness in several international court cases. Boger also has received numerous honors and awards, including the 2005 Prime Minister's Prize for Science, and was elected a Fellow of the Royal Society in 2007.
This profile first appeared in the Fall/Winter 2015 issue of Mass Transfer, the magazine for alumni and friends of Chemical and Biomolecular Engineering at Illinois.