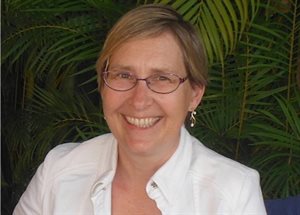 Kathryn "Kit" Gordon, BS '83
Tech innovator and watershed protector
Kit Gordon_600
As she tests water from creeks near her home in Los Altos Hills, Kit Gordon reflects on her successful career in semiconductors and volunteer work with environmental groups.
"Thanks to Illinois, I've had a fabulous career and live in the center of tech innovation."
As a newly-minted chemical engineering graduate in the early 1980s, Gordon was drawn to Silicon Valley's young, informal, and innovative start-up culture. Her Illinois Chemical Engineering degree enabled Gordon to succeed in the semiconductor industry along with her determination and appreciation for hard work and teamwork.
"The U of I taught me to work hard and to rebound after setbacks. You persevere and keep trying. The university taught me to take risks, something every engineer must do," Gordon says.
After Illinois, Gordon went on to earn master's degrees in electrical engineering and business administration and obtained numerous patents in anti-fuse semiconductors. As someone with a lifelong interest in chemistry and the environment, she also co-founded a natural cosmetic company and in recent years has volunteered with a number of organizations devoted to improving watershed health and protecting the Santa Clara Valley water supply.
Focused on ChemE
Gordon grew up the youngest of three children in Rockford, Illinois. Shortly after she was born, her father developed a brain tumor and became disabled. He passed away when she was 12 years old. Gordon's mother, raised on a farm during the Depression Era, worked as a grade school teacher. When considering majors and careers, Gordon wanted a career that would provide financial stability—and she knew chemical engineering could do that.
At Rockford West High School, she excelled in chemistry and math and planned to attend the University of Illinois. Even though she was a star student in chemistry, her high school did not offer honors or Advanced Placement classes. She took the required chemistry placement exam for Chemical Engineering majors and didn't pass.
This was a setback, but she was determined to persevere. An advisor tried to steer her to another major but Gordon was not deterred.
"I knew what I wanted. I wanted to be a chemical engineer. And I knew that the University of Illinois was the school for ChemE. U of I had a great reputation in chemical engineering. I knew myself better than they knew me. I never wavered," she says.
Her first year on campus was tough, but she knew once she started taking chemical engineering classes, she would be fine. In fact, Gordon excelled. She enjoyed many classes—fluid dynamics, physical chemistry, organic chemistry, and all the chemical engineering classes. In her classes, she learned the value of not only hard work, but also how to "divide and conquer" the work through teamwork, she recalls.
Gordon joined the university's chapter of the American Institute of Chemical Engineers and recalls attending a meeting during which R. Byron Bird, Warren Stewart, and Edwin Lightfoot (authors of the classic textbook Transport Phenomena) stood in the same room. She and others were in awe of the chemical engineering legends. During her senior year, she received the prestigious Daniel Eisele Award for outstanding student leadership in chemical engineering which included a $400 award. She used the money to buy her first car—a 1969 AMC Rambler, fondly known as "The Scrambler."
During her senior year, Gordon interviewed with a number of corporations. The one that made an impression on her was Monolithic Memories (MMI), a Silicon Valley semiconductor firm. Unlike her other job interviews, which took place in nondescript boardrooms during which she was asked formulaic questions, her interview at MMI was different. In Silicon Valley no one wore a suit, most employees were young, and their enthusiasm was contagious. She toured the site, met employees, and learned about their projects. She was asked many technical semi-conductor-related questions, and found herself answering, "I don't know," to many of them.
Given that her background was in chemical engineering and not electrical engineering, she asked her interviewer, "Why are you asking me these technical questions outside my major?" "He told me, 'A good engineer knows when to say, 'I don't know'. I wanted to hear you say, I don't know. I don't want to hear you making things up.'" When she asked about standard promotion schedules the interviewer laughed and said, "You can be president tomorrow if you can do the job."
Gordon was sold on the culture of Silicon Valley. She moved to the Bay Area and was thrilled to see her name and Linus Pauling's name, along with many other Nobel laureates, in the same phone book. (At Illinois, she studied the Pauling Principle on electroneutrality.) While working at MMI, she attended Santa Clara University and earned a master's degree in electrical engineering and later, an MBA.
Her time at the University of Illinois, particularly the group work and risk-taking, prepared her for the industry, Gordon says.
"Working in semiconductors is a fast-changing, high-pressure, taking-lots-of-risks kind of a job. It involves groups of people doing complicated engineering to get a product out."
In one of her early chemical engineering courses, she scored 19 out of 100 on the first exam, she recalls. The high score was 21.
"That taught me, you can fail and still be OK. It helped reinforced the grit which is what I needed when working in an innovative industry."
Environmental work
After five years into her tenure, MMI was purchased by Advanced Micro Devices and the three inventors of the PAL (programmable array logic) device spun off to form a new company which ultimately became QuickLogic. Gordon was the first person they hired. She invented the technology (amorphous silicon anti-fuse) for the company's first products, field programmable gate arrays or FPGAs. After the company went public in 1999, she took time off of work, got married, and in 2002, gave birth to her daughter Isabel.
The career change allowed her to devote her time to raising her daughter. Around the same time, because of a growing concern about the type of chemicals her daughter was being exposed to, Gordon began experimenting with natural skincare remedies. She and a friend established Botanic Organic, a plant-based skincare line. Gordon has stepped back from day-to-day operations in that business, but continues to make and use natural products for her family, mixing hydrosols, oils, and extracts. Currently, she's interested in learning more about skincare products based on bacteria.
Her focus on living sustainably and caring for the environment has its roots in Illinois. Her grandfather, an agricultural engineer, taught her at an early age about understanding the interdependence of watershed health and human health. When her grandparents retired, they moved to a small farm along the Rock River and as a child, Gordon spent many Sundays tromping around the farm, exploring the apple orchard, the woods and fields where farmers grew corn and oats. Her naturalist grandmother taught her to identify various birds and insects. And she recalls her grandfather telling her in the 1970s that her generation would need to fix the problems inflicted on the Ogallala aquifer and other groundwater basins.
"He instilled in me a sense of environmental responsibility," she says.
In Santa Clara Valley aka Silicon Valley, Gordon has been heavily involved in a number of environmental organizations, including the Santa Clara Valley Water District, the public agency which manages water supply, flood protection, and stewardship of area streams. She's served on several committees for the water district: the environment and water use committee, independent monitoring committee, and the One Water planning committee looking holistically at flood control, water supply, and environmental protection.
She's also involved with Acterra Stewardship, a watershed restoration group; Streamkeepers, which performs local water quality monitoring; and Permanente Reimagined, which is restoring steelhead trout to Permanente Creek in the Santa Clara Valley.
Gordon also is considering taking classes at Stanford University, possibly in hydrology or ecosystems. As a chemical engineering student at Illinois, one of her electives was ecology of a meadow and another was poetry, both subjects she continues to enjoy and appreciate.
She's not sure what her next degree or project will be, but with her daughter off to high school and other family responsibilities reducing, she's looking forward to her next adventure.
"I'm sure chemistry will lead my way."
This profile originally appeared in the Spring/Summer issue of Mass Transfer, the magazine for alumni and friends of Chemical and Biomolecular Engineering at Illinois.