Meet our alumni
Lili Deligianni, PhD '88
Deligianni has made a career out of doing what was once deemed impossible in the electronics industry. Now she is forging a new path in developing materials and devices for neuroscience.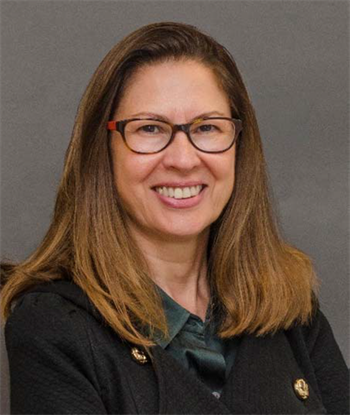 When Lili Deligianni interviewed with IBM researcher Lubomyr Romankiw in 1988, he told her his group tackles problems that others have said are unsolvable. If she was up for doing the impossible, she was welcome to join the group.
"I jumped right in," recalled Deligianni, who as a newly-minted PhD grad, was thrilled to become part of a team of electrochemists and electrochemical engineers from top universities.
A self-described workaholic who embraces taking risks, Deligianni would play a leading role in solving a number of technical challenges in the electronics industry while at IBM. She and her colleagues introduced electrochemical processes in solder bump technology, now a standard practice for joining silicon chips to packages. She also co-invented the copper electrodeposition process for on-chip interconnects, which has revolutionized the capability of computer chips, allowing computers to run faster.
For her work, she's garnered a number of accolades, most recently the 2018 Vittorio de Nora Award from the Electrochemical Society; she will be the first woman to receive the award. She and the team at IBM received the 2004 National Medal of Technology and Innovation. And for the patents associated with the copper interconnect process, she and other members of the IBM team received the 2006 Inventor of the Year Award of the New York Intellectual Property Law Association and an IBM Corporate Awards. An ECS fellow, she's also served on its board of directors and as its secretary.
This spring she retired from IBM's T.J. Watson Research Center after a 30-year career. Her career has evolved from working with materials and methods for the electronics and microelectronics semiconductor industry to moving into the renewable energy sector, with solar cells and battery materials and most recently into biomaterials and biomedical devices. Deligianni, who thrives on changing directions every few years, is now embarking on a new endeavor—in neuroscience and brain-computer interfaces. She wants to develop electrochemical tools to better understand and treat diseases of the nervous system.
"Things have come full circle," she said.
Early years
Born and raised in Athens, Greece, Hariklia "Lili" Deligianni was drawn to science and engineering as a child. She and her younger brother often played "meccano (mechanics made easy)," a game that reinforced design and building skills and board games and puzzles that reinforced math and strategic planning skills. Her parents were her first mentors and role models. Her mother had only a high school education, but she was an avid reader and always spoke about the value of an education.
"'An education stays with you forever,' she would say."
Deligianni initially considered studying medicine (her paternal grandfather was a medical doctor and an uncle studied medicine), but at Aristotelion University in Thessaloniki she chose chemical engineering because she considered it to be the toughest and most competitive of disciplines.
"I was determined to study the most challenging subject," she said.
When it was time for her to choose a research project during her final year, her academic advisor, a former employee of Amoco Oil, encouraged her to intern at Amoco in Naperville, Ill. For two summers she worked on methods for methanol synthesis.
"I saw tremendous opportunity in the U.S., especially for a woman, to have a career," she said.
The experience at Amoco solidified her decision to pursue graduate study in the U.S. At the suggestion of an advisor, she applied to several schools and chose Illinois after being awarded a fellowship. She joined Professor Richard Alkire's research group.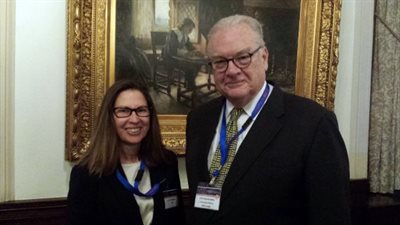 "He was the best. Not only because of the education we got in terms of technical education, which was excellent, but we were taught leadership skills from him," she said. Alkire pushed lab members to solve problems by thinking deeply about the questions and the solutions.
"His style was that you had to find the essence of the problem. Even in a multivariable problem, there are always a few variables, a few aspects, that are very important in getting answers. In the end, you need a high-level view of what is important and why, and to be able to explain it." In industry, you need to be able to describe a problem in a few sentences that make sense, she said.
Not long after arriving at Illinois, Deligianni attended a Greek student gathering and met her future husband, George Leventis. He was also from Athens and lived only a few miles from where she grew up. They even had a few friends in common, but did not know each other until their time at Illinois. Leventis was studying civil engineering and graduated with a master's degree in 1985. He is now the managing principal at Langan Engineering New York office and the managing director of Langan International, working on a number of projects, including the Hudson Yards in New York and the Jeddah Tower in Saudi Arabia. He was also director general of the Organizing Committee for the Olympic Games in Athens 2004.
IBM career
After she graduated with her PhD in 1988, Deligianni joined Romankiw's research group at IBM's T.J. Watson Research Center in New York as a postdoc. She never left.
Upon the occasion of her retirement, a female colleague wrote to her thanking her for being a role model and showing her that a woman could be successful at work and be able to raise a family.
"I consider that to be a top accomplishment," said Deligianni, who has three daughters with Leventis.
Although numbers are improving, there are too few women in positions of power in Corporate America.
"My perspective, after so many years, is that women should not change. Corporate America should change. It should embrace women and minorities by offering ample (many and accommodating) opportunities to these groups."
If a company mirrors the diversity of society, it will have diversity of thought, which is of paramount importance for businesses, she said. Diversity of thought brings great results, in terms of designing and marketing products and services for the entire population.
At IBM, she joined and later chaired the Watson's Women's Network, which organizes seminars and networking events and encourages mentoring. She also has been involved in a number of outreach events aimed at K-12 students.
Deligianni is proud to have played a role in the microelectronics computer industry that has embraced and adopted electrochemistry and electrochemical engineering as a mainstream method for volume manufacturing of state-of-the art computer chips for mobile devices such as iPhones to high end computer servers used for cloud computing in data centers.
This change didn't happen overnight. First, she introduced electrochemical processing for semiconductor wafers for the solder ball (Controlled Collapse Chip Connection – C4) interconnects of connecting wafer chips to packages. That paved the way for replacing aluminum in chip wiring with electrodeposited copper, which gave the lowest resistivity, a measure of how fast the electricity flows in the wire. As a result, computer chips could now run much faster.
Both approaches—solder ball (Controlled Collapse Chop Connection-C4) interconnects and implementing copper electrodeposition for on-chip interconnects—have become industry standards.
An additional technical advancement which Deligianni expects to be adopted in the next five years has to do with thin film solar cells. At IBM she initiated research on thin film solar cells using electrodeposition and scaled-up the fabrication of thin film solar cells to a full panel size (60 cm x 120 cm). This technology has applications in the building sector with glass thin film solar panels that are used in building facades, in electric cars for recharging lithium car batteries, in green data centers to power power-hungry computer servers, and in smart cities to supply part or most of the energy requirements.
Tools for brain research, neurological disease treatment
Deligianni's current research interests include nanomaterials and nanodevices for neuroscience. She plans to continue advancing research in this area.
Aside from an interest in medicine that developed at an early age, Deligianni became drawn into biomaterials and related subject matter when her youngest daughter, a competitive gymnast, was scheduled to have spinal surgery after dealing with years of back pain. Prior to the surgery, Deligianni conducted research and consulted with experts on materials that were being used in medical devices. As a result, she influenced the doctor's decision as to the choice of materials for her daughter's biomedical implanted device.
"That motivated me toward moving in the biomedical domain," she said.
Complex neurological disorders such as Alzheimer's, Parkinson's disease, and epilepsy are not well understood; there is a need for more advanced tools and methods to help us better understand and treat them, she said.
Recently, Deligianni and nanotechnology students from École Polytechnique Fédérale de Lausanne in Switzerland and from Politecnico di Torino in Italy published research papers on how to measure neurotransmitters such as dopamine, serotonin, and adenosine, and how to improve the measurements for higher sensitivity and selectivity.
They also created nanoscale carbon electrodes that could be integrated with electronics to measure dopamine. Envision a needle as thick as a human hair which has even smaller electrodes on it which measure neurotransmitters and the electroconductivity of neurons, she said. At the same time, the device can stimulate neurons via different methods—electrical stimulation, light stimulation, magnetic stimulation, and ultrasound.
"These methods are typically used to suppress epileptic seizures. If one of these needles is implanted in the deep brain structure perhaps it could detect when a seizure is coming and it could use electricity to suppress the seizure. And, how do you know the seizure is really suppressed? Other than asking the patient, if we had neurotransmitter as a biomarker, then we would predict an upcoming seizure, depending on how high or low this biomarker is," she explained.
Similarly, with Parkinson's patients, these devices could provide deep brain stimulation, sending electrical signals to activate existing neurons to produce dopamine.
"If we could find out the correspondence between the L-DOPA (drug) that we give and dopamine that is produced, we could adjust dosage medication and timing more precisely with measurements. What usually happens now is patients are given a higher dosage of L-DOPA than what they may need and after a certain time period, the doctor adjusts the dosage and frequency based on the patient's disease symptoms. Instead of making it empirical, we can use measurements. Then medicines can work more effectively for patients and improve quality of life."
Throughout her successful career, Deligianni has remained in touch with the department and Professor Alkire, as well as with former graduate students. She and her husband have been great friends and supporters of the department, and especially to the Richard C. Alkire Fund, which supports an endowed chair in honor of Alkire.
"It's one of the top departments in the country and it has given me an excellent education. The department has expanded multidisciplinary research and collaboration in new and emerging areas. And (as it happens) the department's research is converging with my interests, too."