Michael Lee and Helen Yang
Meet our Alumni
International Business Leaders Michael Lee and Helen Yang
With strong foundations in chemical engineering, University of Illinois alumni and spouses Helen Yang (PhD '88) and Michael Lee (PhD '87) have forged successful careers as global business leaders. Both credit their graduate school training as having proven valuable in their careers at DuPont and Honeywell.
At Illinois, "you really got an opportunity to train yourself in analyzing problems, in problem solving, finding the root cause and solution to problems," said Lee, who still remembers the late nights of studying and taking photographs of droplet dispersion in the lab.
Both applied the methodology they learned at Illinois–designing experiments, analyzing, and testing results—to their early careers. And as they expanded their roles and responsibilities, both have found that technical background useful in their careers at science and technology-based companies, Yang said.
Since 2002, Lee and Yang have been based in Shanghai, China, where they have witnessed the country's rapid growth and rising influence in the world's economy. Lee, who started his career at DuPont, is now an executive at Honeywell, where he is Vice President and General Manager of its Environmental & Energy Solutions business and Vice President and General Manager of its Automation and Control Solutions business in China. Yang is Managing Director of Customer Service at DuPont in Asia Pacific.
Illinois years
Helen Yang and Michael Lee were born in Taiwan and emigrated to the U.S. with their families as children. Both excelled in math and chemistry in high school and decided to major in chemical engineering at the University of Pennsylvania. They met there as undergraduates while living on the same floor of their dorm.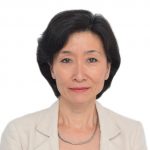 Lee was a year ahead of Yang and was the first to come to the University of Illinois for graduate school. Yang, who was awarded a DuPont Fellowship, enrolled the following year. At Illinois, Yang studied thermodynamics under Professor Charles Eckert. Specifically, she examined the kinetics of the uncatalyzed and homogeneously catalyzed oxidization of p-chlorophenol in supercritical water. It was an experimental project and she designed and built the apparatus from scratch, with help from Eckert. Yang fondly remembers reviewing research and receiving advice from Eckert, who would also invite graduate students to his home for barbecues and Thanksgiving dinners.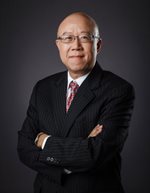 Lee studied under Professor Thomas Hanratty. His thesis explored the droplet deposition in two-phase flow, how the dispersion of droplets in a turbulent pipe flow impacts the mass transfer of a two-phase process. Hanratty was great at coaching him on how to analyze and interpret data, Lee said. He has fond memories of being surrounded by tremendously talented people like Dr. Hanratty, other faculty, and fellow graduate students who were approachable and willing to talk through problems and possible solutions.
During their graduate school years, it was not uncommon for Lee and Yang to be in the lab through the night hours. But they did find some time to socialize with fellow graduate students over deep-dish pizza, attend events at Krannert Center for the Performing Arts, and tailgate before football games. In the summer, they enjoyed local food like corn on the cob.
"The sweetcorn was out of this world," Lee said.
They married at the First Presbyterian Church in Urbana and celebrated at the University Inn, now a student residential complex called the Tower at Third. Both wanted to enter industry after completing their graduate studies and when DuPont representatives came to campus and interviewed them, both were hired.
Building careers at DuPont
After graduate school, Lee and Yang headed to Seaford, Del. There Yang was a research engineer in the flooring division, spending her days on the manufacturing floor, which provided good hands-on experience. Lee also joined the company as a research engineer, working in new product development. At the time, DuPont's flooring business was introducing new pigmented fiber with better lightfastness.
While there, Lee's interest in sales and marketing grew as he interacted with more people in that division. Within a few years, he moved into sales and marketing. Yang became a technical group leader, supporting day-to-day operations, and later taking on more managerial and supervisory roles.
Through the years both rose through the ranks at DuPont, first moving to Wilmington, Del., and later to Dalton and Atlanta, Ga., then to Richmond, Va.
After her technical roles, Yang transitioned into a supervisory role in the company's program that hired graduates from top engineering schools and helped them establish careers with the company through a series of rotational assignments. Later, Yang moved into sales and marketing for flooring, working with carpet mills, designers, and architects of commercial buildings.
Lee was responsible for marketing in the southeast region of the U.S. in the flooring business. In Richmond, Lee joined DuPont's specialty fiber business, which sold Nomex, the heat and flame-resistant fabric used in firefighter apparel and other uses. Yang was promoted to a role managing the company's Kevlar segment for industrial applications in North and South America.
"That was a really good experience because it was cross-functional and there was responsibility for sales, marketing, and technical development of that product line," Yang said.
She soon become the global marketing manager for Kevlar protective apparel and then Nomex global supply chain manager, traveling to South America, Asia, and Europe. Meanwhile, Lee became a global business strategist and later oversaw the company's involvement in Six Sigma, becoming the first employee at DuPont to be a certified Six Sigma Black Belt for Sales and Marketing.
Working, living in China
In 2002, DuPont offered Yang a regional director position running its package printing business in Asia Pacific. The position would be based in Shanghai. Lee took a role as the New Business Development Manager in the packaging and industrial polymer business in Asia Pacific. Later he was promoted to Business Development Director for the Glass Laminated Solution business in Asia Pacific.
"At the time, we never thought of leaving the U.S. to work," Lee said. They did a "look-see" trip and were intrigued and excited by Shanghai's energy. "We both decided to take the challenge," he said.
Both grew up speaking Chinese at home, but when they moved to Shanghai, they found the depth of their language skills improve. They learned new business-related vocabulary. And they learned more about the intricacies associated with conducting business in the diverse Asia Pacific region.
"It was very eye-opening," Yang said.
They anticipated staying for three to five years. But after those years passed, Lee and Yang asked the company to extend their stay.
"We decided to stay because there were opportunities here. China is a growing market and Shanghai is an interesting place to live. It's so dynamic," Yang said.
After managing the packaging printing business for DuPont in Asia Pacific, she moved into strategy, planning and corporate operations and later, corporate marketing and sales for China and other Asia Pacific countries, such as Japan, Korea, Australia, and New Zealand. She is now the Managing Director of Customer Service for Asia Pacific, leading the consolidation and transformation of the company's customer service function and process.
"The type of work I like to do is general management, something that is multifunctional, where you lead people and processes," Yang said.
In 2008, Lee was recruited by Honeywell and offered a position as its vice president and general manager in Asia Pacific for its Sensing and Control business, which includes more than 20 sensors for the automotive, health care, and a variety of other industries. In recent years, he's taken on additional roles and responsibilities. He currently holds two executive positions at Honeywell in their automation controls solution business: Vice President of Sales & Commercial Excellence and Vice President and General Manager of Environment and Energy Solutions.
Their days are often long, to accommodate business calls to the U.S., and they are always "on call," responding to customer needs, but it's been rewarding, Lee said.
"Job satisfaction has been very high," he said.
Witnessing the exponential growth in Shanghai has been "beyond words," he said. When they first moved to the city in 2002, it was rare to see luxury cars. Now they are prevalent, he said. They've also enjoyed seeing Shanghai transition to a modern global city.
For the past 10 years, Yang has been a member of the American Chamber of Commerce in Shanghai (Lee also is a member.) In 2015 she was elected to the chamber's board and plans to run for another two-year term. Yang also is involved with the U.S. China Business Council, a member of International Market Assessment Asia and the International Professional Women's Society, which organizes events on a variety of topics, such as leadership and career development. In addition, she is a member of the Royal Asiatic Society, which organizes lectures, study groups, and other cultural events in Shanghai.
Lee and Yang anticipate continuing to build their careers in China, and will likely move back to the U.S. upon retirement. They travel frequently for business and for pleasure throughout the world.
"I love being exposed to new cultures," Yang said.