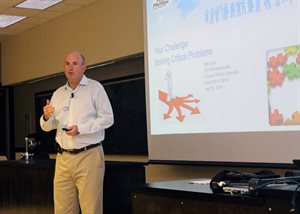 Meet our Alumni
A "great time" to be in the chemical industry
Meet Chevron Phillips Chemical's Ron Corn, BS '79, leader behind the company's new megaprojects
In 2010, on a flight from Singapore to the United States, Ron Corn was reflecting on global demand growth and where the company should build its next facility. At the time, he'd just finished a one-year appointment managing Chevron Phillips Chemical's business in Asia and witnessed the explosive growth of the middle class there.
The answer, he concluded, was the US even though it had been more than a decade since an ethylene cracker had been built in the States. While it had not yet been reflected in the feedstock markets, shale fracking was likely going to be a game changer.
Eight years later, Chevron Phillips Chemical is operating a new ethane cracker in Baytown, Texas. South of that facility, in Old Ocean, the company is converting ethylene from the Baytown facility into polyethylene and other plastics that will be used by consumers around the world. Corn, BS '79, oversaw both megaprojects from concept to successful startup. In total, the new facilities represent a $6+ billion investment for the company.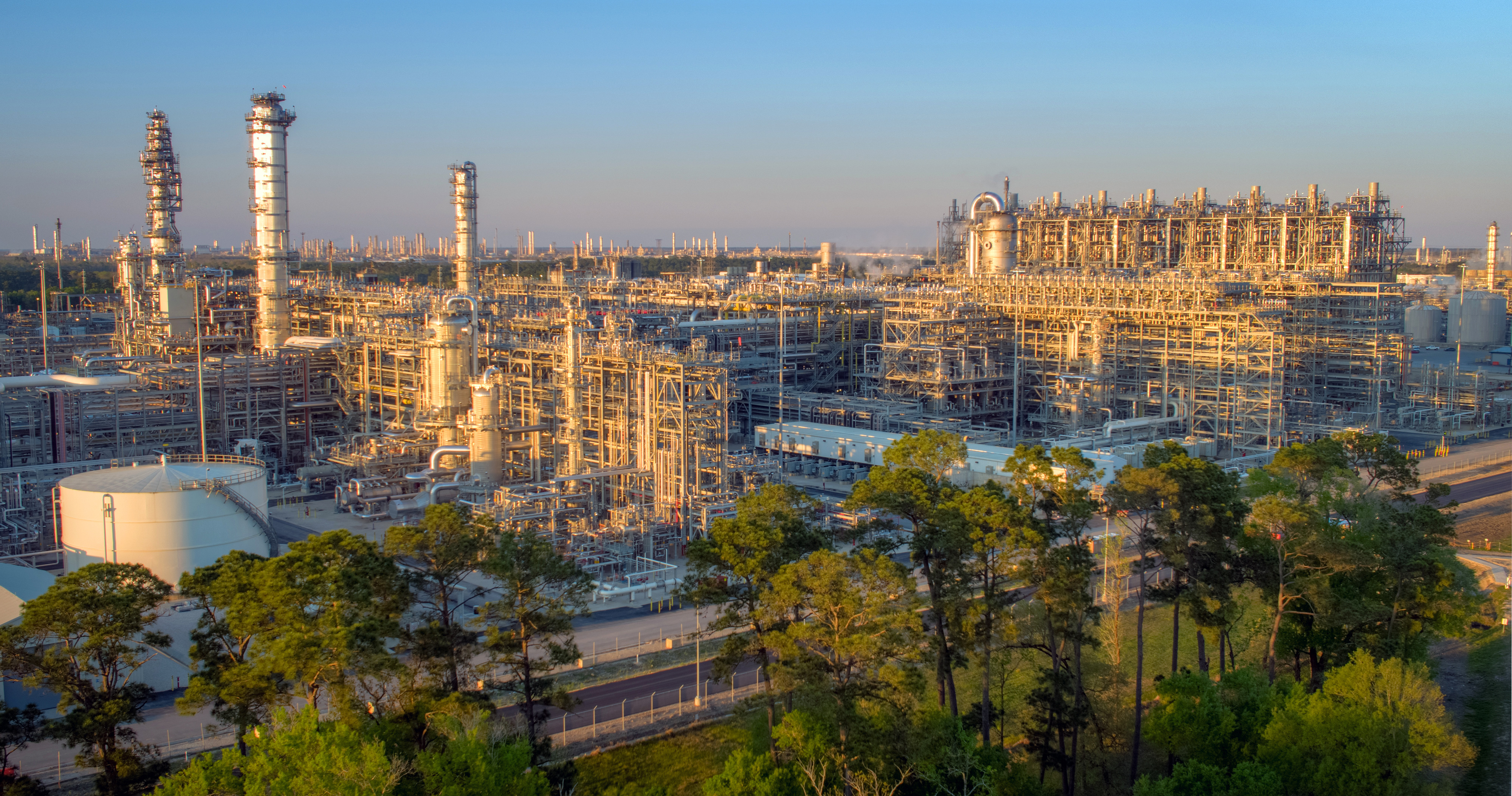 "It was an awesome opportunity from a career standpoint to be involved in something that will be around for so long and is transforming the company," said Corn, senior vice president of petrochemicals.
While overseeing the petrochemical projects, Corn made time to visit his Alma Mater as a guest lecturer and a recruiter. He's shared his insights with chemical engineering students about job opportunities and where he sees the industry headed.
Rooted in Illinois, bound for California
Born and raised in Illinois, Corn graduated from Downers Grove South High School. He credits his interest in chemistry and chemical engineering to his high school chemistry teacher, Michael Mayfield. Corn's father was a Purdue graduate in electrical engineering who worked in control system sales. His mother taught seventh grade English. Both his parents emphasized the importance of a college education.
As a chemical engineering major at Illinois, Corn said he enjoyed learning about reactors and engineering optimization from the late Dr. Thomas Hanratty. During his junior year, he saw a job posting from a graduate student who'd broken his leg and needed help building a heat transfer experiment. Initially, he was only looking to earn some extra cash, but the part-time job provided an excellent opportunity for Corn to gain hands-on experience building experiments. It also led to another job building pipe experiments in the Unit Ops Lab.
When it came time to deciding where to interview for his job after graduation, Corn looked west. The winters of 1978 and 1979 in Illinois were among the coldest and snowiest on record. He accepted a position in process engineering at Chevron in Richmond, in northern California.
In his early years at Chevron, Corn worked in operations at plants that manufactured wax for coatings on cups, candles, and other consumer products. After about 12 years
in a variety of roles, including in engineering, operations, and project management, he transferred to Port Arthur, Texas, where he managed the company's chemical operations. Corn said he is proud that while he was there the chemical area had the lowest recordable injury rate in the plant, including one year with no injuries.
In 1994, Chevron sold its Port Arthur refinery and kept the chemicals business. Corn became a Chevron Chemical employee and moved to the commercial side of its business in Houston. In 2000, Chevron and Phillips Petroleum Company, now Phillips 66, merged their chemical assets to create a new company, Chevron Phillips Chemical. The company boasts three high-level executives with Illinois ChemE degrees. In addition to Corn, there is Dave Smith (BS '79), senior vice president of corporate planning and technology, and Jim Becker (BS '80), vice president of polymers and sustainability.
At Chevron Phillips Chemical, Corn has worked in olefins, polyethylene, and global business development. From 2009 to 2010, he managed the company's Asia office in Singapore and spent time visiting sales offices and plants in China, Japan, Thailand, India, Australia, New Zealand, and Vietnam.
"From a personal perspective, it was certainly interesting and fulfilling seeing different cultures and understanding how the world works and seeing the emergence of China and its economic importance. From a business perspective, it was also interesting seeing these growing economies and the emergence of the middle class (in countries such as, India, Thailand, and Vietnam)," providing a deeper perspective of the global pulse of the chemical business, he said.
For the last seven years, Corn has focused his time planning for and overseeing the development of the ethylene cracker plant in Baytown, Texas. "It's a project close to my heart," he said.
The plant, which turns ethane into ethylene, is one of the world's largest. The chemicals from Baytown are transported to the company's new polyethylene plants in Old Ocean, where resin that is ultimately converted to pipe, films, curbside garbage cans, and many other consumer products is made. The project is one of several massive units being built in the Gulf Coast. ExxonMobil, Dow, and Sasol are all building or have built similar plants.
The ethylene cracker plants are "all part of a resurgence creating lots of jobs and that's driven by feedstocks coming from shale fracking in Texas, the mid-continent, and the northeast US," Corn said.
Recruiting the next generation
Corn is bullish on the petrochemicals industry and future job opportunities for chemical engineers.
A chemical engineering degree "is a great foundation" and at Illinois, Corn "learned to triangulate and how to be curious about why things are the way they are and why they work the way they do. It's not just about, 'this is what you need to memorize.'" Being a chemical engineering major taught him to love learning and to embrace lifelong learning, he said.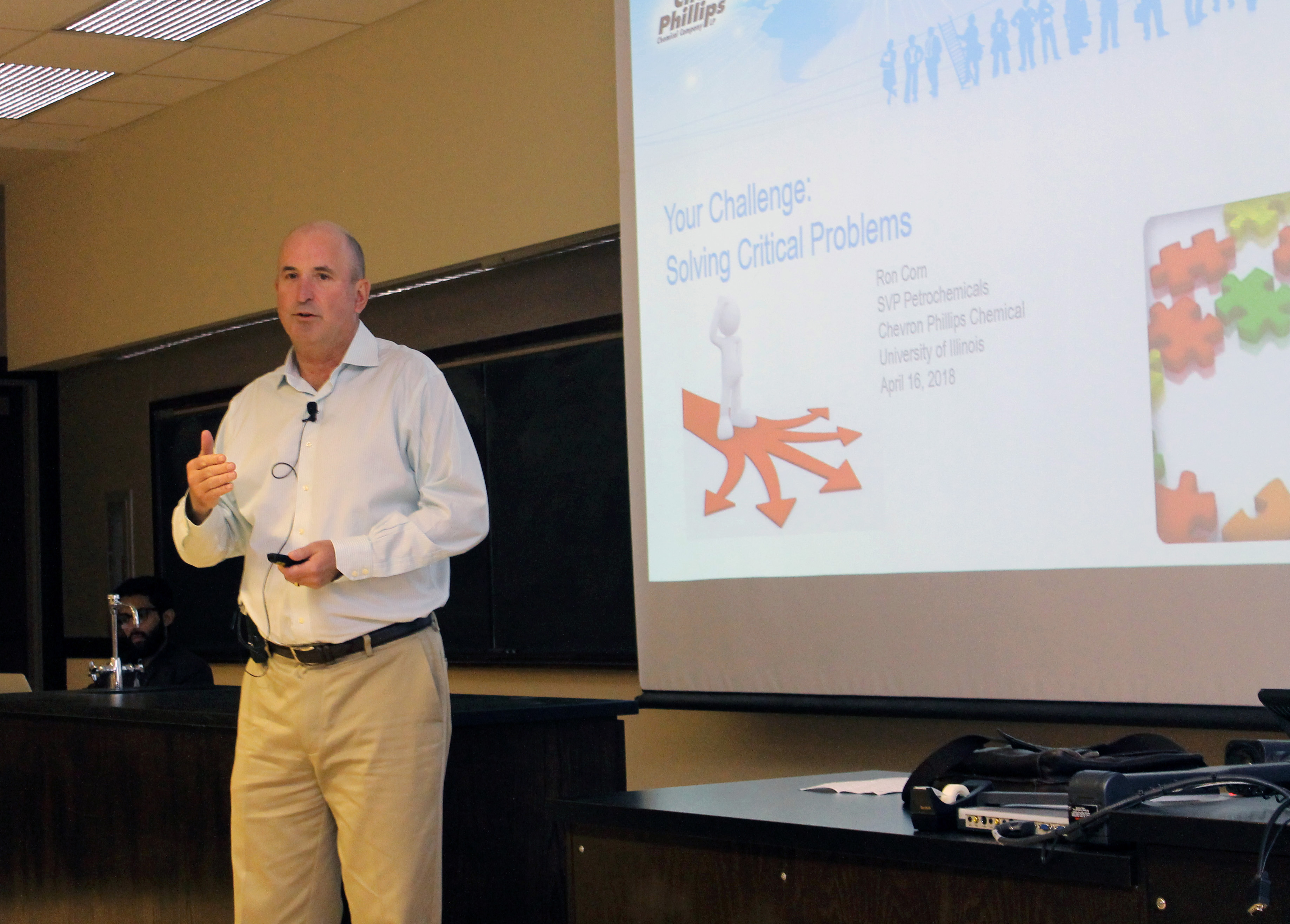 In addition to sharing his insights with students through classroom visits, Corn established a scholarship for ChBE students at Illinois. His preference is for the scholarship to be awarded to women and/or underrepresented students to help make their education more affordable.
"I give a lot of credit to this time frame (at Illinois). I certainly appreciate the doors my degree opened," he said.
Until recent years, Chevron Phillips Chemical traditionally recruited students from former Big Eight schools like the University of Oklahoma and Texas A&M, Corn said. When he became involved in student recruiting at his company, he encouraged his colleagues to come to Illinois because of the talented and diverse student population and his belief that graduates are open to moving to Texas.
Since he's become more involved in recruiting, Corn said he's noticed that universities are doing a better job of preparing students for industry. Students come with experience of working in teams, collaborating, addressing real-life problems, and having done more interdisciplinary projects, he said.
"This is great time to be in chemical industry, especially if you live and work in the US. A decade ago, growth was in the Middle East. Now the growth is in the US," he said, referring to the rise of projects in the Gulf Coast.
"If you want to work in a growing and vibrant area, making materials and products that improve everybody's lives, it's a good time," he said. "My advice and my plea is we need everybody to think critically, to use the data, to not lock in on the 'easy' answer for simple solutions. We need to look for 'and' solutions. It's not just low cost or tradeoff on environmental or efficiency over safety. You're going to have to find solutions that are safe, that are economical, that people want and will buy, that are positive for the environment and that can get delivered to the consumer base, whether that is Iowa or southeast Asia," he said.
Because of the growth in world population and especially the growth in the global middle class, there will be increased demand for clean water, food, shelter, health care, and quality of life.
"Chemical engineers will be central to delivering these to people," Corn said.