Meet our Students
Chemical and Biomolecular Engineering undergraduates at Illinois have the opportunity to work alongside world-class faculty and graduate students on a variety of exciting research projects. They pair up with graduate student mentors, receive training, and become part of the lab. Our undergraduate researchers are working on projects that aim to increase solubility of anti-cancer drugs, create a biomaterial that will help regenerate injured tissue and tendons, and developing polymers for 3D printing, and much more. In a recent issue of our Mass Transfer newsletter, we featured just a few of the many ChBE undergrads who spend time in faculty labs.
Meet Samdisha Punjali, a senior from Delhi, India. She is a member of Dr. Ying Diao's lab.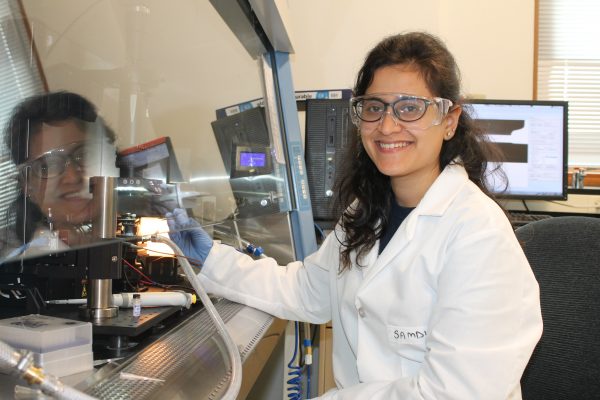 How did you come to work in Dr. Diao's lab?
I spent my sophomore year summer working as a Chemical Research and Process Development Intern at Sun Pharmaceutical Industries Ltd. My chemical engineering background tied in closely with the research of Dr. Diao's division. I was highly interested in how her research group utilized their understanding of molecular assembly to conduct research regarding organic semiconductors, solar cells, and particularly pharmaceuticals, in order to maximize the efficiency of products in those fields. After reading about her research group online, I got extremely excited to be a part of her group as I always wanted to build upon what I learned during the summer.
Tell us about the research project you're involved in.
The problem with most of the currently available anti-cancer drugs is that their water solubility is very poor despite their excellent anti-cancer properties. Due to their low bioavailability, they are rejected during drug development. My research project aims to increase solubility of anti-cancer drugs by printing thin films. The objective is being achieved by reducing the dimensionality to obtain nano-size particles.
How has working in a university research lab had an impact on your undergraduate education?
My experience as an undergraduate researcher has been phenomenal. Working with Dr. Diao and other group members taught me something new every day and kept me in a motivated environment. As a result, I am able to apply these skills and knowledge to other ChBE courses as well.
What are your post-graduation plans?
Currently, I am working towards getting industry experience. I plan on going to graduate school in the future after working in the chemical industry for a few years.