2022 Undergraduate Scholarship and Awards Ceremony
The Department of Chemical and Biomolecular Engineering held the 2022 Undergraduate Scholarship and Awards Ceremony on April 1, 2022, at the Illini Union Ballroom. The annual event honors the department's scholarship recipients and donors and recognizes the judges, participants, and winners of the Undergraduate Research Symposium held earlier that day.
"After holding this event remotely last year, it is exciting to be together again — in person — for an event that is at the heart of our undergraduate program," said assistant professor Simon Rogers, who presided over the ceremony. "It is meaningful to be able to recognize our students who have gone above and beyond, particularly in such challenging times."
During the ceremony, Rogers recognized three alumni who have established new departmental scholarships:
"Kenneth Jaconetty (BS '82) has established a scholarship to support our students from backgrounds that are too little represented in academia. Being able to provide our chemical engineering education to a diverse student body is crucial for our state, nation, and industry. Endowments like the Jaconetty Scholarship Fund help us achieve this goal by supporting students who might not otherwise be able to attend Illinois. Thank you, Ken, for being here today and giving back to our students."
"Dan Hanus (BS '86) recently retired from Procter & Gamble and established a unique scholarship to support our students who are pursuing co-ops to complement their education. The scholarship is named in honor of Rebecca J. Simon, a longtime advisor and former director of the SCS Placement Center who is remembered by many as an ever-faithful student advocate and a voice of encouragement and reassurance. Although Dan could not be here today as planned, we are grateful for his efforts to memorialize a special member of our community and to help our students pursue real-world experiences."
"Last but not least, it is my pleasure to recognize Joseph Drago (BS '72), who as you may have seen in our latest edition of Mass Transfer, served as our December convocation speaker. This year marks the 50th anniversary of Drago's own graduation, and he has remained faithfully committed to his alma mater and future generations of students ever since. Joe has served as a research symposium judge, a frequent guest speaker for the CHBE 494 Process Safety course, and earlier this week, he attended our CHBE 121 Poster Sessions, an event that he has sponsored several times. To commemorate the golden jubilee of this graduation, Joe has established the Philip and Anne Drago Scholarship Fund in memory of his parents. Philip Drago earned a bachelor's degree (1948) and a master's degree in the teaching of French (1950) from the University of Illinois. Joe is a nuclear and industrial safety expert, and therefore it is fitting that this scholarship is awarded to a student their senior year who has a focus on chemical process safety, nuclear safety, or bio-related safety. Joe, thank you for being here today—and congratulations on your ChBE golden jubilee!"
Next, Reid T. Milner Professor Deborah Leckband recognized the 2021-2022 scholarship recipients. (See the full list of recipients below.)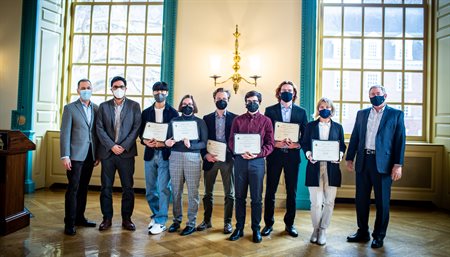 The 15th annual Undergraduate Research Symposium was judged by Gonzalo Campillo-Alvarado, an Illinois Distinguished Postdoctoral Research Associate; Kenneth Jaconetty (BS '82), the senior director, IP legal lead for IP transactions at Astellas Pharma U.S.; and Paul Jahn (BS '81), the Chief Operations Officer of the Battery Anode Materials Project for Syrah Technologies, an Australian minerals and technology company.
The research symposium winners were announced by Omega Chi Epsilon president Devin Schinski, who helped organize the event. Maxwell Polanek (advised by professor Brendan Harley) took first place with the poster titled: "Investigating the Effect of Mineralized Collagen Scaffolds on the Immunomodulatory Capacity of Human Mesenchymal Stem Cells." Edward Neves (also advised by professor Brendan Harley) placed second with "Biomaterial-based Tumor Models to Analyze the Role of Glioma Extracellular Matrix in Therapeutic Efficacy." David Yang (advised by professor Damien Guironnet) placed third with "Programmable and Automated Shape-controlled Synthesis of Bottlebrush Polymers."
The ceremony was followed by a brief reception with refreshments.
Download the event recording and ceremony photos.
Named Scholarships
Edward Neves
John Martin Ankenbauer Memorial Scholarship


Briana Sobecks
Chester W. Hannum Scholarship


Chantal Korde
Rebekah Schiff-Berger Memorial Scholarship


Joel Klecka
Franklin A. Boyle Scholarship


Kathryn Southon
Dr. John L. "Jack" Hudson Legacy Scholarship

Melissa Manetsch
Roger and Ruth Schmitz Scholarship

Jacob Milo
Mary S. and Dr. Howard W. Cox Jr. Scholarship

Andrea Mejia
Kenneth E. Jaconetty Scholarship


Serena Escalona
Rebecca J. Simon Memorial Scholarship

Joel Klecka
Philip and Anne Drago Scholarship


Kwanghyun Kim
Donald B. Keyes Award

Nicholas Cys
Ronald and Janet Van Mynen Scholarship

Darshan Patel
Donald E. Eisele Memorial Award

Wei Ping Lam
John W. Latchum, Jr. Scholarship


Mary Ehmann
John A. Weedman Scholarship


Julie Frederickson
Robert S. Frye Scholarship

Edward Kruszynski
Dr. Ray A. Mentzer Scholarship

Kyle Gray
John A. Weedman Scholarship


Manasi Vaidya
Clarence G. Gerhold Memorial Scholarship


Kaitlin Wixted
Kirk Nass and Michael Gillespie Scholarship

Anh Nguyen
John A. Weedman Scholarship


Emily Bolger
James K. Grant Scholarship

Jared Buabeng
Marchoe Dill Northern Scholarship

Sujay Someshwar
John A. Weedman Scholarship


Beichen "David" Xiong James K. Grant Scholarship

Beth Born
Raymond M. Pasteris Scholarship

Vikram Mubayi
Bruno H. Wojcik Scholarship

Emily Chow
Chester W. Hannum Scholarship

Isabel Hughes
Worth Huff Rodebush Scholarship
Corporate Scholarships
Zachary De Leon
BP Scholarship


Ja Yoon Lee
Phillips 66 Scholarship


Megan Shamsi
BP Scholarship

Rachel Park
Phillips 66 Scholarship


Landon Turvey
BP Scholarship

Chikako Barnes
Rohm & Haas Scholarship


Devin Schinski
Exxon Foundation Scholarship

Haoyu Chen
Rohm & Haas Scholarship

Fatimah Alghanim
Phillips 66 Scholarship

Jonathan Klein
Rohm & Haas Scholarship