Schroeder invested as James Economy Professor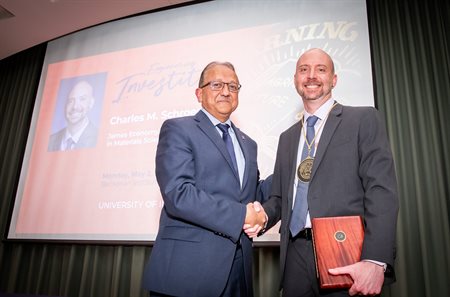 On May 2, chemical and biomolecular engineering professor Charles Schroeder, who has a dual-appointment in materials science and engineering (MatSE), was invested as the James Economy Professor.
Honoring Schroeder—and fellow MatSE investees Paul Braun, David Cahill, Charles Schroeder and Dallas Trinkle—for their academic achievements were Rashid Bashir, The Grainger College of Engineering dean; Lisa Monda-Amaya, the University of Illinois Urbana-Champaign's interim vice provost for undergraduate education; and Nancy Sottos, MatSE's department head, Swanlund Endowed Chair and Center for Advanced Study Professor.
For Bashir, this investiture was all the more special as it was the first Grainger Engineering investiture ceremony held in two years given the pandemic. "Coming back and celebrating the accomplishments of our colleagues is just so wonderful," Bashir said. "This is certainly one of the best parts of all of our jobs."
Monda-Amaya considers the endowed professorships to be the university's capacity to play a "transformational role" in society. "These gifts are direct investments in people, in ideas and in human potential. They open new avenues of exploration and debate, and they serve as strategic tools for attracting and retaining top scholars," Monda-Amaya said. "It is outstanding individuals, like Paul Braun, David Cahill, Charles Schroeder and Dallas Trinkle, who are leading us forward."
Bashir bestowed each of the invested faculty medallions recognizing their innumerable academic achievements.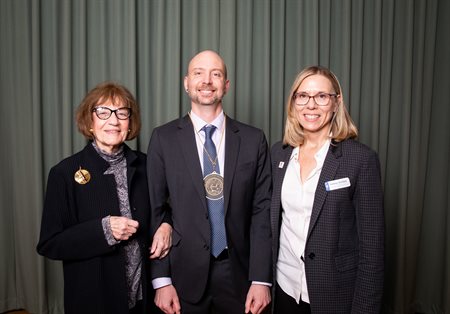 Sottos proudly recognized Schroeder's academic achievements. When it comes to collaboration, Sottos said Schroeder is a "trailblazer" as he also holds appointments in the university's bioengineering, chemistry, and chemical and biomolecular engineering departments.
"Charles' work in the area of soft materials truly embodies the interdisciplinary spirit of material science," Sottos said. "Our friend and colleague Jeff Moore (director of the Beckman Institute) would certainly call Charles a power collaborator."
For Sottos, Schroeder's efforts at Illinois are nothing short of extraordinary, and she considers him to be an "impactful" teacher, mentor and colleague.
Schroeder was truly honored to be recognized and in return, he thanked his family and all who have helped him along his academic journey.
"Science is not done in a vacuum, and accomplishments such as these are really only due to the incredible amount of support that has been given to me by so many people in my life," Schroeder said.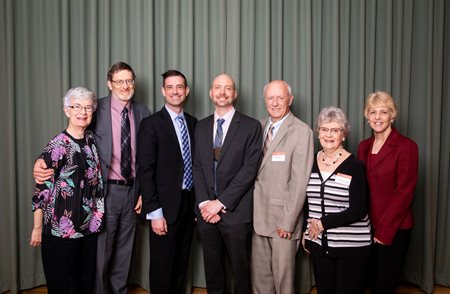 Schroeder paid tribute to his father who was an engineer at Bell Labs for many years and a huge source of inspiration for him.
"He worked on optical fiber coatings and developed new materials and new processes to optimize total internal reflection in fiber coatings," Schroeder said. "He had a three-story furnace in his lab, so I used to go and visit that during open house visits at Bell Labs. I would just be fascinated — that you could go to work and this was your job. You could go in and do these experiments on a daily basis."
He also gave a tip of the hat to his research group.
"Without you none of this would be possible," Schroeder said. "Every day your creativity, your enthusiasm, your hard work and your brilliance are really pushing forward our work to new and fascinating directions. You really make all the difference for me."