Anh Nguyen receives Beckman Institute Undergraduate Fellowship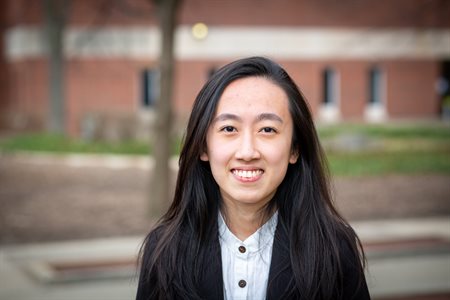 Chemical and biomolecular engineering undergraduate student Anh Nguyen is among eleven students selected to receive 2022 Beckman Institute fellowships and awards. The awards, which fund interdisciplinary research over the summer, will be celebrated at a virtual gathering on July 30, 2022.
The Beckman Institute Undergraduate Fellows Program provides undergraduate students with a $3,000 award to pursue interdisciplinary research at the Beckman Institute during the summer. Entering its seventh year, the program is supported by funding from the Arnold and Mabel Beckman Foundation.
Anh Nguyen expects to graduate in December 2022, earning a B.S. in chemical and biomolecular engineering and a minor in computational science and engineering. She will collaborate with Diwakar Shukla, an associate professor of chemical and biomolecular engineering, to improve accuracy and precision in molecular dynamics simulations of lipid-protein interactions. Molecular dynamics models that simulate membrane proteins often incorporate just one or very few lipid species in the bilayer membrane construction; this work will illustrate the impact of individual lipid species on membrane protein functions, helping to better explain and interpret their contributions in complex membrane mixtures.