David Flaherty and Simon Rogers honored with 2022 Campus Distinguished Promotion Awards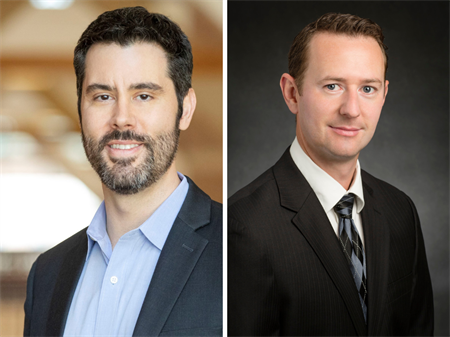 Chemical and biomolecular engineering professors David Flaherty and Simon Rogers are among ten faculty members who received the 2022 Campus Distinguished Promotion Awards from the University of Illinois Urbana-Champaign in recognition of the scope, quality, and impact of their scholarship, teaching, service, and engagement efforts.
At the request of the Provost, the Campus Committee on Promotion and Tenure identifies particularly excellent cases during the promotion review process, noting those scholars whose contributions were truly exceptional. The award includes a discretionary fund to support the recipients' scholarly activities.
"It is remarkable for two members from the same department to receive this recognition, which speaks to the excellence of our chemical and biomolecular engineering faculty," said department head Paul Kenis, the Elio E. Tarika Endowed Chair. "It is a privilege to work alongside Flaherty and Rogers who excel in teaching, research, and service. This honor is well deserved."
Flaherty investigates surface chemistry to design more reactive and selective catalysts needed to tackle challenges in environmental conservation and energy production. He has produced more than 70 publications in peer-reviewed journals, such as Science and Nature Catalysis. He is a recipient of awards such as the Eastman Foundation Distinguished Lecturer in Catalysis and the Department of Energy Early Career Award. Flaherty, who joined the department in 2012, has a bachelor's degree from the University of California, Berkeley, and a doctorate from the University of Texas at Austin.
"Being recognized within a community of such excellent scholars is an honor," Flaherty said. "Our success and achievements reflect the talent, creativity, and persistence of remarkable students and postdocs (past and present) in the group. Their work has made a real impact in our field by introducing new scientific concepts and insight."
Rogers investigates the fundamental physics behind time-dependent phenomena exhibited by soft matter under deformation for biomedical, energy, and environmental applications. He has published widely in peer-reviewed journals such as Physical Review Letters, the Proceedings of the National Academy of Sciences, and the Journal of Rheology. He is a recipient of the Metzner Early Career Award from the Society of Rheology and the National Science Foundation CAREER Award, among other honors. Rogers earned bachelor's and honors degrees in physics from Victoria University of Wellington and a doctorate in physics from the MacDiarmid Institute for Advanced Materials and Nanotechnologies at Victoria University. He joined the department in 2015.
"The quality of the scholarship at the University of Illinois is world class, and to be recognized alongside my colleagues with this award is really an honor," Rogers said. "The hard work and dedication of the students and post-docs in my group, from whom I've learned so much, is really what makes this award special. The insights that have come from their research continue to push us in new and exciting directions. I'm looking forward to what we'll learn next."
Previous recipients of this award include professors Ying Diao (2021), Brendan A. Harley (2018, 2015), and Hyunjoon Kong (2016).