Eric Goff named a finalist for Research Park's Best Business Innovation award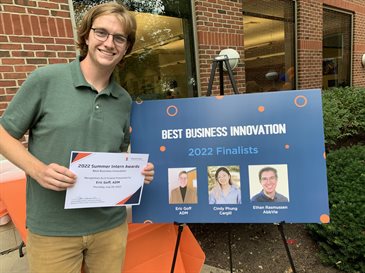 Chemical and biomolecular engineering undergraduate student, Eric Goff, was named a finalist for the Best Business Innovation at Research Park's 2022 Intern Awards. The 16th annual ceremony and picnic celebrate the contributions of 800+ interns working at Research Park across 120+ companies.
The ceremony was held on Thursday, July 28, which is National Intern Day, allowing for the perfect time to recognize the hard work of the interns starting their careers. This event was the first in-person ceremony since 2019 — a return to face-to-face networking between various disciplines, majors, and colleges from across the University of Illinois Urbana-Champaign.
Initially studying mathematics, Eric transferred to the chemical and biomedical engineering major in 2019. Eager to gain real-world experience, Eric applied for an internship with ADM Science and Technology Center in December 2021. A few weeks later, he was extended an interview and earned his first internship position as an ADM Modeling Intern.
Eric enjoys the diverse problem-solving sets within the role, "Sometimes I have to model a chemical/bioprocess using a modeling software package called Aspen Plus. Other times, I economically evaluate a process using Excel to see if the process is worth the resources to invest. Currently, I am working with our engineers to model a process for sustainable aviation fuel!"
Eric's effectiveness in both the chemical and financial aspects of his role led to his Best Business Innovation nomination at Research Park.
This feeling of accomplishment and ingenuity is one Eric hopes to pass along to students following him. Due to his know-how of Aspen Plus, ADM trusted Eric to help create a new assessment for incoming interns.
"To progress onboarding, interns must pass a test demonstrating the ability to use Aspen Plus, and I was offered the chance to help reformat it for future interns," he said. "Having the opportunity to be a part of the intern onboarding process was a fulfilling experience. I'm thankful to be on an ADM team that trusts and values my input."
Recently, Eric accepted a full-time offer to work at Constellation Energy at the La Salle Generation Station, starting in late September. It has always been a dream of his to work at a nuclear facility, and he will continue his passion by helping to provide clean energy.
Check out the other interns highlighted by Research Park.