ChBE Graduate students win poster awards at various conferences
The Department of Chemical and Biomolecular Engineering is proud to recognize the outstanding achievements of our exceptional graduate students who have won awards for their research presentations. Check out their recent accomplishments below.
Vasiliki "Aliki" Kolliopoulos
Kolliopoulos participated in the 7th International Conference on Tissue Engineering in conjunction with the 5th International Conference on Regenerative Biomedical Materials in May 2022. Among one of five students selected to attend and present work internationally in Greece, Kolliopoulos earned the highest honor in the form of the Regenerative Biomedical Materials Travel Award.
"Among the participants were leaders in the field of tissue engineering and regenerative medicine, including our own professor Hyunjoon Kong," Kolliopoulos said. "This conference gave me the unique opportunity to network with these leaders, including Antonis Mikos, the organizer of the conference and professor of Rice, with whom I am currently doing a short-term internship in his lab."
The second accolade Kolliopoulos recently received is the MIT Rising Stars Fellow award in September 2022. Chemical Engineering at MIT invites top early-career women interested in faculty careers to a two-day workshop to learn about preparing to become a faculty member and network with the MIT faculty. Kolliopoulos was one of 21 women selected nationally to attend the program.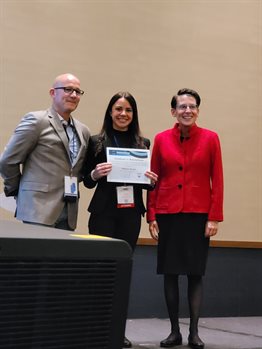 Melanie A. Brunet
The 2022 International Conference on Secondary Ion Mass Spectrometry (SIMS23) is attended by scientists who use Secondary Ion Mass Spectrometry (SIMS) to analyze the chemical composition of sample surfaces. Scientists from academic, industrial, and national laboratories from around the world participate to discuss their findings on SIMS and related technologies.
Brunet's award-winning presentation was titled "Depth Correction of 3D NanoSIMS Images Show Intracellular Lipid and Cholesterol Distributions While Capturing the Effects of Differential Sputter Rate."
Additionally, Brunet earned a first-place finish at the 2022 AVS Prairie Chapter Meeting Symposium. Research presented at this symposium focuses on using equipment that operates under vacuum and other controlled environments, with the goal of creating new materials and technologies and understanding material properties.
"These awards are a symbol of the hard work and dedication I have placed in my research, and they motivate me to continue working toward becoming a researcher that improves the lives of others," Brunet said.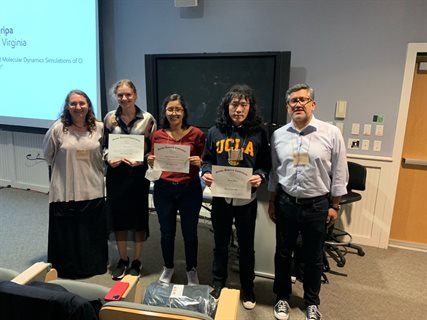 Claudia E. Berdugo-Díaz
Berdugo-Díaz presented at the 2022 Gordon Research Conference on Catalysis, where she earned the second place graduate student poster prize. The conference brings together leaders and future leaders from academia, industry, and government laboratories to discuss how to achieve a transition into new types of catalysts and catalytic processes for the future of the sustainable chemical industry.
"I am grateful to receive this recognition among the many talented and outstanding candidates. I was happy to share and discuss my work at this prestigious conference," Berdugo-Díaz said after earning a second-place finish.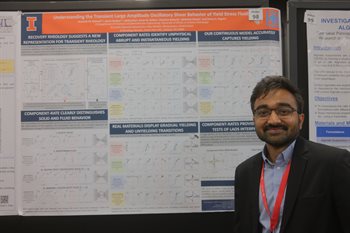 Krutarth Kamani
The Society of Rheology's annual conference is attended by physicists, chemists, biologists, engineers, and mathematicians interested in advancing and applying rheology. It is one of the five founding members of the American Institute of Physics and was officially formed on Dec 19, 1929.
Kamani's first-place poster was titled "Understanding the transient large amplitude oscillatory shear behavior of yield stress fluids."
"I'm honored to win the Society of Rheology's student poster award," Kamani said. "It reflects my insightful interactions with faculty and graduate students in soft matter science at the University of Illinois at Urbana-Champaign."