ChBE launches new M.Eng. program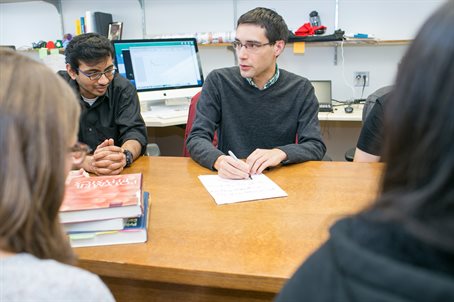 Chemical engineers play a crucial role in formulating solutions to the world's most critical issues, including climate change, aging infrastructure, food and water insecurity, supply chain disruptions, cybersecurity, and more. To meet the demand for educating a new generation of engineering leaders who can address these significant global challenges, the Department of Chemical and Biomolecular Engineering established the M. Eng. program - the "Master of Engineering in Engineering with a concentration in Chemical Engineering Leadership."
This master's degree is for early to mid-career engineers who aspire to advance their engineering careers and ultimately become industry leaders. The program leverages the resources of The Grainger College of Engineering and the Gies College of Business — which are top-10 ranked schools by U.S. News and World Report.
The unique combination of technical knowledge and business acumen equips students with the tools to deliver success in dynamic environments.
This professional degree program leverages a unique combination of technical knowledge and business insight. Students in this program will learn from the world-renowned faculty in the Gies College of Business, Grainger College of Engineering, and College of Liberal Arts and Sciences, in addition to our outstanding Chemical & Biomolecular Engineering faculty. In twelve to eighteen months, M.Eng. students can graduate with advanced technical knowledge of chemical engineering, communication, leadership, and management skills.
"Over the years, our alumni and senior business leaders have consistently told us that industry needs its engineers to not only be technically strong but also have the critical business skills to succeed in today's volatile and complex business environment," said Hong Yang, the Alkire Chair Professor and Director of M. Eng. program.
With the support of the University's Investment for Growth initiative, the Department of Chemical & Biomolecular Engineering started the effort to establish this professional M.Eng. program three years ago. This program will provide a unique learning experience that addresses a void at the intersection of engineering, business management, and leadership.
Students will learn how the technical knowledge they bring to the table needs to be combined with business knowledge, decision-making skills, and team leadership to deliver successful business opportunities in a rapidly evolving professional climate.
Throughout the program, students will:
Develop advanced engineering skills that apply to their specific areas of interest.
Know how experienced technical leaders and executives apply their skills to solve real-world challenges.
Understand how to identify, define, and deliver high-value technical solutions to various stakeholders.
Become a team leader and a more effective team member of diverse, multi-discipline teams.
This program provides an advantage to:
Early-career chemical engineers preparing for broader responsibilities at their organization.

Recent engineering graduates looking for more technical, business, and leadership skills than traditional entry-level professionals.

Aspiring chemical engineers who want to redirect their careers from other disciplines such as chemistry, materials science, etc.

International students looking to differentiate themselves with an advanced degree from a top U.S. engineering school.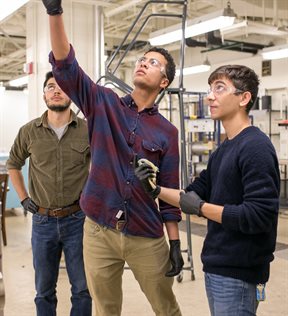 This program in chemical engineering leadership, which does not cover the broader range of skills associated with an MBA, is to focus on the skills that enable sound business decisions and develop effective leaders in chemical and related engineering professions.
"The curriculum was carefully designed to include graduate level courses in engineering, business management, and leadership that deliver the portfolio of skills which are sought after by today's industry leaders," said Jim Morris, a department alumnus and former chief facilities engineer for ExxonMobil Upstream. Morris will lead the effort to develop the capstone projects and workshop for the program.
The 34-credit M.Eng. program offers a customizable experience for students. Students have the option to complete the program either full-time, part-time, or online. This flexibility, coupled with a wide range of course options, world-class industry workshops, and an authentic capstone project, aims to catalyze students' engineering careers.
"The Department is excited to train the next generation of technical and business leaders in Chemical Engineering through this innovative M.Eng. program. We are particularly excited about our partnership with the Gies College of Business, which addresses key gaps in leadership and management training present in traditional engineering programs," said Christopher Rao, Department Head of Chemical and Biomolecular Engineering.
Interested? Click here to learn more - M.Eng. Program