Professor Brendan Harley featured in "Unlikely Paths" Story Collider Podcast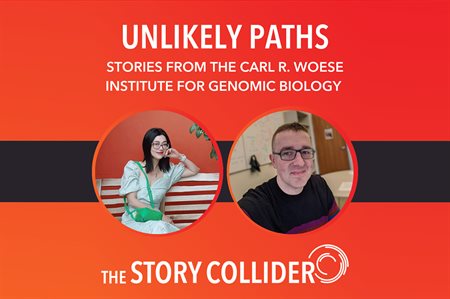 Science storytelling organization The Story Collider develops "true, personal stories about science" as part of their mission to reveal the vibrant role that science plays in all of our lives through the power of storytelling. Professor Brendan Harley is among two faculty members featured in the November 25 episode of the Story Collider weekly podcast titled "Unlikely Paths: Stories from the Carl R. Woese Institute for Genomic Biology."
Brendan Harley is the Robert W. Schaefer Professor of Chemical and Biomolecular Engineering and the theme leader of the Regenerative Biology & Tissue Engineering research theme at the IGB, as well as an affiliate of the Environmental Impact on Reproductive Health research theme. His research looks to develop biomaterials that replicate the microenvironments found in the tissues and organs of the body, to generate new insights towards cell response regarding development, disease, and regeneration.
Also featured is Heng Ji is a professor of computer science, and electrical and computer engineering, as well as an Amazon Scholar. Her research interests focus on natural language processing, especially on multimedia multilingual information extraction, knowledge base population and knowledge-driven generation. She leads the AI-enabled synthesis planning thrust of the Molecule Maker Lab Institute (MMLI) to develop an AI platform to solve complex chemistry problems.
Heng and Brendan will share stories of their unlikely paths through the lens of their personal and professional experiences on this special edition of The Story Collider podcast, which is available to download or stream via your preferred platform.