Alex Vogel to speak at ChBE Convocation ceremony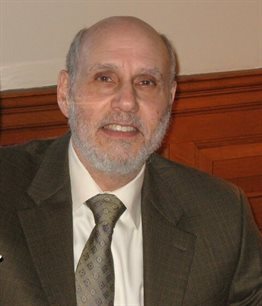 The Department of Chemical and Biomolecular Engineering welcomes longtime Dow Chemical Company employee and ChBE alumnus Alex Vogel to share remarks at the virtual Convocation ceremony to be held at 1 p.m. on May 15, 2021, via Zoom.
"Alex Vogel has a wealth of knowledge and experience that he actively chooses to share with others," said ChBE Department Head Paul Kenis, the Elio Eliakim Tarika Endowed Chair in Chemical Engineering. "Over the years, he has consciously contributed to his community—including ChBE where he established a scholarship and now honors us with his remarks. We hope that his remarks will inspire our students to likewise give back. "
In 1963, Vogel graduated from the University of Illinois and went on to earn a master's degree in chemical engineering from Stanford University in 1965. Shortly after, he joined the Dow Chemical Company and was named Global Director of Process Research & Development for Dow AgroSciences in 1989. After retiring from Dow in 1995, he has held numerous positions with consulting firms.
Vogel plays the clarinet and has performed in a variety of orchestras, bands, and chamber music groups. Previously, he served as principal clarinet and president of the board of the Chapel Hill Philharmonia. He and his wife, Anita Cohen, live in Newton Centre just outside of Boston. Vogel also serves as Co-President of the board of Newton at Home, a volunteer organization that provides practical services and a social community for its membership.
"Alex Vogel is a superb clarinetist with seriously impressive credentials," said Richard Alkire, Charles and Dorothy Prizer Chair Emeritus Professor. "Several of his visits to the campus included wonderful afternoons of music at our home. I remember with genuine pleasure playing the piano with him on some of the masterworks of the clarinet chamber music literature. Locked forever in my memory are the magnificent Brahms opus 114, and the Bruch opus 83. Wonderful experiences like that create a bond of trust that is never forgotten."
Students have received an invitation with a link to join the virtual for our virtual Convocation ceremony featuring remarks from Vogel. Additional requests for the link may be sent to chbe-comms@illinois.edu.