Bhargava named Agilent Thought Leader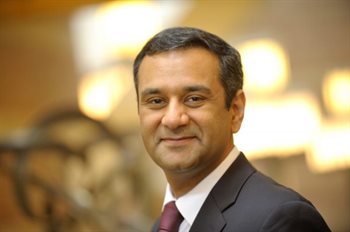 Rohit Bhargava, a Founder Professor of Engineering and Chemistry at Illinois, has received an Agilent Thought Leader Award in recognition of his pioneering work in the development of infrared spectroscopic imaging, and its application to life sciences research.
Bhargava is a professor of bioengineering, with laboratories at the Beckman Institute for Advanced Science and Technology. He is also the founder and director of the Cancer Community at Illinois program, which will be renamed the Illinois Cancer Center in early 2017. His work in the advancement of novel chemical-imaging technologies includes developing infrared spectroscopy modalities and demonstrating how they apply to cancer detection, diagnosis and prognosis.
The Agilent Thought Leader Award, which includes funding and technology from Agilent, will enable Bhargava to develop new applications and software to facilitate infrared analysis of histological samples, in particular for cancer detection and diagnosis.
"We are grateful to Agilent for this support," Bhargava said. "This relationship will allow us to work together to further establish the field of digital molecular pathology using infrared imaging."
"We are delighted to support Dr. Bhargava's research toward migrating infrared spectroscopic imaging from the lab to the clinic," said Philip Binns, vice president and general manager of Agilent's Spectroscopy and Vacuum Solutions Division. "Dr. Bhargava is well-positioned to lead the development of new biomedical applications of Agilent's recently announced high-speed Laser Direct Infrared Imaging (LDIR) technology."
The Agilent Thought Leader Award Program promotes fundamental scientific advances by contributing financial support, products and expertise to the research of influential thought leaders in the life sciences, diagnostics and applied chemical markets. Information about previous award recipients is available on the Agilent Thought Leader Program webpage.