ChBE students earn 2021 Beckman Institute student fellowship and award
Two chemical and biomolecular engineering students were recently named recipients of the 2021 Beckman Institute student fellowships and awards. The awards, which are presented to undergraduate and graduate students, will be celebrated with a virtual celebration in July.
---
Nadine Barrie Smith Memorial Fellowship
In honor of Nadine Barrie Smith's life and achievements, Smith's husband, Andrew Webb, established the Nadine Barrie Smith Memorial Fund that is supported by Smith's family, friends, and colleagues. The fund provides fellowships to female engineering graduate students who are conducting research in the general field of medical imaging (e.g., ultrasound, optical, magnetic resonance) at the Beckman Institute.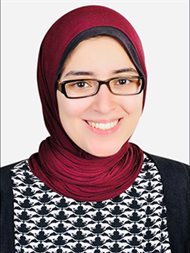 Eman Hamed is a graduate student in the Neuroscience Program at Illinois, and is also a neurosurgery trainee who studied at the University of Alexandria Faculty of Medicine. She conducts research with Martha Gillette of cell and developmental biology, Hunjoon Kong of chemical and biomolecular engineering, and Brad Sutton of bioengineering. She'll use MRI imaging to understand how restorative sleep removes brain toxins and metabolites through the glymphatic system. Her goal is to better understand the system's role in cognitive function. She will be testing for drug treatments that may improve such function.
---
Thomas and Margaret Huang Award for Graduate Research
In honor of Thomas and Margaret Huang's contributions to science, technology, and society, the Thomas and Margaret Huang Fund for Graduate Research was established by the Huang family and their friends and colleagues. The fund provides awards to graduate students who are conducting research in the broad area of human-computer intelligent interaction at the Beckman Institute.
Kianoush Falahkheirkhah is a graduate student in chemical engineering who conducts research with bioengineering professor Rohit Bhargava. He's working to develop accurate, reliable, and clinically translatable frameworks for using machine learning to make diagnoses. He's especially focusing on using label and label-free microscopy data to do so. Just as Thomas Huang was a pioneer in using machine learning to recognize patterns, Falahkheirkhah hopes to use it to develop computational tools to automate the process of detecting and diagnosing cancer.