Chemical and Biomolecular Engineering announces May convocation speaker
The Department of Chemical and Biomolecular Engineering is pleased to announce Dr. Elmer L. Dougherty, Jr. will be the convocation speaker for the May ceremony.
Convocation will be at 10 a.m., Sunday, May 14, 2017, in the Tryon Festival Theatre in the Krannert Center for the Performing Arts, 500 South Goodwin Avenue, Urbana. This year the department will celebrate undergraduates who are receiving bachelor degrees and graduate students earning master's and doctoral degrees.
A reception will follow the ceremony in a tent on Centennial Plaza, the area between Noyes Laboratory and the Chemistry Annex, just east of the Quad.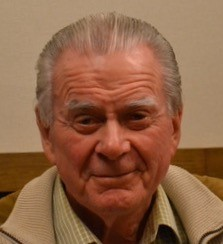 Born in Kansas, Elmer Dougherty earned his bachelor's degree from the University of Kansas in 1950 and his MS and PhD degrees from the University of Illinois in 1951 and 1955, all in Chemical Engineering. For his PhD adviser, the legendary Professor Harry Drickamer, he measured thermal diffusion in isomeric mixtures to understand small changes in composition caused by a temperature gradient.
Following stints with Esso, Dow (where he wrote his first computer program in 1955), Union Carbide, and Chevron (as well as forming two software companies) Dr. Dougherty became a Professor at University of Southern California in 1971. In 1960 while at Chevron and Aramco, the Saudi Arabian Oil Company, he headed an engineering-mathematical project that developed a reservoir simulation program and applied it successfully to Aramco's Safaniya Field in the Arabian/Persian Gulf. It was the first such application of what is now a standard fundamental tool for oil field operations. In 1980 while at USC, he formed and headed a team of engineers, economists and computer specialists to create a computer system for OPEC Secretariat that successfully modeled the cost of evolving and competing energy supplies and its impact on economic output in the world's economic regions. Dr. Dougherty was on the faculty of the University of Southern California until his retirement in 1995.
He continues his involvement in computer applications via Maraco, Inc., an oil and gas software development firm he established in 1979. He has consulted around the globe– in Australia, Indonesia, Iran, Kuwait, Saudi Arabia, Libya, The Netherlands, France, England—and has written over 50 technical papers.
Dr. Dougherty is a Distinguished Member of the Society of Petroleum Engineers and is the recipient of its Cedric Ferguson and Jon Arps Awards. He has also lived long enough to be inducted into its Legion of Honor, which occurs automatically after 50 years of membership. He also has been a member of AIChE since his days as an undergraduate. In 2006 he was inducted into the Alumni Hall of Fame at the University of Kansas' Department of Chemical and Petroleum Engineering.