Congratulations to the Class of 2015!
Some students have landed jobs with leading energy companies. Others will join international food and beverage companies. A number of other students will head to graduate schools this fall.
Faculty, family, friends and other supporters packed the Colwell Playhouse in the Krannert Center for the Performing Arts Sunday to celebrate a record number of students graduating this spring from the Department of Chemical and Biomolecular Engineering. A total of 135 students received their bachelor degrees at the May 17 convocation.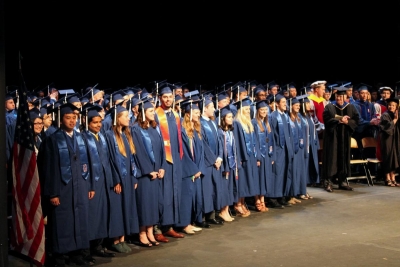 Tom Tulig, a 1978 Illinois graduate and longtime Shell employee, was the featured speaker.
He urged graduates to seize opportunities, keep their perspectives, have perseverance, be optimistic, "and then enjoy the ride!"
"Along the way, be sure to both offer and accept support," he said.
A Chicago native, Tulig graduated from Brother Rice High School and received his B.S. in chemical engineering from Illinois, graduating summa cum laude. He received his Ph.D. in chemical engineering from the University of Minnesota in 1983.
Tulig has been with the Royal Dutch Shell Group of Companies his entire professional career. His initial assignment was in the reaction engineering department at Shell's Westhollow Technology Center in Houston. He has held multiple assignments in research and development, project development, and technical support to operations. He also has worked in central office business support and was a technology manager at the Deer Park Refinery and Chemical plant in Houston, Texas. He currently is the general manager for process development in Shell's Projects and Technology organization. He oversees programs and people in Houston, Amsterdam, Bangalore, and Singapore.
Throughout his career, Tom has been a recruiter, campus visitor for the Shell Oil Foundation, and a member of the University of Illinois Engineering Advisory Committee.
During his speech, he recalled attending a workshop with a former Shell Oil board member who shared key principles of leadership. One concept, called "getting on the balcony," left an impression on Tulig. When you're engrossed in a battle, step up "onto the balcony," or, away from the fray and ask three questions: What is happening? What is not happening? What can I do to influence the action?
"When confronted with serious challenges requiring your leadership, perhaps these few questions may help you assess the situation and allow you to influence the action to the positive," Tulig said. "If life gives you a few lemons, make lemonade? Or maybe a crude electrochemical cell for us chemical engineering nerds?"
Barbara Wilson, dean of the College of Liberal Arts & Sciences, also spoke at the ChBE convocation. She reminded graduates to keep in touch with the campus and continue to share news of their careers with the department. And wear Illini colors.
"I want to see more orange on Michigan Avenue, in Times Square, and at the Great Wall of China," Wilson said.
Students are headed to graduate schools such as the University of Texas at Austin and Columbia University and joining corporations such as Anheuser-Busch, Johnson Controls, the Kraft Heinz Company, Exxon and many others.