Department celebrates its December graduates
Congratulations to our December graduates!
The Department of Chemical and Biomolecular Engineering held a convocation ceremony on Friday, Dec. 16, 2016, for its December graduates. The ceremony featured Illinois Chemical Engineering alumnus George P. Nassos, who received his bachelor's degree in 1961.
The Chicago native graduated from Austin High School and attended the University of Illinois at Navy Pier (now UI-Chicago) before transferring to Urbana-Champaign. After earning his BS in Chemical Engineering from Illinois, he went on to earn his MS and PhDs in Chemical Engineering from Northwestern University.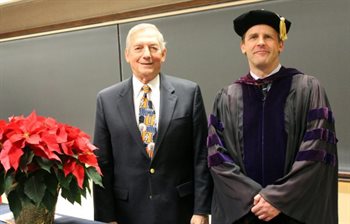 Dr. Nassos worked for International Minerals & Chemical Corp. (IMC) for 16 years, during which he earned an MBA from Northwestern. He advised graduates who are interested in business and pursuing MBAs to do so while working so they can apply what they learned in class to their jobs.
After earning his MBA, he served as an adjunct professor in Loyola University Chicago's MBA program until IMC transferred him to its European subsidiaries. Living and working in Europe was one of the best decisions he made, Dr. Nassos recalled in his convocation speech. It was in Europe where his interest in energy and the environment developed as he saw how Germany and other countries had already adapted technologies such as escalators that power on and off in response to users stepping on and off them.
After his time with IMC, Dr. Nassos worked for Chemical Waste Management, the hazardous waste subsidiary of Waste Management, where he developed treatment and disposal technologies such as fuel pellets from non-recyclable waste.
Next he pursued his interest in teaching at the graduate business school level. Dr. Nassos was named director of the top-ranked MS in Environmental Management & Sustainability program at the Illinois Institute of Technology Stuart School of Business. He taught the sustainability capstone course and authored the textbook, Practical Sustainability Strategies: How to Gain a Competitive Advantage. Dr. Nassos managed the program until he retired in 2011.
Currently he is principal of George P. Nassos & Associates, a consulting company focusing on environmental sustainability and renewable energy. Dr. Nassos also is president of Sustainable Energy Systems, which markets a new onsite waste-to-energy technology.
When people ask him if he's retired or still working, "I say, 'yes,'" Nassos said, prompting laughs at the ceremony.
"I still have my health, energy and passion for what I'm doing," he told the audience.
Dr. Nassos urged the new graduates to have passion for what they're doing and to remember they're "only on this earth for so much time."
"Time is your most valuable asset. Make the most of it."