Drs. Leckband, Gruebele awarded NSF grant
Chemical and Biomolecular Engineering Professor Deborah Leckband and Chemistry Professor Martin Gruebele received a National Science Foundation award to develop new experimental methodology for determining how material properties at the nanoscale preserve or shut down the function of immobilized proteins.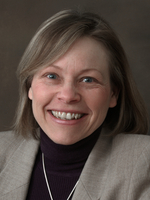 Leckband is the Reid T. Milner Professor of Chemical Sciences and Martin Gruebele is the James R. Eiszner Endowed Chair in Chemistry. The title of the grant is "Microenvironments Fit for Proteins."
Proteins are coupled to synthetic materials in a wide range of applications from targeted drug delivery to sensors. Leckband and Gruebele will develop novel experimental approaches that identify nanoscale design rules for materials that preserve immobilized proteins.