Congratulations to Paul Kenis, who has been named Fellow of the Electrochemical Society!
Kenis, the Elio E. Tarika Endowed Chair and head of the Department of Chemical and Biomolecular Engineering, was cited for his exceptional contributions to the invention, characterization and development of innovative processes based on microfluidic systems for diverse applications in electrochemical energy conversion, chemical synthesis, and biology.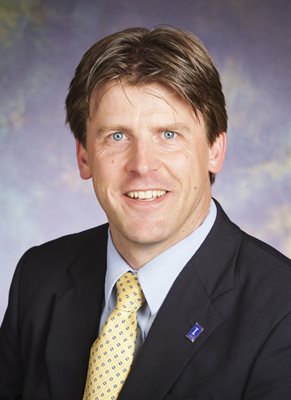 Each year, up to 15 renowned scientists and engineers are chosen by their peers for this honor. Fellow status will be conferred at the ECS meeting this fall in Atlanta.
Kenis' research revolves around microchemical systems. Applications range from platforms for energy conversion such as fuel cells, for radiolabeling of biomolecules, and for protein/pharmaceutical crystallization to platforms for cell biology studies.
Over the last decade, he has focused on the electrocatalytic reduction of CO2 to valuable chemical intermediates and fuels—developing suitable catalysts, electrodes, and electrolyzers, determining suitable operation conditions, and performing techno-economic analysis as a guide toward more energy-efficient systems.
He is a coauthor of reports on the prospects of CO2 utilization at scale issued by the National Academies as well as the global Mission Innovation consortium. He also is an investigator at the International Institute for Carbon-Neutral Energy Research, a collaboration between Kyushu University in Japan and the University of Illinois.
Kenis, a native of the Netherlands, received his BS in Chemistry from Nijmegen Radboud University, where he worked on model systems for metalloproteins with Roeland Nolte, and his PhD in Chemical Engineering from the University of Twente, working with David Reinhoudt on films for nonlinear optical applications. His postdoctoral research with George Whitesides at Harvard University focused on the then-emerging area of microfluidics.
He has authored over 200 peer-reviewed publications and 14 patents. He has been recognized with a 3M Young Faculty Award, an NSF CAREER Award, a Xerox Award, and best paper awards from the American Institute of Chemical Engineers and the Society for Experimental Biology and Medicine.