Grad student Prapti Kafle wins AAUW Fellowship
Congratulations to Prapti Kafle, PhD student in Professor Ying Diao's research group, for winning an International Fellowship from the American Association of University Women (AAUW).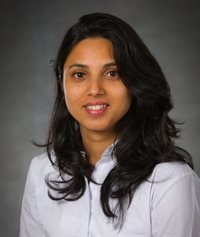 Kafle's work in the Diao Lab focuses on understanding crystal polymorphism and inventing new printing methods for pharmaceuticals for improved physicochemical properties. She joined the graduate program in chemical engineering at Illinois in Fall 2016, after completing a bachelor's degree in chemistry and math at Connecticut College. She plans to pursue an academic career post-graduation.
AAUW is the nation's leading voice promoting equity and education for women and girls. The fellowship is awarded for full-time study or research in the U.S. to women who are not U.S. citizens or permanent residents. Recipients are selected for academic achievement and demonstrated commitment to women and girls. Recipients return to their home countries to become leaders in business, government, academia, community activism, the arts, and sciences."