For more than 34 years, Professor Jonathan J. L. Higdon has been a teacher and researcher in the Department of Chemical and Biomolecular Engineering at Illinois.
Professor Higdon has been named the inaugural recipient of the Dennis and Cathy Houston Professorship in Chemical and Biomolecular Engineering. On October 6, 2014, Chancellor Phyllis M. Wise presided at an investiture ceremony recognizing this award at the Illini Union. The ceremony was attended by Professor Higdon and Dennis and Cathy Houston as well as a group of friends, colleagues and students and members of the administration.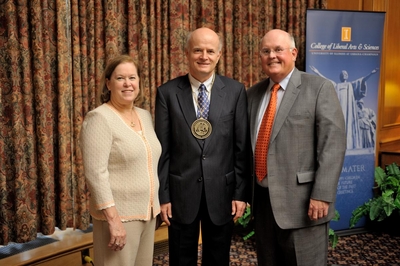 Chancellor Wise applauded the Houston's for their gift noting that such support is akin to "feeding the heart of the university." "We could not recruit and retain faculty without the generous support from donors like Dennis and Cathy Houston," Wise said. "As we see resources from the state whittling away, we need more gifts like these from donors like you." She also congratulated Higdon on this well-deserved honor.
Dean Barbara J. Wilson, Liberal Arts and Sciences, said she was honored and excited to be part of the celebration to recognize Higdon for his achievements. "This gift allows us to excel in LAS," she said. "But it is also a tribute to the department's vision and leadership."
Making the gift possible are the Houston's, Dennis and Cathy. Mr. Houston received his bachelor's degree in chemical engineering from the University of Illinois in 1974. He was the first graduating chemical engineering undergraduate student to complete a co-op program that blended his academic studies with on-the-job experience which he completed at a Shell Oil Illinois refinery. It was during this time that he met his wife, Cathy, in a computer programming class.
After graduation Houston joined Exxon and was a key member of the transition team that oversaw the merger of Exxon and Mobil in 1998. He retired from ExxonMobil in 2010 after more than 35 years with the company, serving as Executive Vice President, Refining and Supply Company and Chairman and President of ExxonMobil Sales and Supply LLC.
Cathy Houston earned a degree in accounting from Louisiana State University and worked in the banking and oil and gas industry before deciding to devote her time to raising their two children, Christopher and Nicholas. Christopher, who is married to Martine, is an anesthesiologist. They have a baby girl making Dennis and Cathy first time grandparents. Nicholas is an investment banker with a private equity firm working in Washington, D.C.
"Professor Higdon you make us proud," Houston said. "You are more than a god of chemical engineering, you are a titan."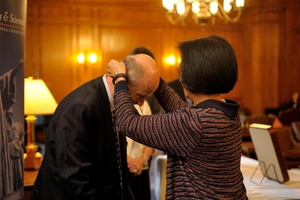 Houston thanked the University of Illinois Foundation and LAS for the support and guidance in helping the Houston family decide what type of gift to make to the University and to the department. Houston was recognized with the LAS Alumni Achievement Award in 2006, awarded an honorary doctorate from Massachusetts Maritime Academy, and was the Parr Lecturer in 2008.
Houston said that in the past 40 years when speaking in a business environment, he has made note of three things: his name, that he worked for ExxonMobil and that he graduated from the University of Illinois. "The University of Illinois resonates with the people that I'm speaking with no matter where I am," he said. "The best decision I made was to come to the University of Illinois."
As a student in chemical engineering 40 years ago, he said he was taught by a world-renowned team of scientists and educators including Professors Thomas Hanratty, James Westwater, and Roger Schmitz. "We didn't recognize how blessed we were," he said. "We learned it was OK to ask questions because that's how you learn. They encouraged us to expand our thinking beyond the problem."
He said one of the biggest challenges facing faculty is the ability to handle all of the pressures. He said through the gift of a professorship, the Houston's are hoping this will help faculty like Higdon have more output and flexibility with their career. "We hope other donors look at this and see what they can do with their gift," Houston said.
Higdon echoed those comments saying faculty face more pressures today with demands on their time and efforts to maintain funding for their research labs. "This is a very happy day," Higdon said.
Professor Higdon has become an intellectual leader and thinker in his field of fluid mechanics. He received his BES and MSE degrees in 1975 in the Department of Mechanics and Materials Science from The Johns Hopkins University. His early research focused on unsteady aerodynamics with an MS thesis about the aerodynamics of drag reduction in the formation flight of birds.
He attended Cambridge University from 1975-78 where he studied for his PhD in the Department of Applied Mathematics and Theoretical Physics, focusing his research in fluid dynamics and biomechanics. After completing a Postdoctoral Fellowship at Stanford University in 1979-80, he joined the faculty at the University of Illinois in 1980.
Higdon noted that in the 34 years he has been teaching and researching at Illinois, he continues to find things that are still fun and intellectually promising and challenging. Through the years, Higdon has collaborated with ExxonMobil on a number of research projects. He said that collaboration has enhanced his ability to "pursue new directions over the years."
Higdon's research interests include computational fluid dynamics, the mechanics of complex fluids, geophysical fluid dynamics, and petroleum reservoir simulation.
In the coming years, he said he plans to continue building new research initiatives. "I hope to continue for many more years," he said. "And I am grateful to enjoy the support of people like Denny and Cathy Houston."