Illinois ChemE alumni Corey and Deborah Correnti to address May grads
The Department of Chemical and Biomolecular Engineering is pleased to announce alumni Corey Correnti and Deborah Roberts Correnti will address graduates at its May 2018 convocation. Deborah graduated with a BS in Chemical Engineering from Illinois in 1984; Corey received his BS in ChemE from Illinois in 1985. Both also hold MBA degrees from the University of Chicago.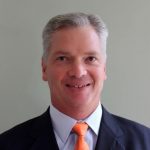 Corey Correnti is currently a senior advisor to Marakon, a global corporate strategy firm, providing energy sector expertise and strategic support. Previously, he held several senior leadership roles at BP. His most recent position was Senior Vice President of Marketing, Sales and Supply; he led the supply, sales, and marketing for BP's US Downstream business. Corey started his career in refining engineering with Amoco and later worked in various refining operations management and commercial roles. He later led a global chemical feedstock business and US Supply & Trading operations at BP. His career has included postings in both the U.K. and U.S.
Deborah Correnti is currently an Adjunct Lecturer of Economics at Benedictine University in Lisle. Previously, she worked in manufacturing and process design for Monsanto and Amoco Chemical companies. After leaving engineering, she worked in the marketing department for Amoco, managing daily operations of a petrochemical product line. She also has held positions in operations planning, economic analysis and strategic planning for a variety of product lines. Her specialty was microeconomic analysis and production optimization. She has taught micro and macroeconomics for 19 years in the U.S. and in London.
Spring Convocation for graduates of the Department of Chemical and Biomolecular Engineering will be at 10 a.m. Sunday, May 13, 2018, in the Tryon Festival Theatre, Krannert Center for the Performing Arts, 500 South Goodwin Avenue, Urbana. Students must register in advance.