Postdoc Lydia Kisley named to Forbes 30 Under 30
Congratulations to postdoctoral fellow Lydia Kisley, who was featured in the Forbes 30 Under 30 List for 2017.
The annual list highlights innovators who are under 30 years old and work in a variety of different industries, from media to manufacturing. Kisley was included on the healthcare list.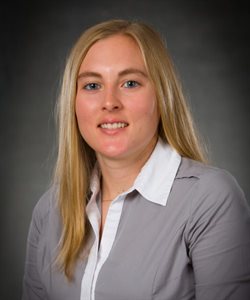 Kisley, 28, is a Beckman-Brown Interdisciplinary Postdoctoral Fellow at the University of Illinois. She works with several researchers on campus, including Deborah Leckband, Reid T. Milner Professor of Chemical Sciences; Martin Gruebele, James R. Eiszner Chair in Chemistry and Chemistry Department Head; and Paul Braun, Ivan Racheff Professor of Materials Science and Engineering.
With her research she aims to "inspire and design materials and biomaterials in smarter ways by using unique microscopy in order to understand them better."
Kisley received her PhD in Chemistry in 2015 from Rice University. Her bachelor's degree is from Wittenberg University in Ohio.
Since arriving at Illinois in 2015, she has worked with polymers and hydrogels, studying how proteins fold at the surface of a polymer brush (polymer chains grafted to a surface) or within a hydrogel, and observing how stable the proteins are and how they function. Her research has applications in biotechnology, particularly in biosensors, and development of medical devices.
As a graduate student at Rice, she explored ways to purify and separate drug molecules, with the goal of improving efficiency in pharmaceutical manufacturing. She and her fellow researchers also observed blood serum proteins combining with gold nanoparticles, prompting them to aggregate, a finding that has implications for nanoparticle toxicity issues. Gold nanoparticles have been used in some cancer treatments.
In addition to her research work, she has been involved in a number of outreach activities with organizations such as the Girl Scouts of Central Illinois and the Houston Museum of Natural Science.
Kisley intends to pursue a career in academia and to establish a research lab at a university where she can combine the skills she is learning at Illinois in understanding protein folding and surfaces and materials with skills she developed while pursuing her PhD, which entailed research at the single molecule level.