Potts earns National Science Foundation Fellowship to improve epoxidation reactions
The National Science Foundation awarded a three-year fellowship to University of Illinois Graduate Student David Potts, who is working with Chemical and Biomolecular Engineering Professor David Flaherty, to reduce the cost and environmental impact of epoxidation reactions that produce epoxides used to manufacture plastics, pharmaceuticals, and more.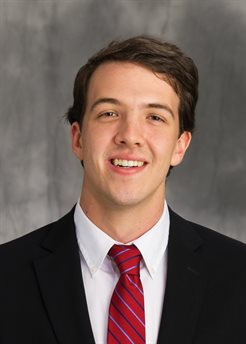 "I'm honored to be selected for this fellowship to help develop a better method of epoxide production for the industry and the environment," Potts said. "Millions of tons of epoxides are produced each year, meaning that even modest improvements could have a huge impact."
Potts is studying epoxidation reactions in liquid solvent using porous catalysts called zeolites. He wants to find out how catalyst performance is influenced by the solvent's molecular structure and interactions with reactants, including oxidants that drive this reaction.
"It is really interesting to explore what's happening on the molecular scale, such as how the environment in these zeolite pores changes during the reaction, and how all of these molecules—both the reactants and the solvents—interact with each other," Potts said.
Industrial epoxidation reactions rely on costly organic solvents and oxidants that have a massive carbon footprint and are difficult to discard. Through this fellowship, Potts will explore how to replace a fraction of these organic solvents with water, while maintaining the reaction's efficiency.
Previously, the Flaherty team has shown that adding a small amount of water can increase this reaction's performance by several orders of magnitude. Now Potts hopes to uncover how rates change when adding larger amounts of water and why this happens fundamentally in hopes of one day ensuring that epoxides are produced more sustainably.
"We are grateful for this support that not only advances David's educational opportunities but also helps close the funding gap for basic, long-term research," Flaherty said. "We are excited to get to work on these questions that have the potential to benefit manufacturers, consumers, and our planet."
Written by Claire Benjamin, Associate Director of Communications.