Prof. Charles Sing chosen for NAE's Frontiers of Engineering symposium
Charles Sing, assistant professor in the Department of Chemical and Biomolecular Engineering, has been selected to participate in the National Academy of Engineering's U.S. Frontiers of Engineering symposium.
Every year the NAE invites engineers who are 30 to 45 years old and performing exceptional engineering research and technical work to come together for the event. The participants—from industry, academia, and government—were nominated by fellow engineers or organizations.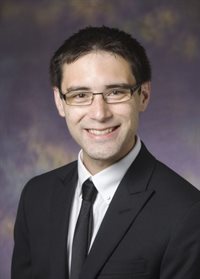 "I am extremely excited to participate in the broader conversation about the future of engineering," Sing said. "It will be an incredible opportunity to learn and be inspired by other early-career engineers, and explore ways that our discipline can truly impact society."
Sing is among the 84 participants chosen this year. His research group at Illinois uses both theoretical and computational tools to tackle fundamental problems in polymer physics and develop design principles for bio-inspired soft materials. He joined the Department of Chemical and Biomolecular Engineering faculty in 2014. He received his BSE/MS from Case Western Reserve University and his PhD from the Massachusetts Institute of Technology. Sing's postdoctoral work was at Northwestern University.
The 2018 U.S. Frontiers of Engineering event will be Sept. 5-7, 2018, and is hosted by the Massachusetts Institute of Technology's Lincoln Laboratory in Lexington, Massachusetts. Topics this year will be in four areas: Quantum Computing, Technology for Humanitarian Assistance and Disaster Relief, Resilient and Reliable Infrastructure, and Theranostics.
"It is critically important to bring young engineers from different technical areas together to spark innovation," said NAE President C. D. Mote Jr. in a release. "The Frontiers of Engineering program does this by creating a space for talented engineers to learn from each other and expand their technical perspectives early in their careers. Congratulations to this year's FOE participants."
Sponsors for the 2018 U.S. Frontiers of Engineering are The Grainger Foundation, National Science Foundation, Defense Advanced Research Projects Agency, Air Force Office of Scientific Research, DOD ASDR&E (Assistant Secretary of Defense for Research and Engineering) Laboratories Office, Microsoft Research, and Cummins.