Professor Harley named 2015-2016 I.C. Gunsalus Scholar
Assistant Professor
Brendan Harley
has been named
a 2015-2016 I.C. Gunsalus Scholar by the College of Liberal Arts and Sciences.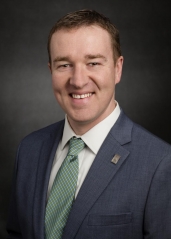 He receives this honor in recognition of his strong record of achievements at Illinois. This endowment is for the development of the scholarship and teaching of young faculty members in the physical and life sciences and was established by Professor Emeritus I.C. Gunsalus before his passing.
Professor Harley earned his Sc.D. from the Massachusetts Institute of Technology in 2006 and joined the Illinois faculty in 2008. Harley is a core faculty member at the Institute for Genomic Biology and is affiliated with the departments of bioengineering and of materials science and engineering, and the Micro and Nanotechnology Laboratory at Illinois.