Researchers Shed Light on New Enzymatic Reaction
Researchers have identified key ingredients for producing high-value chemical compounds in an environmentally friendly fashion: repurposed enzymes, curiosity, and a little bit of light.
A paper published in Nature describes a study led by Xiaoqiang Huang (pictured), a postdoctoral researcher in the University of Illinois at Urbana-Champaign's Department of Chemical and Biomolecular Engineering (ChBE) and the Carl R. Woese Institute for Genomic Biology (IGB). Huang works in the lab of ChBE Professor Huimin Zhao, Conversion Theme Leader at the Center for Advanced Bioenergy and Bioproducts Innovation (CABBI), a U.S. Department of Energy-funded Bioenergy Research Center (BRC).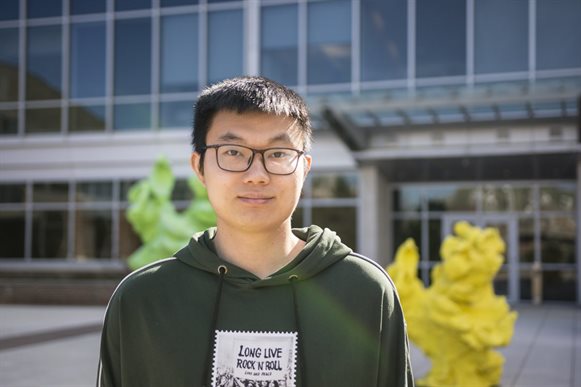 Catalysts are substances used to speed up chemical reactions; in living organisms, protein molecules called enzymes catalyze reactions in a process called biocatalysis.
Biocatalysis is rapidly emerging as a nuanced, agile way to synthesize valuable compounds. Scientists are investigating the ability of enzymes to catalyze diverse reactions, and for good reason: biocatalytic reactions are highly selective, meaning that scientists can use enzymes to act on specific substrates and create target products.
Enzymatic reactions are also highly sustainable as they are relatively inexpensive, consume low levels of energy, and do minimal damage to the environment: while chemical catalysts typically require organic solvents, heat, and high pressure to function, biocatalysts work in aqueous solutions, operating at room-temperature and normal-pressure conditions.
Despite their value to science and sustainability, enzymes can be complicated to work with. Reactions enzymes can catalyze are limited to those found in nature; this means that scientists often struggle to track down the perfect biocatalyst to meet their need.
The process is similar to mixing paint: How can an artist creatively combine the colors already on a palette to produce the right shade? In the language of a chemical reaction: How can scientists leverage enzymes already existing in nature to create the products they need?
The research team developed a solution: a visible-light-induced reaction that uses the enzyme family ene-reductase (ER) as a biocatalyst and can produce high yields of valuable chiral carbonyl compounds.