Stanford's Curt Frank to deliver Parr Lecture
The University of Illinois Department of Chemical and Biomolecular Engineering is pleased to announce Stanford University Professor and Illinois alumnus Curtis Frank, PhD '72, as its 2016 Parr Lecturer. Frank will deliver his talk, "Solid Matter at Interfaces," at 11 a.m. Friday, Nov. 4, 2016, in Room 116 of Roger Adams Laboratory, 600 S. Mathews Ave., Urbana.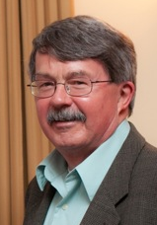 Frank is the W. M. Keck, Sr. Professor in Chemical Engineering at Stanford. His research interests are in soft materials and recent work has included studies of thin films and interfaces, interpenetrating network hydrogels, phospholipid assemblies, biodegradable polymers and ion transport in fuel cell membranes.
Frank received his M.S. and Ph.D. degrees in Chemical Engineering from Illinois, studying under the late Professor Harry Drickamer. He received his bachelor's degree in chemical engineering from the University of Minnesota.
He has been recognized with a number of prestigious awards and honors throughout his career. In 2013, he was inducted into the National Academy of Engineering for the elucidation of molecular organization in polymers and other soft materials. He is a Fellow in the American Physical Society and recipient of the Charles M.A. Stine Award from the American Institute of Chemical Engineers. Frank was chair of Stanford's Department of Chemical Engineering from 2001 to 2006 and Senior Associate Dean for Faculty and Academic Affairs in the School of Engineering from 2009 to 2015.
The Parr Lecture is named after Samuel W. Parr, the founder of chemical engineering at Illinois. A Granville, Ill. native, Parr became professor of applied chemistry and head of industrial chemistry at Illinois in 1891. He was a prolific author and made numerous discoveries. Parr developed an alloy—called Illium, made of nine different metals—that has powerful corrosion-resisting properties. He also invented the first simplified instrument for measuring the heating value of coal. An early Parr Calorimeter can be viewed in the north lobby of Roger Adams Laboratory.