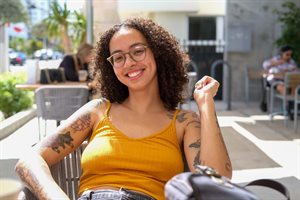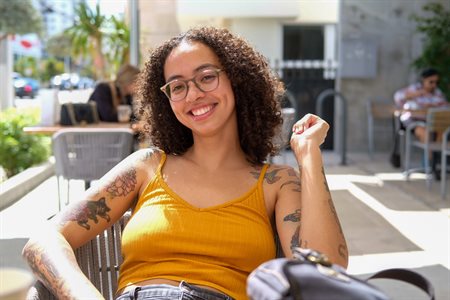 Aleczandria Tiffany is a graduate student in chemical and biomolecular engineering who is advised by Brendan Harley. Their research group pursues the fabrication, characterization, and testing of biomaterials for in vivo and in vitro tissue engineering applications.
Why did you choose ChBE for graduate school?
I chose ChBE because of the students I met during recruitment and the interactions I had with a few of the professors.
What is your favorite part about graduate school, so far?
My favorite part about graduate school has been the relationships I've had with other students in my lab and in the department.
What has been a highlight of your time at UIUC?
The highlight of my time at UIUC was when I was awarded $10,000 in research funds to support an original research concept I had. A highlight of graduate school, away from UIUC, was when I got to spend 10 months researching in Sydney, Australia.
What does diversity, equity, and inclusion mean to you?
DEI means that people can exist in a space where they can express their individuality without harm, that every person has equal access to what they need to succeed, and that diverse students are valued, appreciated, and supported as they navigate inherently unfair systems.
Why do you believe having a diverse environment for graduate school is important?
Having a diverse environment for graduate school ensures that all students and faculty can be the best version of themselves, and it allows people to grow as researchers, colleagues, and mentors.
What are some DEI initiatives that you take part in on/off campus?
I take part in outreach groups that work with the local K-12 schools. And I have mentored undergraduate and graduate students from diverse backgrounds through programs such as ISUR and Sloan.
Tell us about a time you have advocated for DEI on campus?
I started a diversity task force my second year with several of my colleagues, and we are responsible for the creation of the department's diversity page.
Learn more Aleczandria Tiffany:
Aleczandria Tiffany Feature Story Aleczandria Tiffany Research Overview PDF Young Innovator Program Winner Announcement