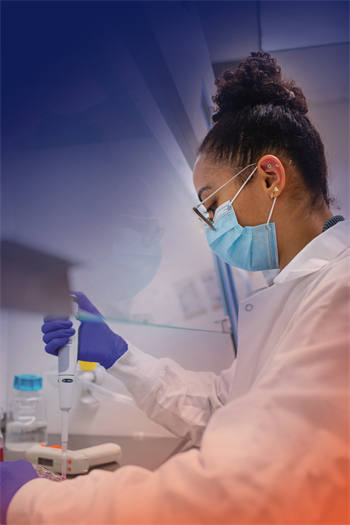 Aleczandria Tiffany's quest for knowledge knows no bounds
The story of an academic journey from Los Angeles to Urbana-Champaign and abroad to Sydney, Australia.
While she may not have foreseen her career trajectory, both in terms of discipline and location, each destination has brought her new opportunities to pursue her intellectual curiosity.
Like many scientists, innate inquisitiveness is the foundation upon which she has built her career. As a young girl, Tiffany would ask her parents "loads of questions" about the world around her that they couldn't answer, so they equipped her with books to find the answers for herself. Tiffany has been seeking answers ever since.
"I would read books about animals in the ocean and animals in the Amazon," she said. "I just became obsessed with learning new things."
With each new topic came a potential career: marine biologist, botanist, forensic scientist, and geologist all made her list at some point. "Every time that I thought a subject was cool, I wanted to be that type of scientist," she said. It was her high school science teacher who encouraged her to become an engineer; she chose chemical engineering based on her aptitude for chemistry.
Over time, her questions, and the tools that she employs, have grown in complexity.
At the University of Southern California, where she completed her bachelor's degree, Tiffany decided to participate in a work-study program that would look great on her resume and help her afford to live in LA. In the lab of professor Richard Robers, she worked with a postdoctoral scholar to use mRNA display—a technique used for in vitro protein evolution—to design new peptides that selectively bound AGR2, a protein overexpressed in cancer. It was this opportunity where she rediscovered her love to explore the unknown and her passion for biology.
"I found that I really like being in the lab because it was fun and exciting to be discovering something new," she said. "I asked, 'How can I do this all the time?'"
The graduate students in her undergraduate lab encouraged her to attend graduate school. She applied to several of the top chemical and biomolecular engineering programs across the country with the goal to attend the best school possible—several of which happened to be in the Midwest. "When I was visiting the schools, I felt that Illinois had the realest people," she said. "I felt like they were honest with me, and they were willing to answer all of my questions. I felt like the students were comfortable around the professors, which I have found to still be mostly true."
At Illinois, with its broad expertise in both chemical and biomolecular engineering, Tiffany has been able to pivot from the industrial focus of her undergraduate program to her blossoming interest in biomedicine.
Before she began her PhD program, Tiffany took part in the Summer Predoctoral Institute (SPI), which provides an opportunity for incoming graduate students from underrepresented populations to start their graduate work at Illinois while creating a cohort of colleagues to grow with in academia. Through SPI, she found her research project and graduate advisor, Robert. W. Schaefer Professor Brendan Harley.
"I got a jumpstart in the group by getting acclimated and trained that summer, which was really nice," said Tiffany, who now works on improving biomaterials for bone repair. "I'm specifically interested in large-scale injuries caused by trauma, such as explosions to the face experienced by soldiers," she said. "I have been changing the composition of our materials in order to improve specific cellular outputs, including cell migration, vessel infiltration, and mineral deposition. We are increasing the speed at which these large-scale injuries, that normally wouldn't heal by themselves, are able to heal."
That goal is not too far off, she says. They are already testing these materials in animal models to refine the materials before pursuing human trials.
Not surprisingly, her intellectual curiosity has encouraged her to branch out from this project; she wants to explore how to repurpose these materials for other applications. "Now, I'm thinking: How can we use our materials to study disease more in-depth?" she said. "How can we repurpose our existing materials to study bone cancer or osteoporosis in vitro?"
It was this line of thinking—and, admittedly, a distaste for Illinois winters—that led Tiffany to Sydney, Australia, to work with Scientia associate professor Kris Kilian at the University of New South Wales. Kilian's lab is interested in how the chemistry of materials influences the behavior of mammalian cells.
"They study cells in a variety of different 3D architectures to see how they behave and how to better study their biology," Tiffany said. "I worked on developing hydrogel models to mimic bone and the lung because when a type of bone cancer—called osteosarcoma—metastasizes to the lung, survivability decreases."
Through her work with Kilian, Tiffany learned about new materials, different cell types, 3D printing, and evaluation techniques like confocal microscopy. She mastered the process to culture endothelial cells, fibroblasts, and bone cancer cells.
When she wasn't working in the lab, she was exploring the Land Down Under with her husband, Kaelin. They visited Brisbane, Melbourne, and hopped over to New Zealand. However, the year-long adventure was cut short by the pandemic; they returned to Illinois three months early in August 2020. Despite these unforeseen circumstances, Tiffany has no regrets.
This opportunity was made possible by her gumption, love to travel, and a grant from the National Science Foundation called Graduate Research Opportunities Worldwide, or GROW.
"One of my favorite things about science and math is that it is a global enterprise," she said. "You can really do it anywhere."
The grant was awarded based on Tiffany's research proposal, which she said was "honestly quite fun to put together"—contrary to popular belief.
"Even now, as a graduate student, I'm the same as I was when I was little," she said. "I read a paper about bone cancer or a paper on breast cancer, and I'm like, 'Oh, I want to do that. I want to do that. I want to do that'—I still am very interested in all these different topics. I'm doing exactly what I wanted to do back when I was an undergraduate: I'm working in a lab and learning something new all the time."
Currently, she is applying for postdoctoral research positions in cell biology and disease modeling.
"I have my PhD expertise in materials development and characterization, but I'd like to learn more complex cell biology techniques," she said. "I feel very lost when I'm reading complex biology papers, but I know that information would be beneficial to my work in biomaterials development."
While her next step in academia (or otherwise) remains to be seen, one thing is for certain: she won't be settling for anything less than the best opportunity to tackle big questions alongside like-minded scientists. For her, collaboration is key to both career success and satisfaction.
"I don't like doing things by myself; I love collaborating with people in and out of my lab," she said. "Collaboration is critical for science to advance, and diverse teams ask questions to push the boundaries of science. Someday, I want to create a cohesive research program that combines materials development with cell biology to create really fruitful collaborations."
This feature story originally appeared in the 2021 Fall/Winter Mass Transfer magazine.