ChBE returns to in-person convocation to celebrate December 2021 graduates
The Department of Chemical and Biomolecular Engineering at the University of Illinois Urbana-Champaign held an in-person convocation ceremony on December 18, 2021, to celebrate nearly 50 graduates with remarks from ChBE alumnus Joseph P. Drago (BS'72), an expert in nuclear and industrial safety.
To start, department head Paul Kenis, the Elio Eliakim Tarika Endowed Chair, welcomed graduates to the first in-person convocation held by the department in two years. "It is wonderful to gather here today, in person, to celebrate the accomplishments of this distinguished group, who have achieved much despite the unforeseen and extraordinary circumstances caused by the pandemic," Kenis said.
College of Liberal Arts & Sciences associate dean Matthew Ando echoed these sentiments in his welcome remarks, as did Drago.
"Each of you, the chemical engineers of the Class of 2021, has fulfilled the requirements which are challenging in normal times, but these last two years have been, and continue to be, far from normal times," Drago said. "The COVID-19 pandemic placed a formidable obstacle in front of you, and you overcame that barrier."
Drago described the value of pursuing, accepting, and providing opportunities.
"One day, you may find yourself as the only person in the room who understands the true risk of a proposed course of action…Your peers will see your personal and professional ethics manifest in your daily tasks long before that day," he said. "Pursue knowledge. Pursue understanding. But more important, pursue wisdom. Use your knowledge and experience to arrive at appropriate and ethical decisions."
He said accepting opportunities propelled his career first as a reactor engineer at an operating nuclear power plant and later when he was asked to perform nuclear safety assessments with the Department of Energy.
"I have also accepted opportunities to mentor colleagues," he said. "I often heard them thank me for helping them explore solutions, but I also benefited from the relationship, for those conversations sharpened my problem solving and communication skills."
This philosophy has led to unforeseen opportunities outside of work—being an early adopter of a home computer led to him self-publishing a book.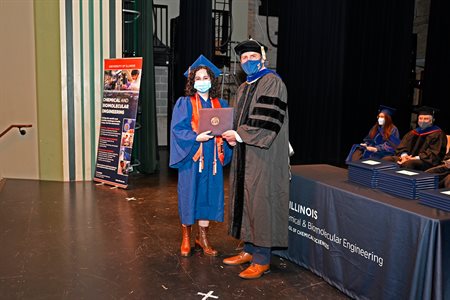 He went on to share that "at every stage in your life, you can provide opportunities for others."
In celebration of his 50th class reunion next year, and in memory and honor of his parents, Drago established the Philip and Anne Drago Scholarship to award funds to support a chemical engineer who focused on chemical process, nuclear, or bio-related safety.
"In this small way, I am providing opportunities for students I do not know, but who will undoubtedly see further than I could ever see," said Drago, referring to a famous quote by Newton: If I have seen further, it is by standing on the shoulders of Giants. "I challenge you to provide opportunities for others," he said. "To the class of 2021, congratulations on your achievements, and good luck with building a magnificent and impactful career."
Today's graduates join more than 5,000 departmental alumni who have graduated since 1901.
The ceremony recording and event photos are available online.