Professors David Flaherty and Diwakar Shukla receive Dean's Award for Excellence in Research
Chemical and biomolecular engineering professors David Flaherty and Diwakar Shukla were recognized as recipients of the Dean's Award for Excellence in Research from The Grainger College of Engineering at a ceremony held on April 25, 2022.
The Grainger College of Engineering Dean Rashid Bashir welcomed everyone to the celebration to recognize several years of "fantastic award recipients," which had been postponed due to the pandemic. Bashir said it was rewarding to recognize individuals across the college with "unwavering commitment to aim high, excel, and provide for humanity" — and those whose contributions create a long-term impact that will resonate for decades, and even centuries, to come.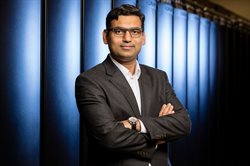 Shukla received the award in 2020 for his efforts to develop theoretical and computational chemistry tools to understand biophysical processes in plants. In particular, his research program focuses on understanding how plants sense and cope with stressful environmental conditions.
"I am honored to receive this recognition on behalf of the outstanding students in my group, collaborators, and mentors at Illinois," said Shukla in the 2020 award announcement. "They inspire me every day by their excellence and enthusiasm for research."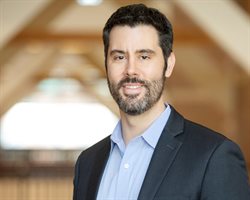 Flaherty received the award in 2022, recognizing his intellectual leadership in the area of catalysis, with a focus on applications that enhance global sustainability. According to his nomination, Flaherty studies chemical conversions that are key to sustainable chemical manufacturing, thereby helping to achieve the global energy transition in the face of climate change.
"The work recognized by this award is the result of the efforts from the brilliant and dedicated students in our group, who have made significant advances in catalysis for a more sustainable future," Flaherty said. "The opportunity to pursue these challenges comes from strong support within campus and partnerships and collaborations that extend across the country."
Flaherty has produced more than 70 publications in peer-reviewed journals, such as Science and Nature Catalysis. He has received numerous awards including the Eastman Foundation Distinguished Lecturer in Catalysis from the University of California, Berkeley, and the Department of Energy Early Career Award. Flaherty, who joined the department in 2012, holds a bachelor's degree from the University of California, Berkeley, and a doctorate from the University of Texas at Austin.