5/11/2022 Claire Benjamin
Professor Xiao Su is among the newly elected Center for Advanced Study fellows for 2022-2023 for his proposal to advance the fundamental design and study of enantioselective interactions at interfaces.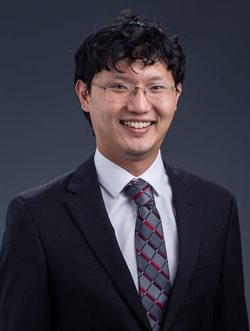 The University of Illinois Urbana-Champaign's Center for Advanced Study announced that Xiao Su, a chemical and biomolecular engineering professor, is among the newly elected fellows for 2022-2023 based on a rigorous nomination and election process.
The CAS identifies the top scholars on campus and provides one semester of release time from teaching duties for fellows to concentrate on creative work.
Su joined the department in 2019. His group focuses on developing new materials and processes for advanced separations and process intensification. His group leverages stimuli-responsive materials and redox-electrochemistry to achieve molecular selectivity and energy efficiency. He was elected based on his proposal, "Chiral Electrochemical Interfaces for Enantioselective Interactions," which seeks to advance the fundamental design and study of enantioselective interactions at interfaces.
Key active molecules in our bodies are composed of chiral units, including amino acids, brain receptors, and various signaling compounds. A majority of therapeutic drugs in the market are also chiral, i.e. exist as enantiomers, which are non-superimposable mirror images of each other. Different enantiomers can have drastically different effects—one enantiomer can be used to treat a disease while another enantiomer could be toxic. Thus, precise discrimination between enantiomers is critical to drug manufacturing.
During his fellowship year, Su seeks to design new chiral surfaces and study their interaction with enantiomers to accelerate the development of sensing platforms and separation methods for chiral molecules. These studies are expected to benefit diagnostics and drug manufacturing and may even have implications in catalysis.
"I am honored to join the CAS community of so many distinguished scholars," Su said. "This fellowship will be a unique opportunity to explore electrochemistry and materials design to tackle one of the key challenges in molecular selectivity, which is to discriminate molecules that are basically identical except for being mirror images of each other."
Fellows become permanent members of the Center, which comprises faculty with the highest scholarly achievements across campus. The CAS hosts public lectures, long-term visits by world-renowned scholars, interdisciplinary symposia, various educational programs, and other special events for its members.